Hello gorgeous breakfast.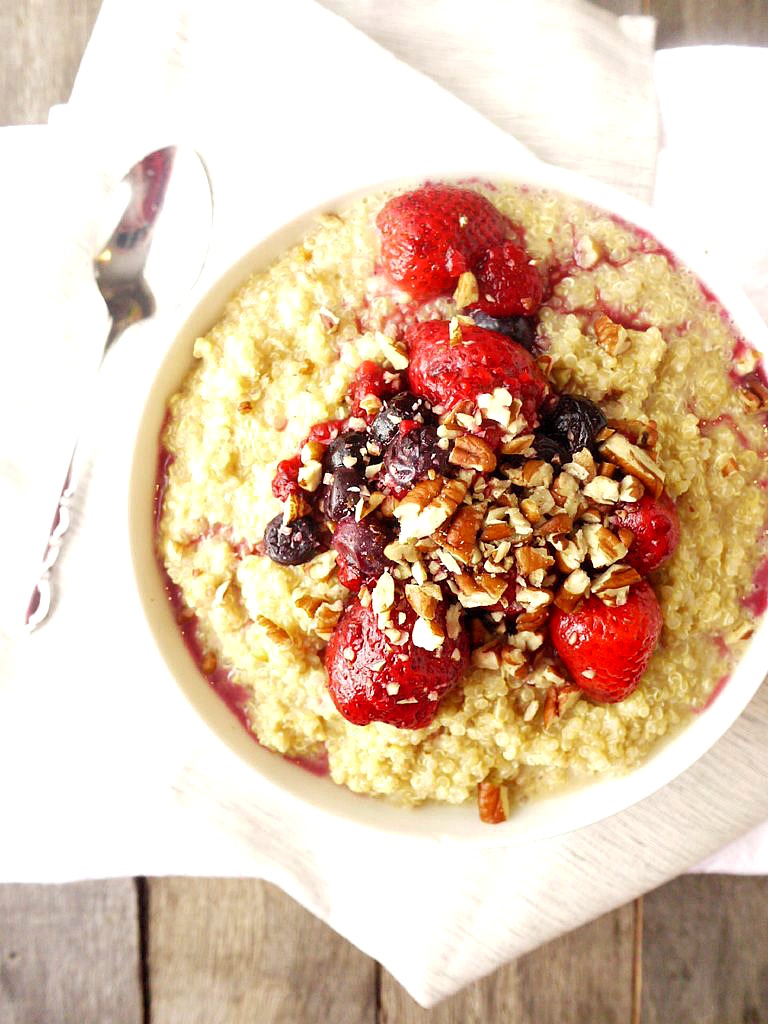 I've got a confession to make. I'm a cheater. For months, I've been faithfully eating egg sandwiches every morning. But, this week, I've been cheating on my usual morning breakfast.
Sorry eggs.  There's a new breakfast sheriff in town. His name is crunchy peanut butter and maple quinoa and he makes me swoon. You all know I'm not a sweets-in-the-morning person. The closest I get is adding berries to my oatmeal. But, this sweet and nutty maple-y delight totally won me over.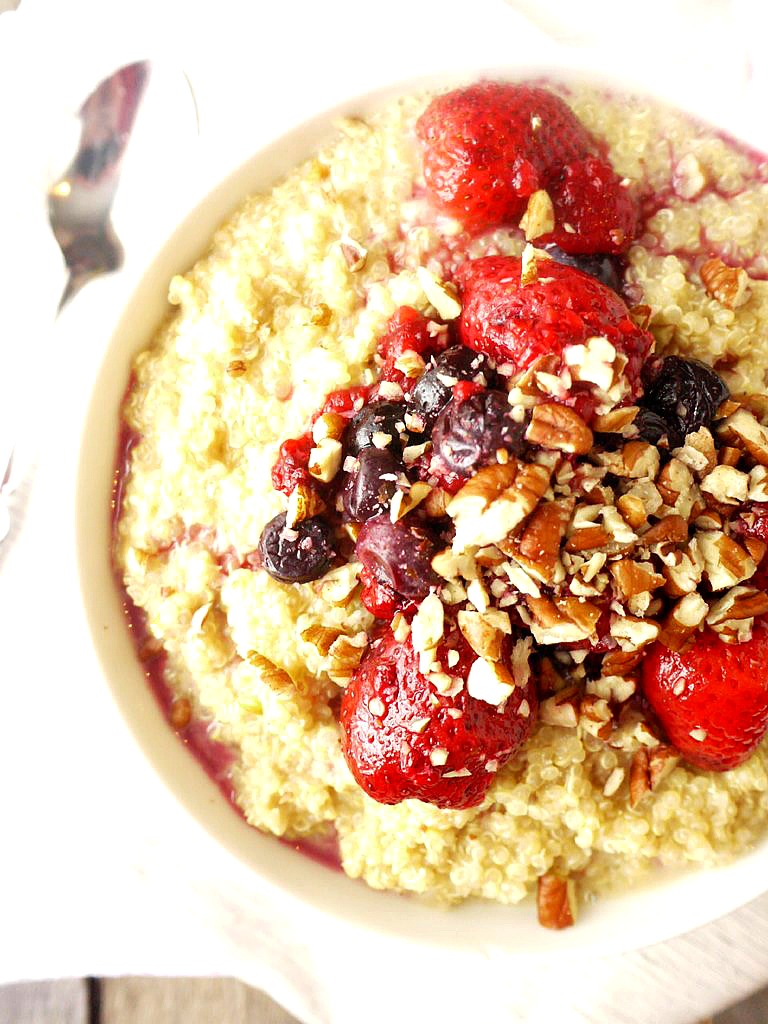 You know what else won me over? The Cooking Light Diet – a customized healthy meal plan for food lovers (like me!). Subscribers receive weekly meal plans for breakfast, lunch, dinner and snacks that are customized to personal diet goals and food preferences. How cool is that?
I thought that, as a pregnant person, I wouldn't be able to partake in the diet plan because I obviously can't "diet" but Cooking Light sent me a one-month free trial and I've been able to customize the plan to my pregnancy needs; i.e., gaining and/or maintaining weight. Every day I get a menu with recipes telling me exactly what to eat which is pretty much exactly what I need right now as my brain has gone bye-bye.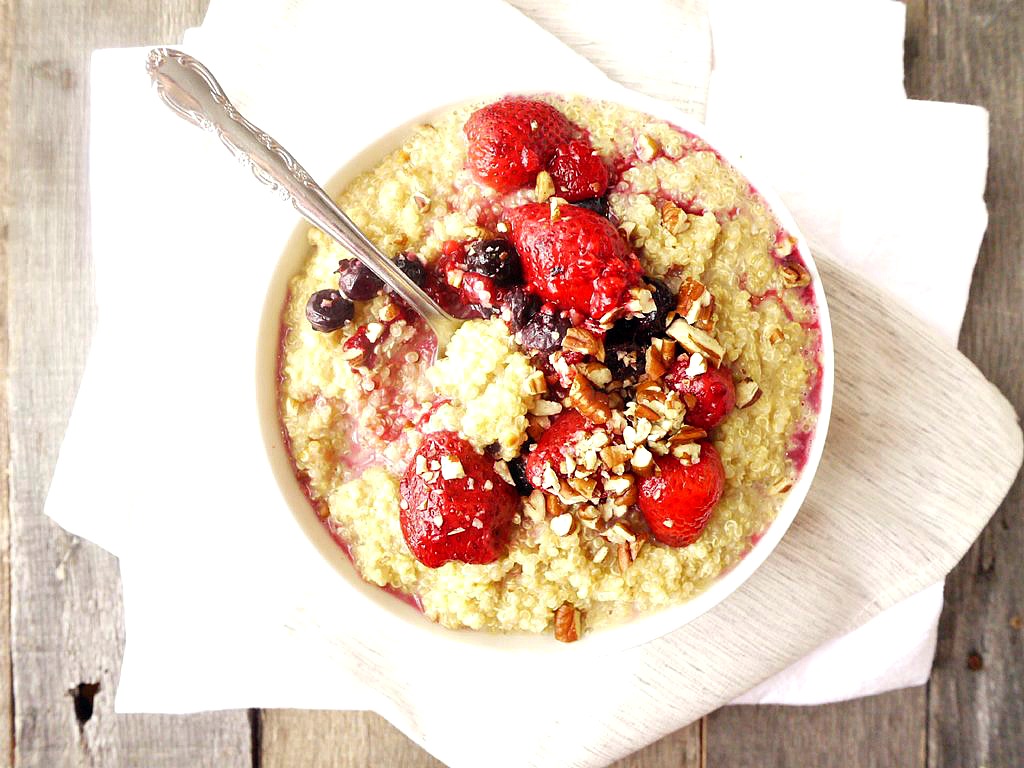 One of the recipes on my diet plan was a crunchy peanut butter bulgur breakfast dish – the inspiration for today's recipe. I was out of bulgur so I swapped in quinoa. I also swapped out the regular milk for almond milk and nixed the Greek yogurt to make the recipe dairy-free (it's also vegan and gluten-free. oh yeah). I added in some maple and pecans because maple and pecans make me happy. And, voila, the uber healthy but super delish breakfast that's been rocking my world all week.
Actually, Cooking Light has been rocking my world a lot lately with recipe suggestions. Their Spiced Almond Date Balls have become my favorite homemade healthy snack. I have literally made those little date balls every week since I posted them on this blog.
If you want to check out the Cooking Light Diet (and you do!), here's the discount code:  DIETSAVE20. You're welcome.
I'm off to eat more breakfast. It's peanut butter quinoa time, it's peanut butter quinoa time….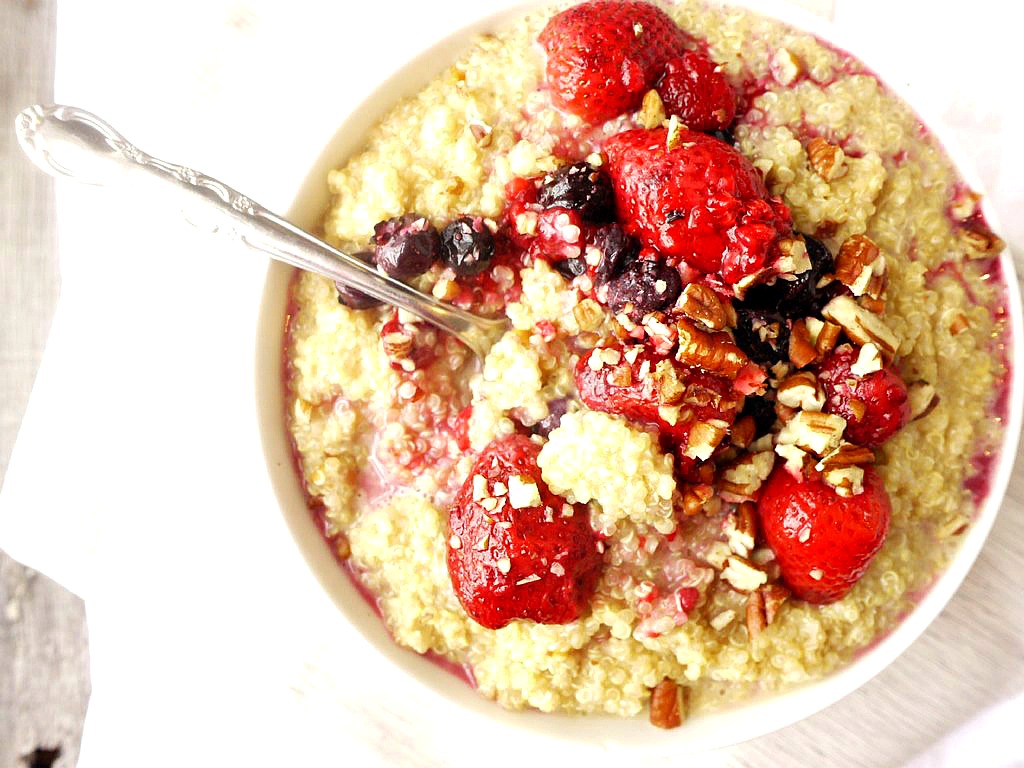 Crunchy Peanut Butter and Maple Quinoa with Berries (Inspired by Cooking Light)
Author:
Healthy Recipe Ecstasy
Ingredients
1 cup uncooked quinoa
¼ cup unsweetened almond milk
3 tablespoons crunchy peanut butter
2 tablespoons maple syrup
1 cup mixed frozen berries, defrosted
1 tablespoon chopped pecans
Instructions
Cook the quinoa according to the package.
Stir the almond milk, peanut butter and maple syrup into the cooked quinoa.
Top the quinoa mixture with the pecans and defrosted berries. Serve warm.