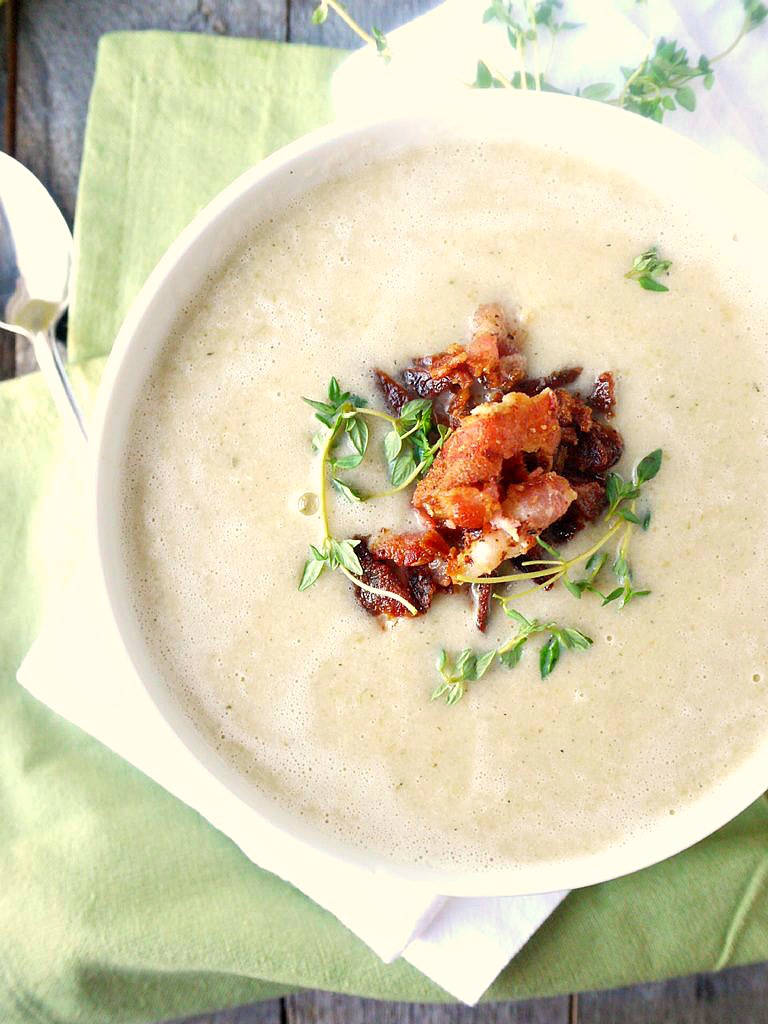 It has been friggin' freezing out. Everyone keeps saying to me "oh, you're so lucky you're pregnant in the winter," and I'm thinking, really? I'm lucky to be waddling around trying not to slip on the ice and freezing my ginormous butt off while all trussed up in a puffy maternity jacket so thick that I can barely move? Yeah, real lucky….
I have not been experiencing any of the supposed pregnancy hot flashes that usually plague pregnant women in the third trimester. Nope, I'm still hating the winter chill. In fact, I would much rather be carting my pregnant ass around town in the August humidity just so I can deck myself out in lightweight maternity maxis and flip flops and not have to deal with pulling socks and boots on and off multiple times per day and slip on jackets that barely button over my burgeoning belly.
I've said it before and I'll say it again: the only good thing about cold weather is cold weather food. Soups, stews, hearty crock pot goodies. I love a meal that warms me from the inside out. Of course, a lightened up celery soup isn't always first on most people's list of hearty comfort foods but, somehow, it still does the job. It's all warm, creamy goodness and is surprisingly comforting on a night of 20-degree chill. It's also the most amazing way to use up celery which always seems to be a problem in my house, and you all know I'm all about reducing my veggie waste these days!
Give me a fuzzy blanky, warm soup, winter TV, and I'm a happy girl. You know what doesn't make me a happy girl? Cream. I mean, I love cream, but I usually end up regretting the cream decision, ya know what I'm sayin'? No worries here though. No cream or dairy in sight – just some white beans and coconut milk.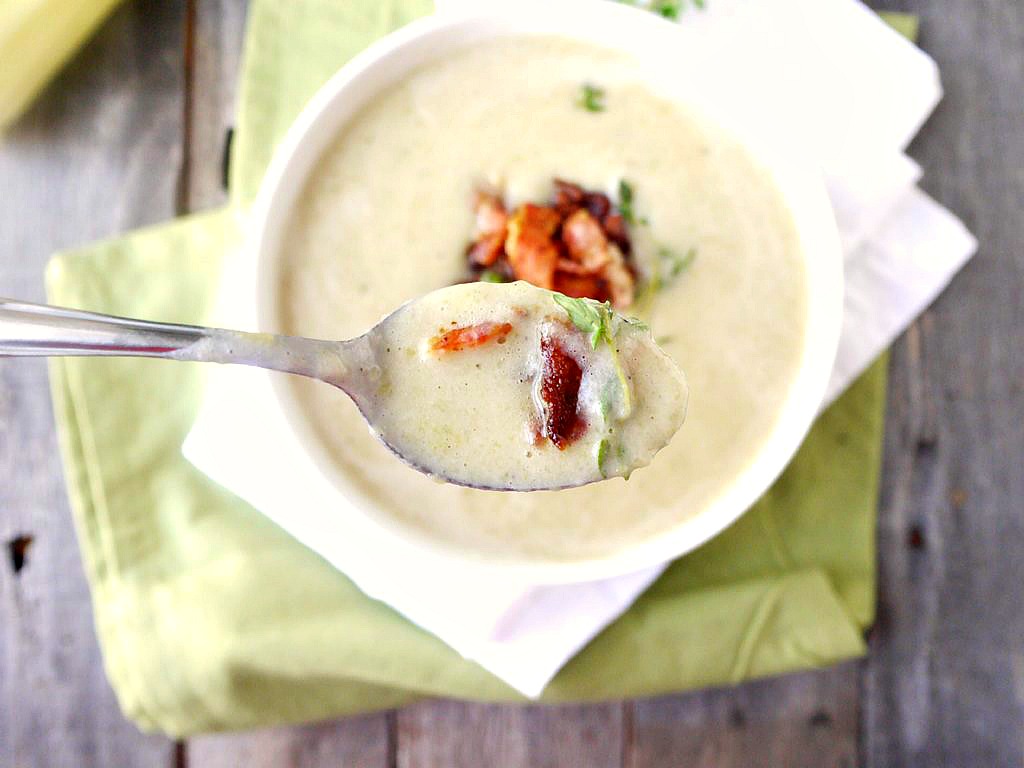 Creamy, dreamy, dairy-free soup + crispy bacon toppings = I think I'll be able to make it through the winter.

Creamy Celery and White Bean Soup with Crispy Bacon (Dairy-Free)
Author:
Healthy Recipe Ecstasy
Ingredients
4 strips center-cut bacon
1 tablespoon Earth Balance vegan butter
4 cups chopped celery, stalks and tops
1 cup chopped onion (1 medium onion)
2 cloves garlic, chopped
1 tablespoon fresh thyme leaves, plus more for garnish
1 15.5-ounce can white beans
2 cups vegetable or chicken stock
1 14-ounce can coconut milk
Salt and freshly-ground black pepper, to taste
Instructions
Lay the bacon in the bottom of a cold large stock pot or dutch oven. Turn heat to medium high and cook for 5 minutes. Flip the bacon and cook for 2-3 more minutes or until bacon is crisp. Remove and set aside on paper towels.
Decrease heat to medium. Add the vegan butter to the pot. Once it melts, add the celery, onion, garlic, and thyme to the pot. Season well with salt and pepper. Cook, stirring occasionally, until vegetables are soft, about 15 minutes.
Add white beans, stock and coconut milk to the pot and bring to a simmer. Cook for 10 minutes, stirring occasionally.
Purée the soup with an immersion blender or by transferring it to a food processor or blender. Adjust the seasonings to taste. Serve with cooked bacon crumbled on top and thyme garnish.