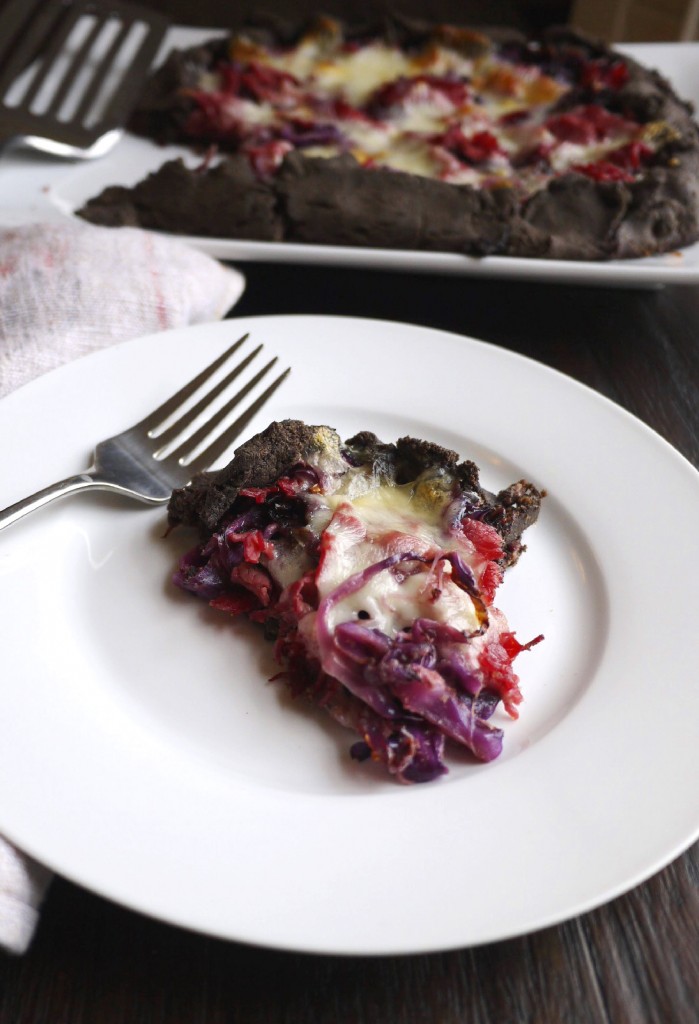 About a year ago, I was found myself inundated with cabbage. I can't remember the exact circumstances, I just remember that I spent a week trying to come up different, palate-pleasing recipes so that Alasdair would stop complaining about the cabbage assault every time he opened the fridge door. One of the recipes I created was a corned beef and cabbage crostata. I made it, ate it, wrote down the recipe, and promptly forgot about it. Until this week, that is. I am rarely organized enough to make recipes that coincide with holidays. In fact, I think I made my Thanksgiving turkey, the week AFTER Thanksgiving. That's why I was so excited when I realized that St. Patrick's Day was coming up this weekend and I already had a recipe to share.
Feeling pretty pleased with myself, I went in search of the crostata recipe. I quickly deflated when I realized that my "recipe" was actually just a list of ingredients: "corned beef, cabbage, mustard, pie crust, and mozzarella." Real helpful, I thought to myself. I couldn't remember the exact amounts I used or how I made it, so I basically had to start from scratch. Fortunately, starting from scratch meant I could think about how to HRX the recipe – like swapping the pie crust for a buckwheat crust and cutting down the amount of meat and cheese.
I know corned beef will never be considered healthy. In fact, Dr. Gullo, the author of The Thin Commandments & Thin Tastes Better encourages everyone to ditch the corned beef this St. Patty's Day. He offers up a few alternative ways to celebrate the holiday like Caramelized Cabbage and Onions, Irish Stew, and Shredded Brussel Sprouts and Kale Salad – all of which sound amazing. But, if you just can't give up your corned beef, this crostata may be the answer.
Healthy Recipe Ecstasy? I think this is a great compromise recipe for people who want to enjoy the flavors of St. Patrick's Day — the corned beef, the cabbage, the spicy mustard — but don't want to travel too far down unhealthy lane. As always, it's all about moderation. There is only one cup of corned beef in this entire recipe – broken out over six servings, that's two and a half tablespoons per serving. Some reuben sandwiches have an entire pound of corned beef on them – no joke. The extra spices and strong mustard give the crostata a punch while the buckwheat crust makes this a gluten-free dish. HOWEVER, I have to be honest – the crust needs some work. I used what I had on hand – buckwheat flour, olive oil, salt and water. Without the gluten in regular flour or the addition of zantham gum, the dough was pretty hard to work with and the nutty buckwheat flavor was overwhelming. I am confident that I can make it more appetizing (and more attractive) next time around. Unfortunately, I had to choose between posting in time for the holiday (a first!) and perfecting the dish. In the meantime, if you have gluten issues and need a crusty vehicle to enjoy corned beef and cabbage this St. Patty's week, it will do in a pinch. 😉 If you don't have gluten issues, go ahead and substitute a regular crostata or pie crust.
Corned Beef and Cabbage Buckwheat Crostata
Author:
Healthy Recipe Ecstasy
Ingredients
FILLING:
1 tablespoon olive oil
3-4 cups cabbage or half a medium cabbage
1 pinch kosher salt
1 teaspoon mustard powder
1 teaspoon onion powder
1 teaspoon water
½ teaspoon garlic powder
2 tablespoons spicy brown mustard
1 cup chopped deli-style corned beef
1 cup diced whole mozzarella cheese
CROSTATA DOUGH:
2 cups buckwheat flour
½ cup olive oil
1 egg
1 teaspoon salt
⅓ cup cold water
Instructions
Process the flour, oil, egg and salt in a food processor until smooth. With the motor running, pour in enough water to make smooth, very soft dough. Alternatively, pile the flour on your work surface and make a well in the center. Add the egg, olive oil, ⅓ cup water, and the salt to the well and mix together by hand.
Turn the dough out onto a lightly floured surface and knead, adding flour if the dough begins to stick to your hands, until the dough is very smooth and no streaks of flour or oil remain, about 1 minute. Wrap the dough with plastic wrap and let it rest 30 minutes at room temperature or up to one day in the refrigerator. Allow refrigerated dough to stand at room temperature 30 minutes before continuing.
Set the dough on a baking sheet coated with cooking spray. Gently press the dough out with the palm of your hand. Without the gluten, the dough doesn't have enough stretch to use a rolling pin.
Preheat the oven to 375 degrees. Shred the cabbage.
Heat one tablespoon olive oil over medium high heat, add the cabbage and a good pinch of salt and cook for five minutes or until soft, stirring occasionally. Add the onion, garlic and mustard powders. Add one teaspoon water and turn the heat to low. Cook for another 10 minutes, stirring occasionally.
Next, spread the spicy brown mustard over the crostata dough.
Add the cooked cabbage and spread evenly over the dough, leaving about an inch border. Then, add the corned beef and the cheese in the same manner.
Fold the overhanging dough over the filling to form a one-inch border on all sides.
Bake until the filling is firm in the center and the crust is set, about 25 minutes. Allow the crostata to cool. Serve warm with extra spicy brown mustard for dipping.