It's roasty, it's toasty, it's spicy, it's smokey…..and I can only speak (and, apparently, write) in a sing-song voice. All day long I'm like "Alex balex bo balex fe fi fo falex, Alllleeexxxx" and then I'm like "Corn corn bo born fe fi fo forn Cooorrnnnnn."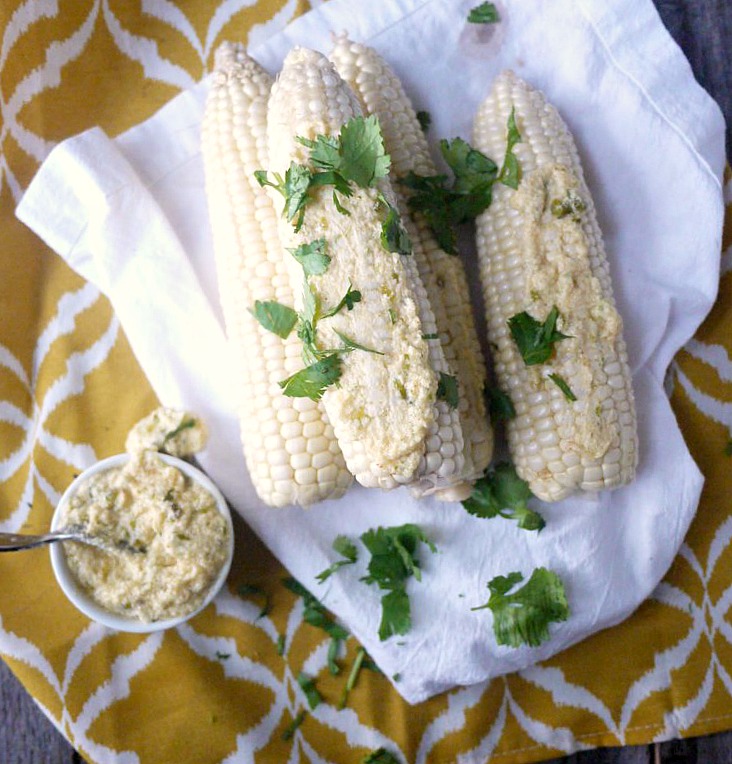 Yeah, that's my life. And since I'm too busy coming up with funny faces, weird songs and "coo" sounds to entertain my little guy, I'm definitely falling down on the recipe creation job. But, you know what I realized? I have all these old recipe posts that no one (and I mean NO ONE) ever looks at because, let's face it, they're fugly in the photo department, boring in the writing department and so-so in the yumminess department.
These posts are like our 1960s house when we moved in – in need of a bit of a face lift – which is much less time-consuming than recipe creation and the inevitable recipe failures that go along with it. When I posted Corn on the Cob with Roasted Jalapeno and Lime Honey Butter back in July 2012, I knew nothing about food photography or food blogging. I was basically like "Here's this great recipe I found on Cooking Light. I made it for Fourth of July. I made a teeny tiny change to the recipe. It was yum. These photos suck. Over and out."
B-O-R-I-N-G. I mean, the recipe was really good (jalapeno, lime, honey, BUTTER? there ain't nothing wrong with any of that), but, like the photography, it had some room for improvements. Improvements like smoked paprika, cilantro and a touch of cayenne. Oh, and double buttering the corn – before AND after roasting. Yessss.
Speaking of, I roasted the corn but you could totally do the same thing on the grill at a cookout this summer. Hello summer. Summer summer bo bummer fe fi fo….you get the point. Let's eat.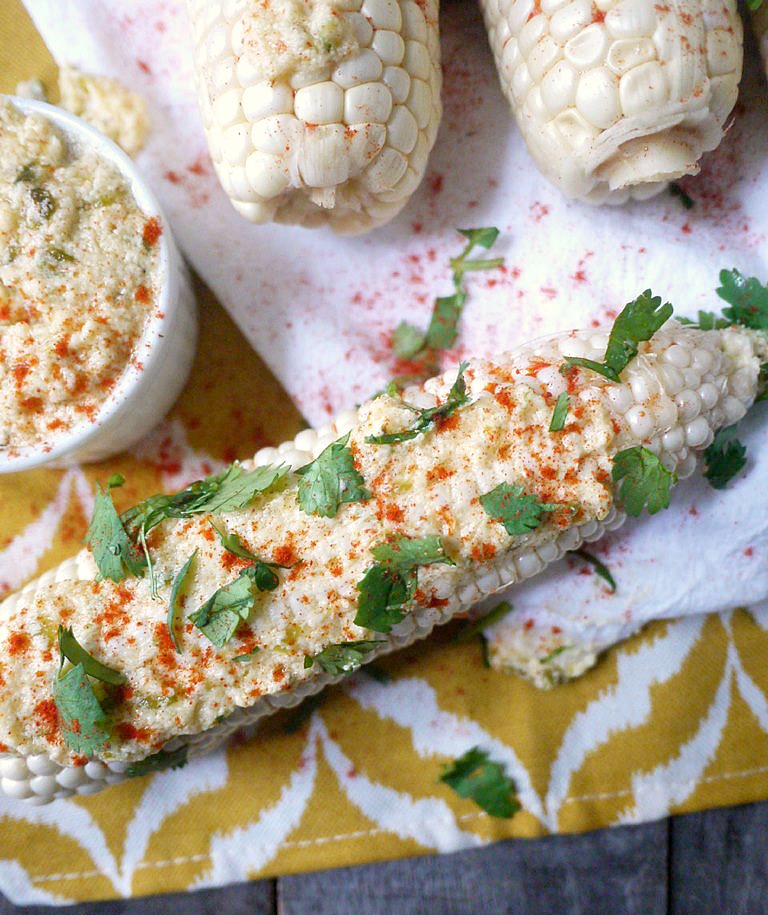 Roasted Corn on the Cob with Roasted Jalapeño Honey Butter and Smoked Paprika
Author:
Healthy Recipe Ecstasy (Inspired by Cooking Light)
Ingredients
6 ears shucked corn
1 jalapeno pepper
2 teaspoons grated lime rind
2 teaspoons honey
¼ teaspoon coarse salt
⅛ teaspoon cayenne pepper (leave this out or just add a sprinkle if you want your butter a little less spicy)
½ cup unsalted butter, softened
Sprinkle of smoked paprika
Chopped cilantro, for garnish
Instructions
Heat oven broiler. Place jalapeno on baking sheet coated with cooking spray. Broil for about 10 minutes or until blackened and charred, turning occasionally.
Place jalapeno in a small paper bag, and fold tightly to seal. Let stand for 5 minutes. Peel and discard skins; cut jalapeno in half lengthwise. Discard stem, seeds, and membranes. Finely chop jalapeno. If you don't have a paper bag, you can put the jalapeno in a bowl and cover the bowl with plastic wrap before peeling and discarding skins.
Combine jalapeno, lime rind, honey, salt and cayenne pepper in a food processor and pulse a few times until the ingredients come together. Stir into softened butter.
Preheat the oven to 425 degrees. Spread half the butter on the corn cobs and wrap them in aluminum foil. Place the cobs in the oven and roast for 20-25 minutes or until corn is tender.
Once corn is cooked, unwrap the cobs, slather with the rest of the butter, sprinkle with smoked paprika and garnish with cilantro. Enjoy, preferably outside while drinking margaritas!