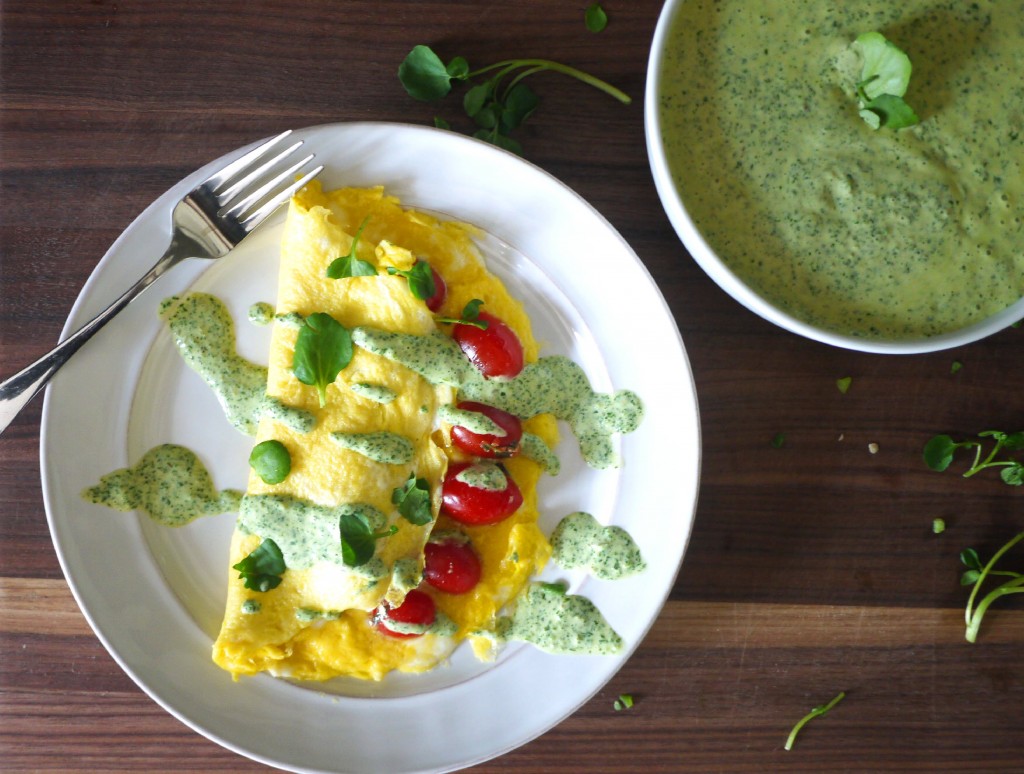 This recipe isn't really about the omelet. It's about the watercress aioli. The spicy, creamy, dreamy watercress aioli. The omelet is just a delicious vehicle for the sauce. As are the sandwich, the fish, and the sweet potatoes I plan to smother in watercress aioli later in the week.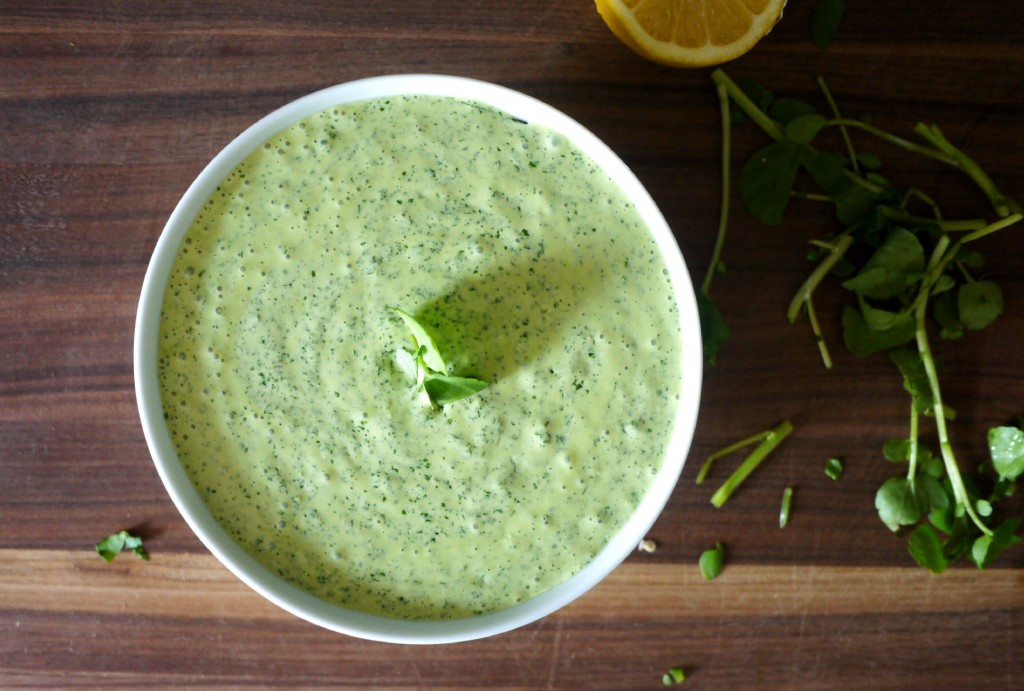 To explain how this recipe came about, I need to go waaaaay back – to elementary school.  See, I have this vague childhood memory of a book, a swan and watercress sandwiches. Over the years, whenever I heard the word watercress or saw it in the grocery store, I would be overcome by a sense of deja vu and a picture of a swan would flash in my brain. Most of the time, I couldn't remember what the connection was. Other times, I knew it had to do with this book I read for school but the memory was so fuzzy and fleeting that I couldn't quite grasp it.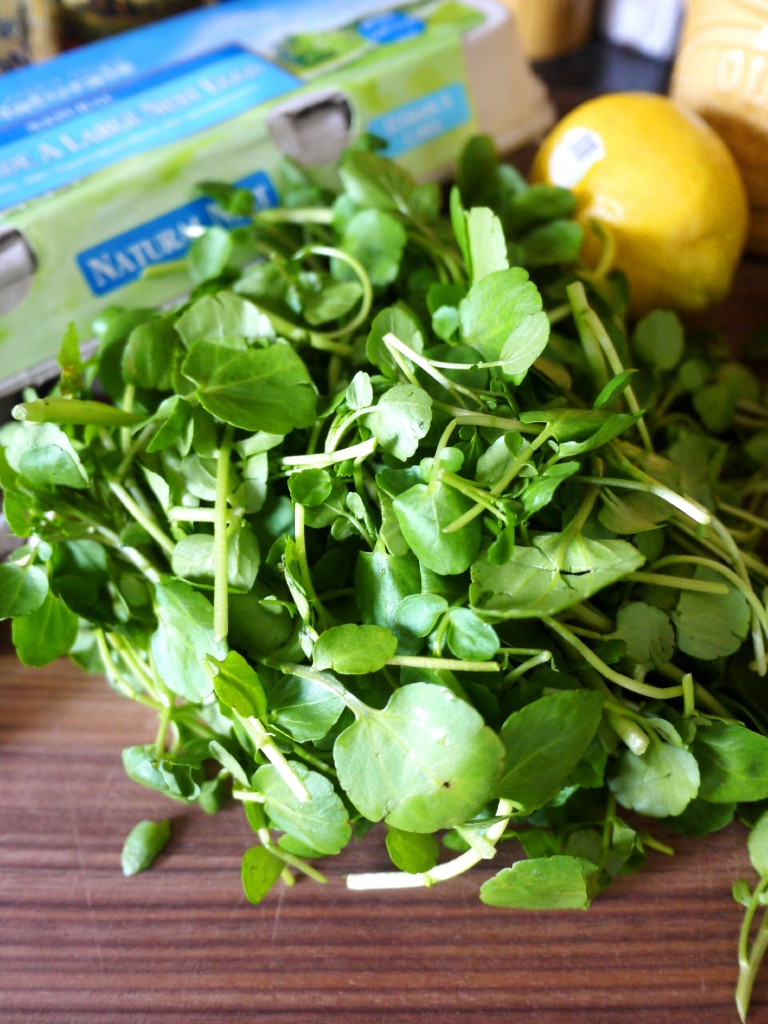 Until now. Until the crazy power of Google brought the memory rushing back. All I needed to do was type the words "swan," "book" and "watercress" into the search engine and here's what I found:
The Trumpet of the Swan by EB White:
On the wall of the bedroom, he found a button that said WAITER. Louis put his beak against the button and pressed hard. In a few minutes, there was a knock at the door and a waiter entered. He was nicely dressed and tried not to show surprise at finding a swan in the room. "
May I get you something?" he asked.
Louis picked up his chalk pencil. "Twelve watercress sandwiches, please," he wrote on the slate.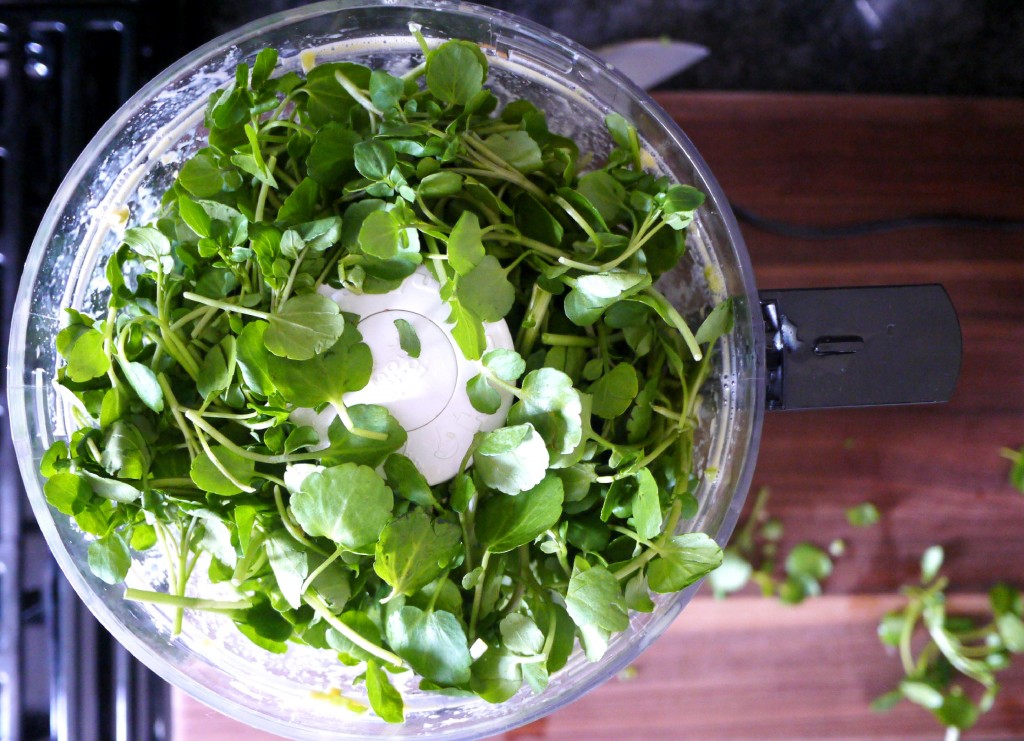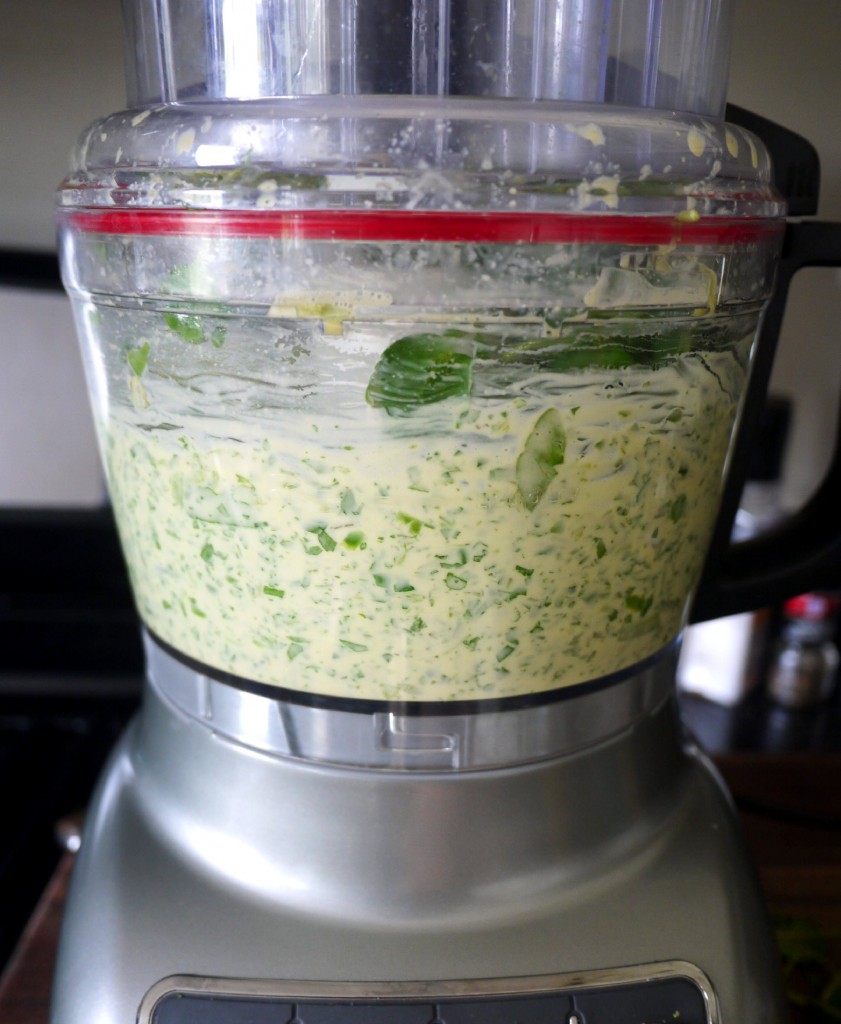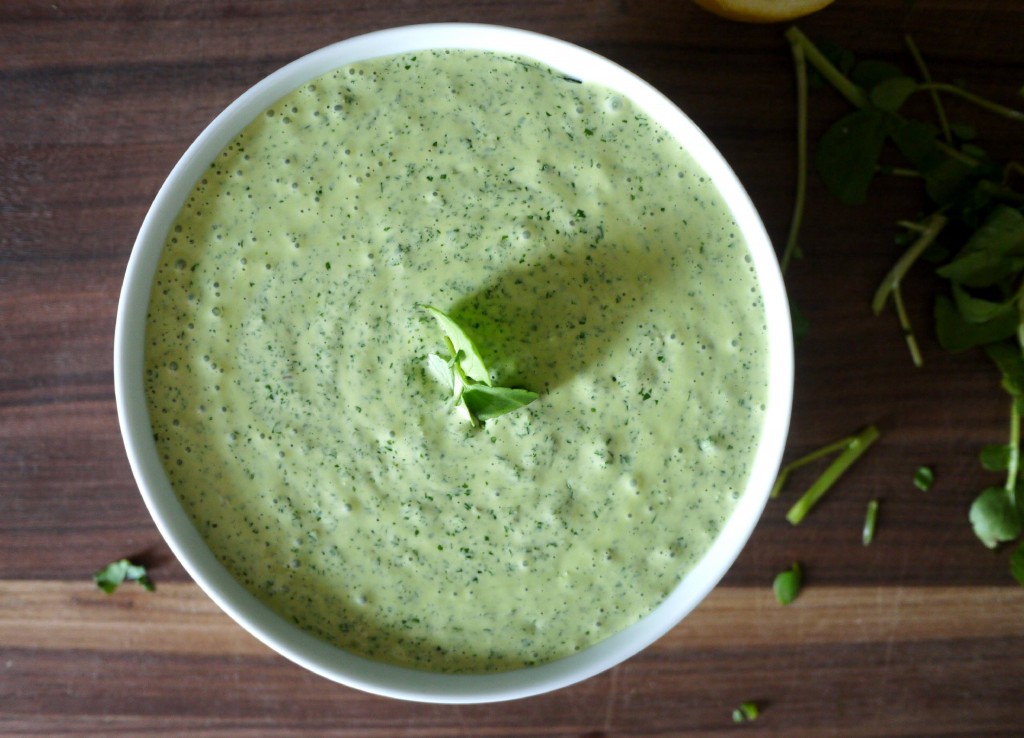 So I'm not a crazy person after all. There really is a book about a swan and watercress sandwiches.
Needless to say, with spring comes watercress and with the watercress comes this strange desire to eat watercress sandwiches. A desire I've never indulged before because, well, I didn't really understand it. But, this month, when I got my
Cooking Light
magazine in the mail and saw a recipe for
spring pasta with watercress
I knew the madness had to stop. I had to get me some cress. So, I did, and it was great. I learned that watercress has a subtle peppery flavor but, unlike our bitter wintergreens, is a relatively smooth green addition to most spring dishes. It's also highly nutritious, containing Vitamin C, folic acid and other nutrients thought to reduce DNA damage and lower your risk of cancer. Oh and it tastes pretty amaze-balls mixed with pasta and spring pea sauce.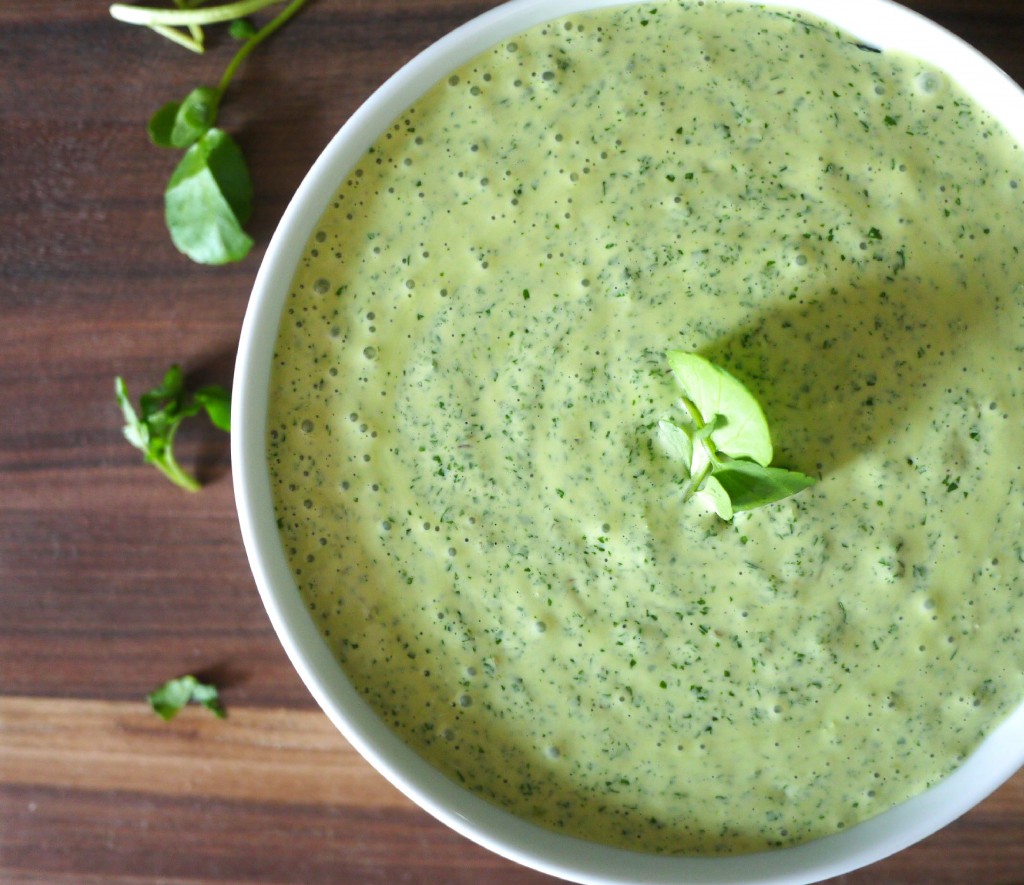 What I didn't realize was that a little goes a long way, and I bought a TON of watercress. Like more than enough for the pasta. More than enough for a few cress sandwiches and more than enough to use as a pretty garnish all week just 'cuz.  So, in the interest of not wasting the beautiful watercress, I did what any good food blogger would do and I threw it all into a blender. I could have made juice, or a sauce or even a dip, but I decided to make watercress aioli because it reminded me of the watercress and mayo sandwiches from the swan book. Sentimentality over practicality any day.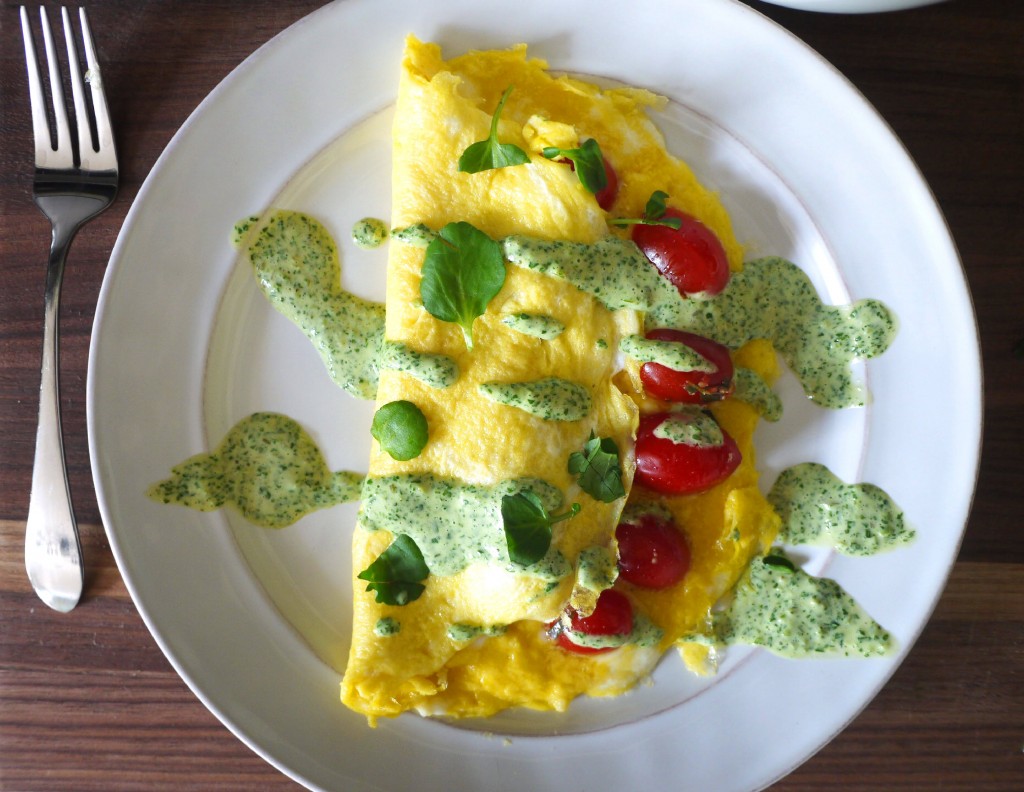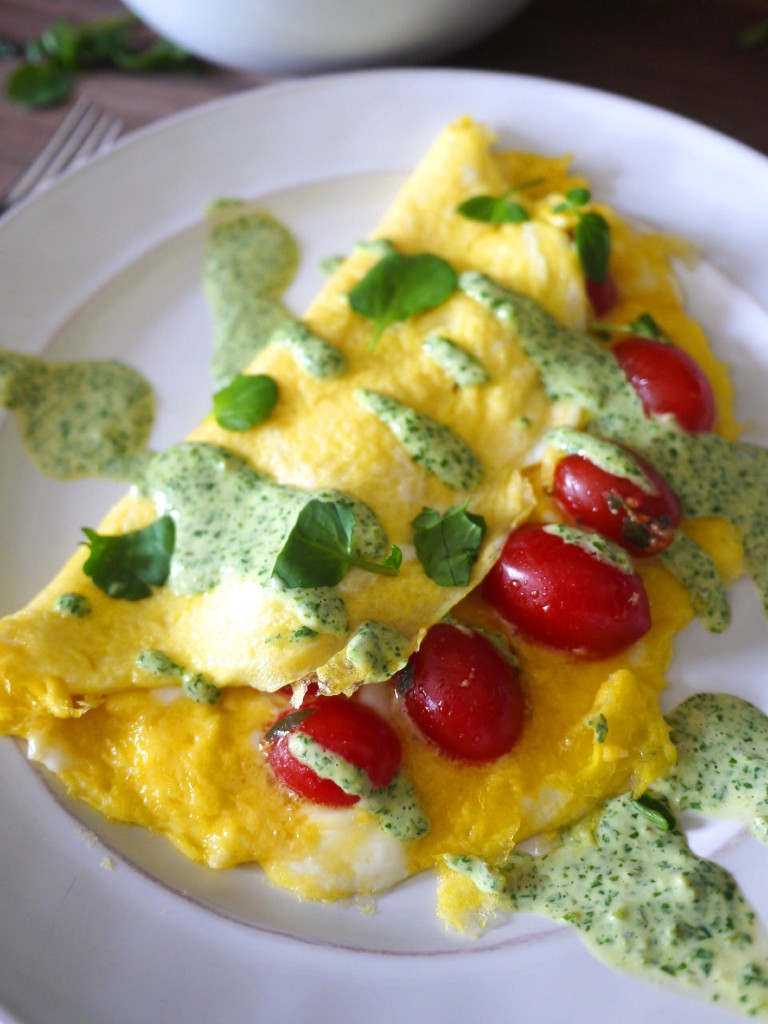 The cherry tomato omelet is just a bonus. A really delicious bonus. 🙂
Cherry Tomato Omelet with Watercress Aioli
This recipe makes two omelets and 2-3 cups aioli. You will only need a few tablespoons aioli for the omelets. I recommend using the rest of the aioli as a sandwich condiment in place of mayo or as a garnish for fish or as a dipping sauce for sweet potato fries.
Author:
Healthy Recipe Ecstasy
Recipe type:
Breakfast/Brunch
Ingredients
Watercress aioli:
2 egg yolks
1 tablespoon Dijon mustard
2 tablespoons red-wine vinegar
Juice of ½ lemon
1 clove garlic, minced
1 medium jalapeno, seeds removed and minced
1 cup olive oil
1 cup canola oil, safflower oil, or another neutral oil (I used canola)
8 ounces watercress, trimmed and thick stems removed
Salt and pepper, to taste
Omelet:
2 teaspoons olive oil, divided
6 eggs, beaten
10 cherry tomatoes, halved (I used marinated cherry tomatoes leftover from a Caprese salad. You can use plain cherry tomatoes or marinate them in a little olive oil and basil.)
Watercress leaves, for garnish
Instructions
Aioli:
Have all the ingredients at room temperature. Combine the egg yolks, mustard, red-wine vinegar, lemon juice, garlic and jalapeno in a food processor and process on low until combined. Slowly add the olive oil and then the canola or safflower oil, with the food processor continuing to run on low, until the aioli reaches a desirable consistency. Should it become too thick, simply whisk in a tablespoon of warm water.
Add the watercress to the food processor in batches and puree using quick on-and-off pulses. Season with salt and pepper to taste. Set aside.
Omelet:
Heat the olive oil in a medium skillet over medium heat. Add half the beaten eggs to the skillet. Use a rubber spatula to keep the eggs moving – pull them towards the center of the pan and tilt the pan around so the eggs run to the sides. This helps your omelet cook evenly and keeps it from getting rubbery.
Once the eggs start to set, add a pinch of salt and freshly-ground pepper to taste. Add the cherry tomatoes and cook the omelet for another minute. Fold the omelet in half. Repeat with the rest of the eggs and tomatoes.
Top each omelet with a few tablespoons watercress aioli (or more to taste) and some watercress leaves for garnish.