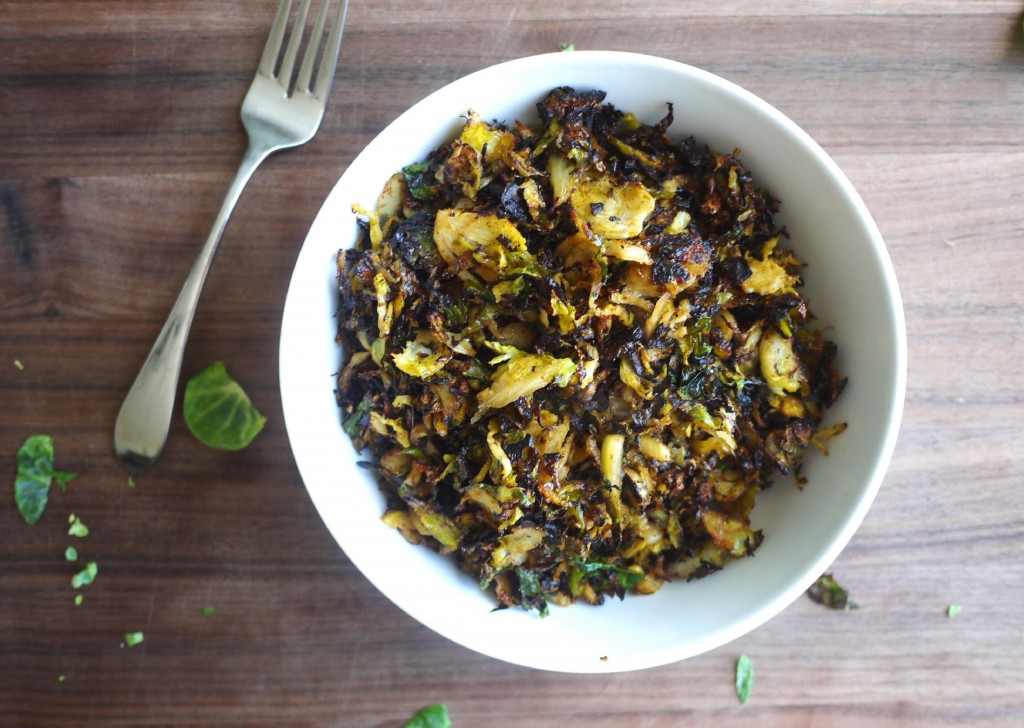 So much has been going on in my life, I completely forgot to tell you guys that
POPSUGAR Food
named me food
blogger of the week
 on Valentine's Day.  Isn't that exciting?? You know what's even more exciting?
POPSUGAR Now
is officially on TV! Set your dial to TVGN every weeknight at 6 p.m. (5 p.m. Central) to catch all the action. POPSUGAR Now will be coming to you from its studios in New York, Los Angeles, and San Francisco, bringing viewers celebrity news, fashion, and lifestyle content throughout the award season. The amazing POPSUGAR reporters and hosts will be behind the scenes and reporting from the action at all the biggest award season events and showing you how to eat, drink, exercise, and stay connected like the stars. Get your DVRs prepped!
You know what's great to eat when watching TV? Yes, popcorn, always popcorn. And chips, always chips. But what about burnt maple Brussels sprouts? Don't laugh. I know I'm suggesting you put down your popcorn and chips and treat yourself to an overcooked vegetable. I get that sounds crazy…and weird. But I like
weird food
. 🙂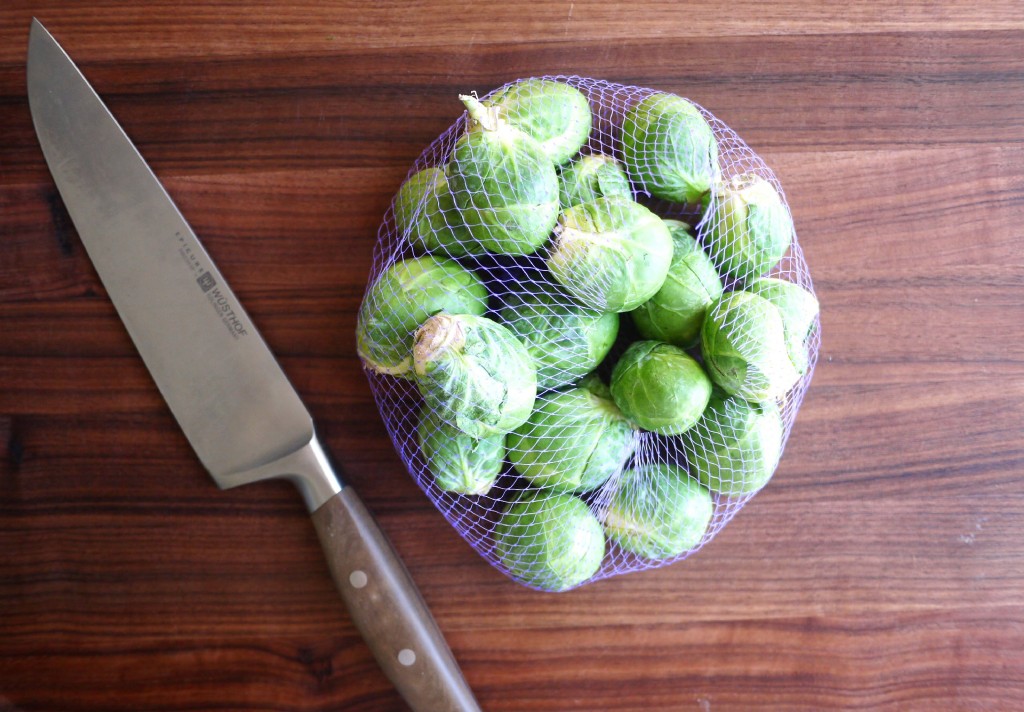 But these burnt sprouts are so good and interesting that you wont miss the popcorn and chips. They're a little bit crispy (like chips), a little bit chewy, a little bit salty, a little bit sweet, a little bit spicy, a little bit burnt, a little bit caramelized, and a whole lotta flavor.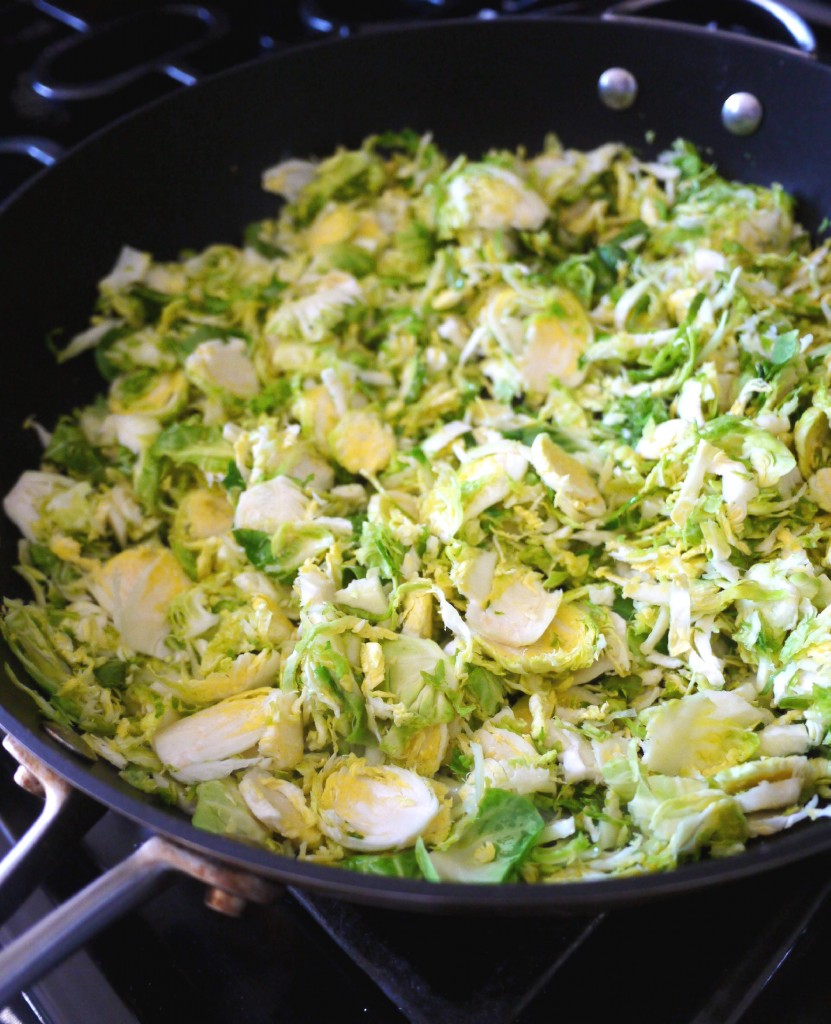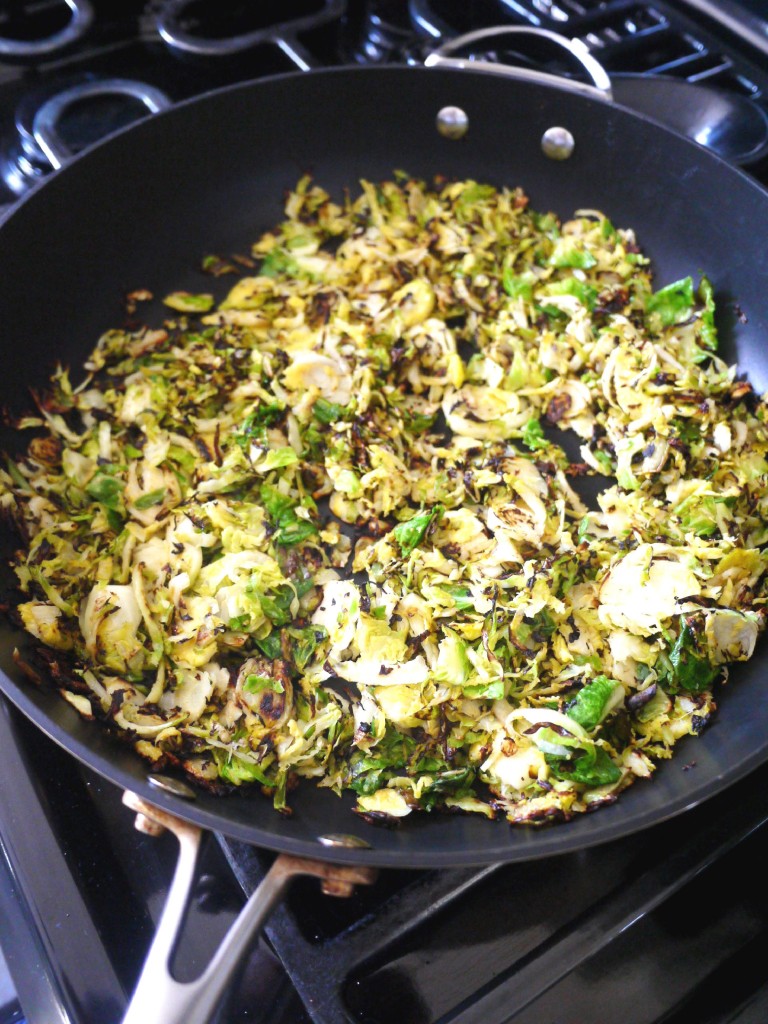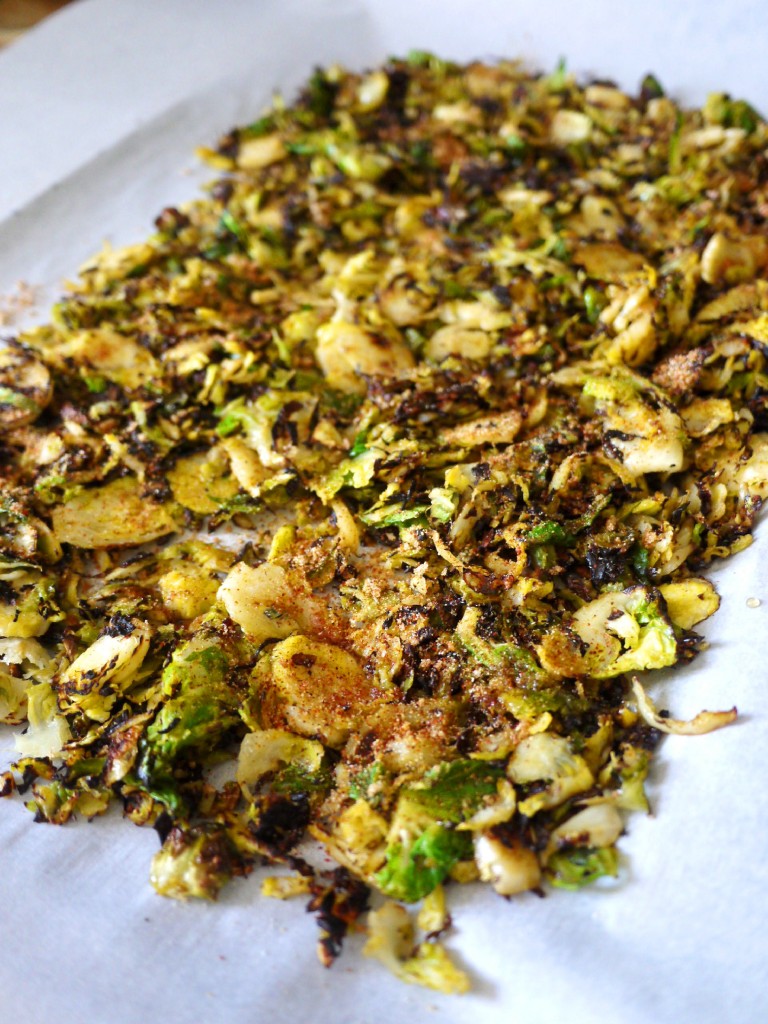 This recipe is inspired by the best sprouts in D.C. which is a high honor since, over the past few years, the Brussels sprout has basically become D.C.'s token vegetable. Every restaurant has the mini cabbage front and center on the menu and every sprout dish I eat is more amazing than the last. Whether they're crispy, rolling with some bacon, or topped with a creamy aioli, D.C. sprouts are all the rage, and I've tasted my fair share. That's why, when I read that
DCity Smokehouse
boasted the best sprouts in D.C., I was skeptical that one sprout dish – and a vegetarian sprout dish at that – could rise above the rest, but, it did. It was smoky, sweet, spicy and crispy all in one bite. We're talking so addictive that I practically ignored the ribs and hushpuppies and just focused on shoveling crispy sprout leaves in my mouth.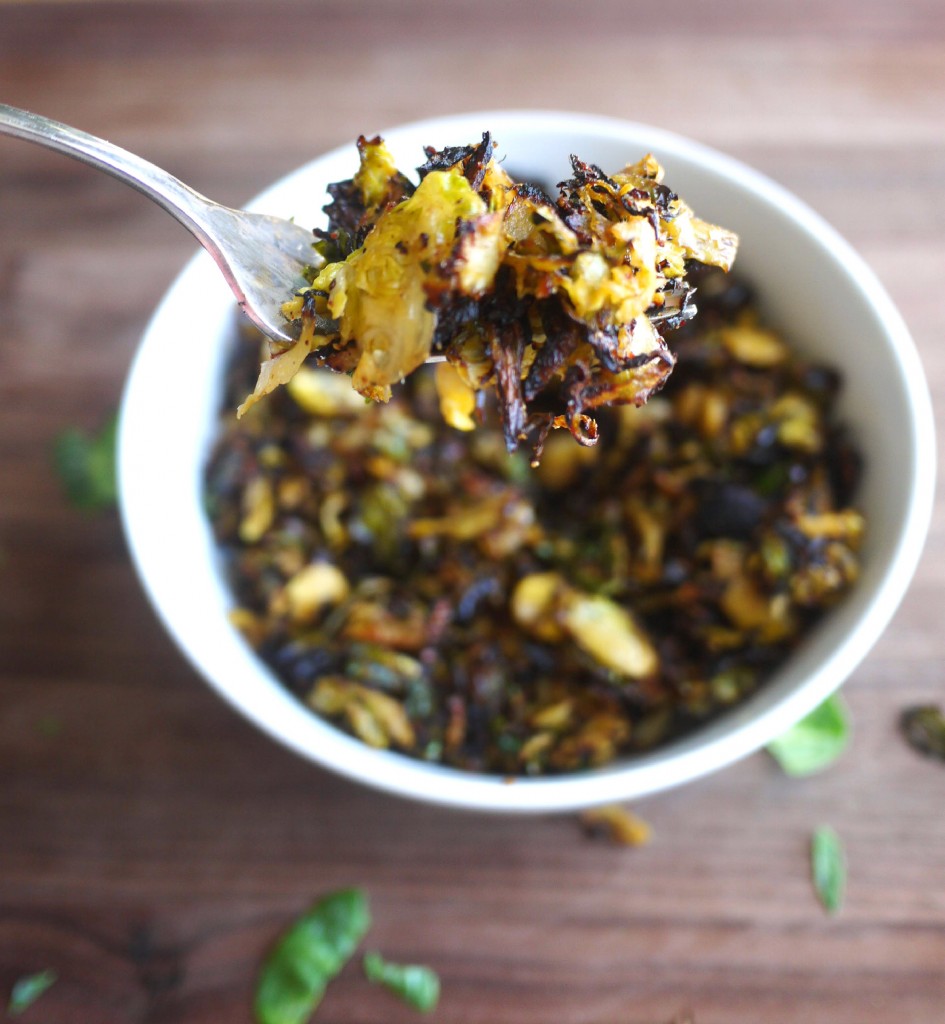 The chef at DCity uses some secret combo of brown sugar and spices and shaves each sprout thin using a mandolin slicer, and, then, flash fries them. The texture is so perfectly crispy, I knew I'd never be able to replicate them perfectly at home, but that didn't stop me from trying. My first attempt resulted in sprouts that were more chewy than crispy. My second attempt, as you see here, resulted in a mix of chewy sprouts and crispy burnt sprout leaves that looked a little, um, worrisome, but tasted surprisingly AWESOME. Alasdair's reaction was, and I quote: "These are the sh*t. This is one of your best recipes ever." You know those pieces of cheese that sometimes escape the bread when you're frying up a grilled cheese and stick to the pan and become sinfully crispy and burned? And you know how those are sometimes the best part of the grilled cheese? That's what these sprouts are like. Now, imagine dipping the sprout version of that burnt cheese into some perfectly sweet maple syrup. The two are like long lost lovers. Add the sea salt and it's like ménage-a-sprout.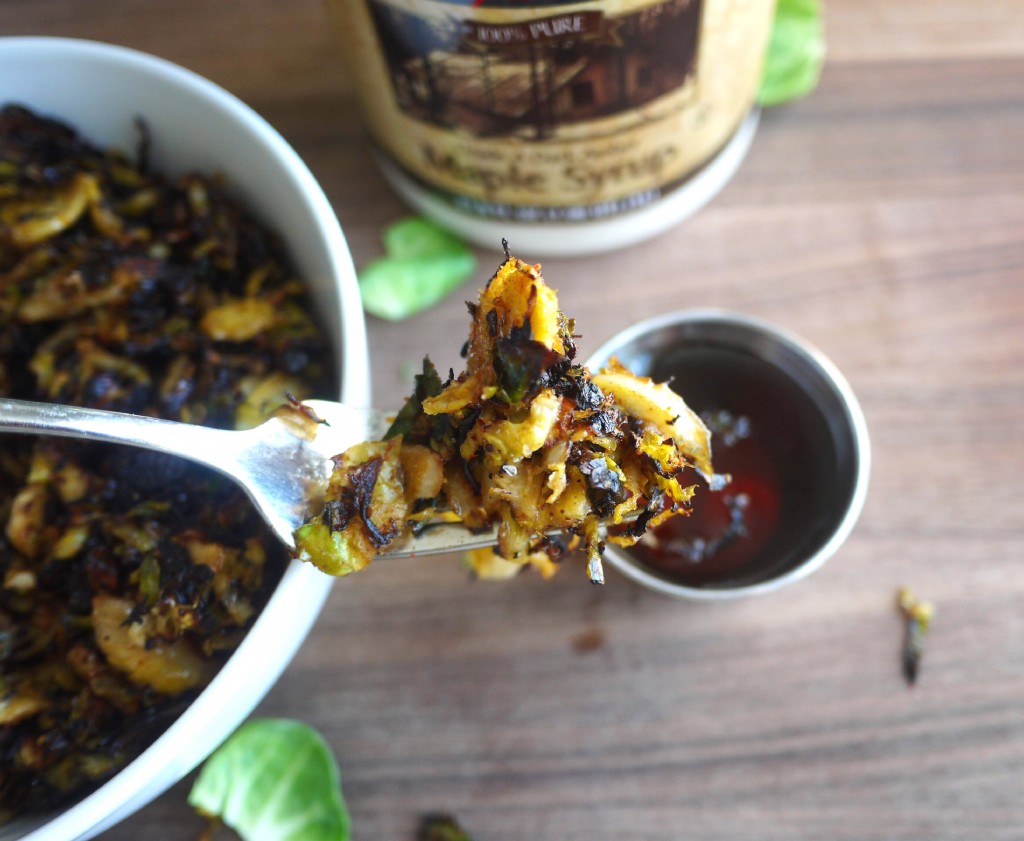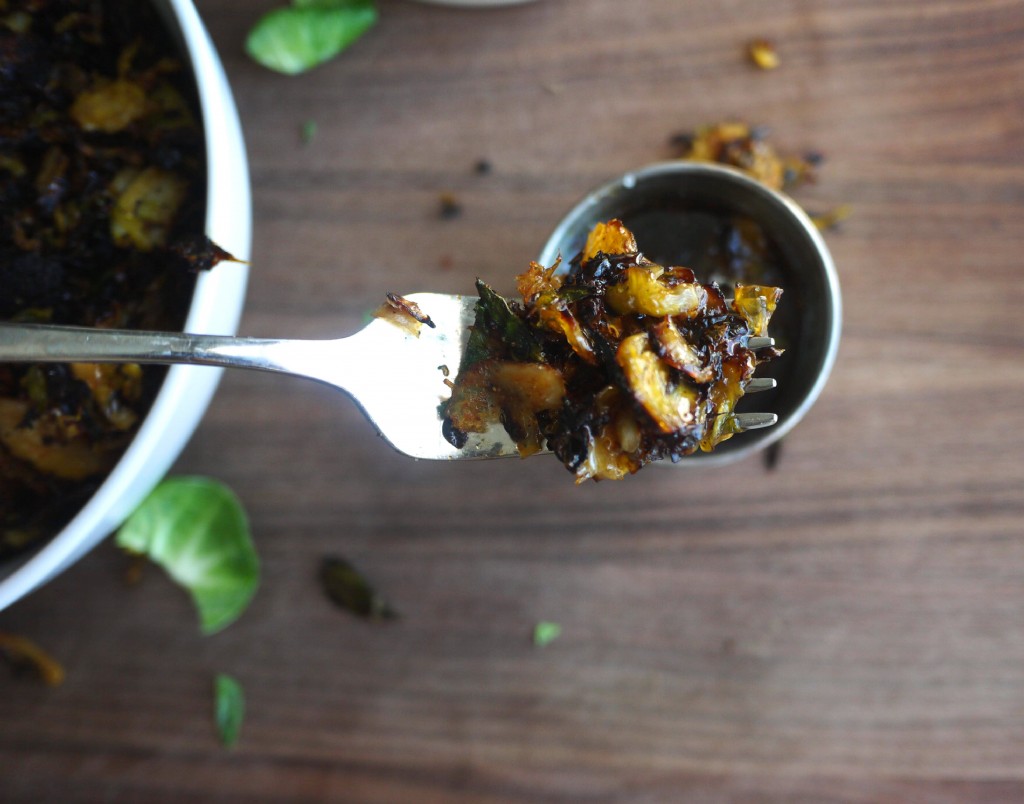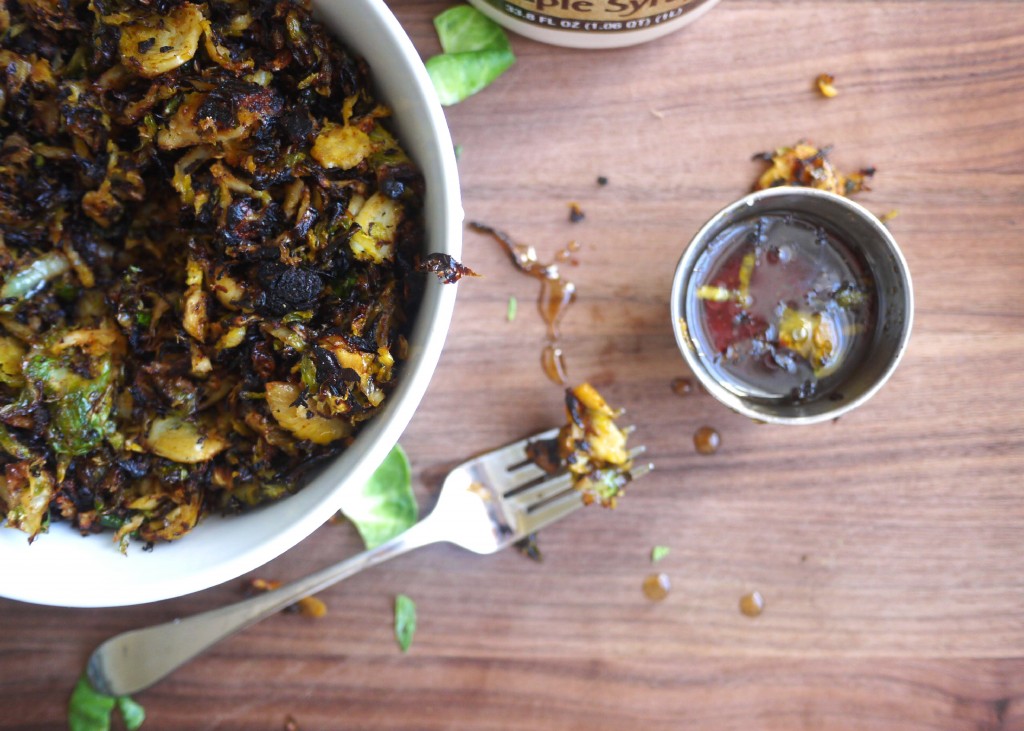 Seriously. My sprouts want to dive head first into a tub of maple syrup (which at DCity was actually meant for the hushpuppies but I deemed just right for the sprouts and then promptly told the owner that's how he should serve them from now on) before jumping into my mouth on the way to their final resting place – a nice cozy corner of my belly.  Of course, by tub, I mean a tiny, appropriately sized cup with a moderate amount of the sugary stuff in it. We don't want to go overboard after all and make our healthy gluten-free, dairy-free, vegetarian vegetable treat so-not-healthy. So, here's to POPSUGAR Now, Brussels sprouts, maple syrup, and unusual TV snacks. 🙂
Disclosure: This post was sponsored by POPSUGAR. While I was compensated to write a post about POPSUGAR Now, all opinions are my own.
Burnt Maple Brussels Sprouts + POPSUGAR Now
Author:
Healthy Recipe Ecstasy
Recipe type:
Snack/Side Dish
Ingredients
20 Brussels sprouts (yields approximately 4 cups shaved)
2 tablespoons canola oil
1 pinch coarse salt
1 tablespoon brown sugar
1 teaspoon garlic powder
¾ teaspoon adobe or chipotle powder (whichever one you can find!)
½ teaspoon chili powder
⅛ teaspoon cayenne pepper
1 tablespoon maple syrup, plus more for dipping
Sea salt
Instructions
Cut the stems off each Brussels sprout. Then, working in small batches, place sprouts in feed tube of a food processor or Kitchen Aid mixer fitted with a thin slicing disk; slice.
Mix the sugar and spices in a small bowl (brown sugar through cayenne pepper).
Heat canola oil in a large skillet over high heat, swirling pan to coat. Once the oil is shimmering, add the sprouts to the pan. Cook over high heat for 5 minutes or until they just begin to burn. Do not stir during this time, allowing them to get really brown and caramelized.
Add a generous pinch of coarse salt. Cook for an additional 3 minutes, stirring occasionally to keep the sprouts from burning too much. If they begin to get overly blackened, turn the heat down a bit.
Add half the spice mixture to the skillet and cook for an additional minute.
Heat the oven broiler on high. Transfer the sprouts to a parchment paper lined baking sheet. Sprinkle the sprouts with half the remaining spice mixture (don't use all of it) and drizzle with 1 tablespoon maple syrup.
Broil for 2 minutes. Take the baking sheet out of the oven, stir the sprouts, and broil for another 2 minutes. Keep an eye on sprouts to ensure they don't burn too much.
Remove the sprouts from the oven. Sprinkle with the last bit of the spice mixture and the sea salt. Toss and serve immediately with a side of maple syrup for dipping.