This shop has been compensated by Collective Bias, Inc. and its advertiser. All opinions are mine alone. #SpringIntoFlavor #CollectiveBias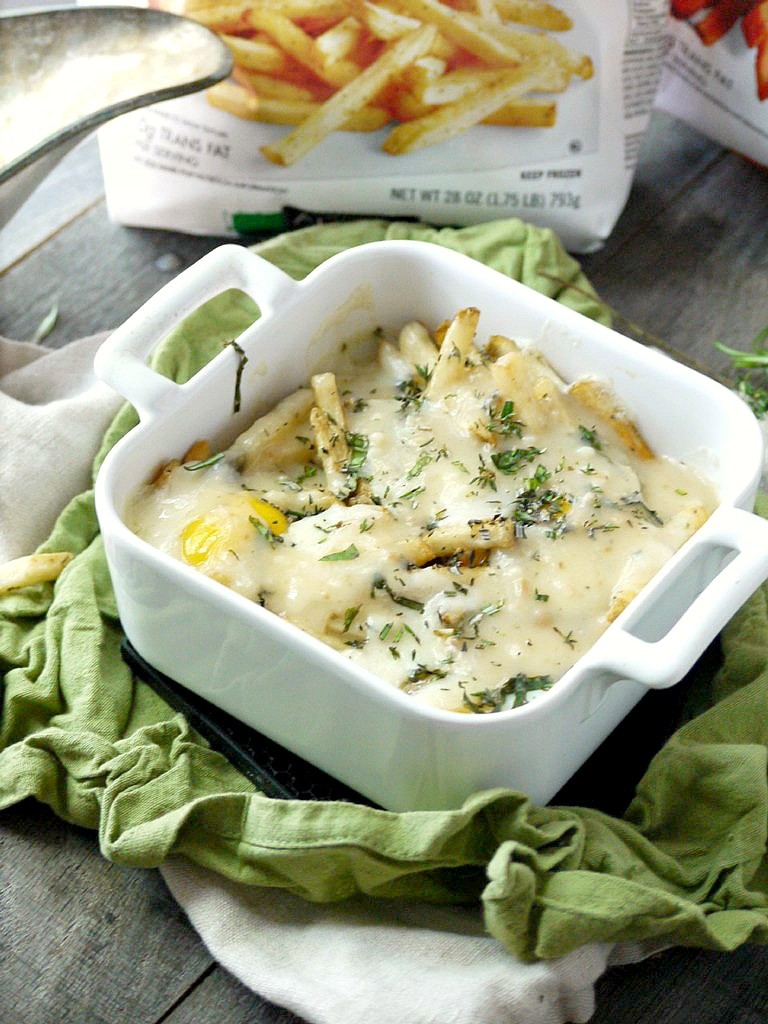 Guys, I am SO excited today. Like REALLY excited. And it's not because my little one started rolling over early and I'm convinced he's going to be an Olympian though that was a good day.
I'm excited because I finally get to work with Alexia Fries & Onion Rings. For months, I've been like a little puppy dog circling around this brand all woof, woof, look at me. I'm cute. Give me a fry. I won't pee on the carpet. Promise. Well, all that circling paid off because I finally got that fry, and, let me tell ya, it was gooood.
This opportunity couldn't come at a better time. I'm going back to my day job (blah) next week and between taking care of the babe, feeding my fam, mountains of laundry, blogging, social media, etc, etc, I am resigned to the fact that my days of cooking fancy meals from scratch are on permanent hiatus. No complicated bolognese sauces, no recipes that involve chopping mountains of veggies and certainly nothing that takes more than 60 minutes (unless it involves a crock pot). That means I will have to rely more on frozen foods and pre-packaged eats.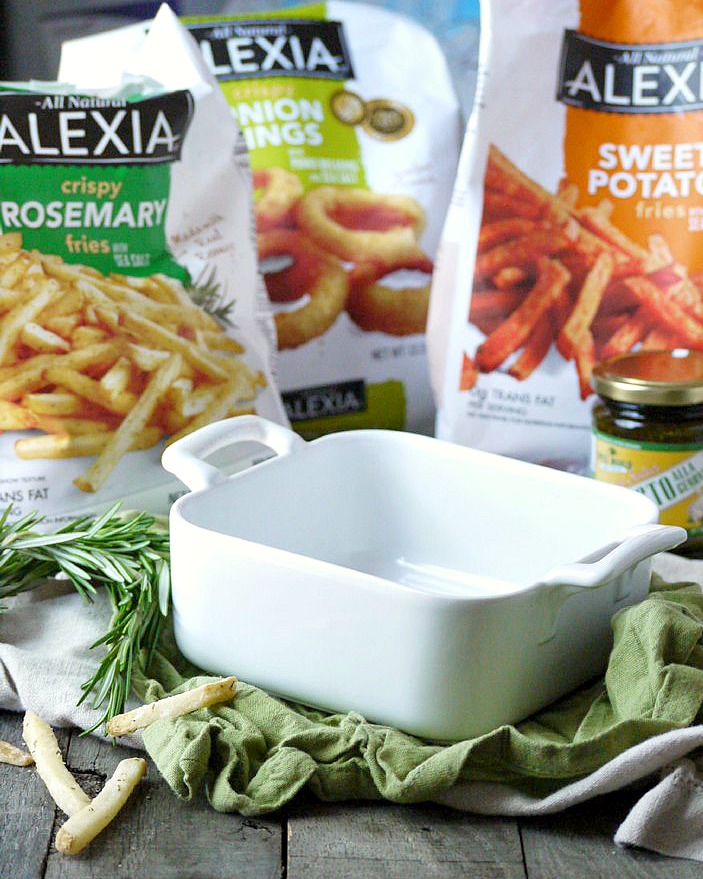 Usually I would be all sad face, but, fortunately for me, there are a lot of great brands out there (like Alexia) that provide healthy, all-natural shortcuts for us burned out moms who want to stay away from processed foods but don't have time to slice a bunch of taters into baked fries. Even more fortunate for me, the new Walmart by our house carries all the Alexia products. Woot woot!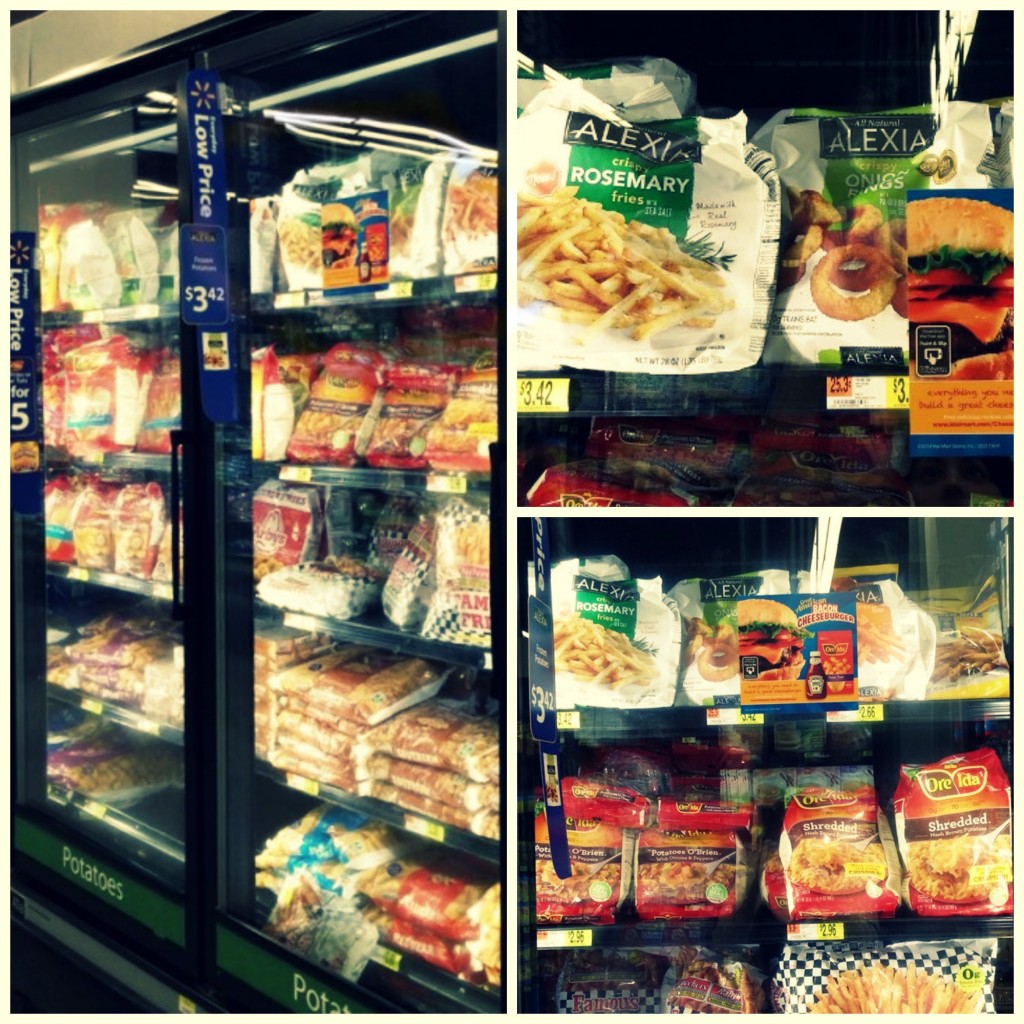 You can throw the fries into the oven for a quick dinner side dish, but, even better, you can use the fries (or o-rings) as a base for a fun snack. And what's one of the funnest snacks involving french fries? POUTINE. Fries, gravy, cheese. What's not to love, eh?
But, let's be honest. It's a pretty trashy dish. A meal generally has no redeeming health qualities when the ingredients include fried starch, gravy and cheese. But poutine's not a lost cause, my friends. I think I made that clear with my Thanksgiving-inspired sweet potato poutine. If you start with some all-natural baked rosemary fries – or better yet, use half rosemary fries and half sweet potato fries for an additional health boost – make a low-sodium chicken stock gravy, add eggs for protein, use a strong cheese so you need less of it (kasseri rocks!) and top the whole kit and caboodle off with some fresh spring herbs like rosemary and thyme, suddenly, trashy poutine becomes a fancified baked snack or breakfast dish that doesn't seem so bad for you.
Fancy enough to break out my awesome silver gravy boat.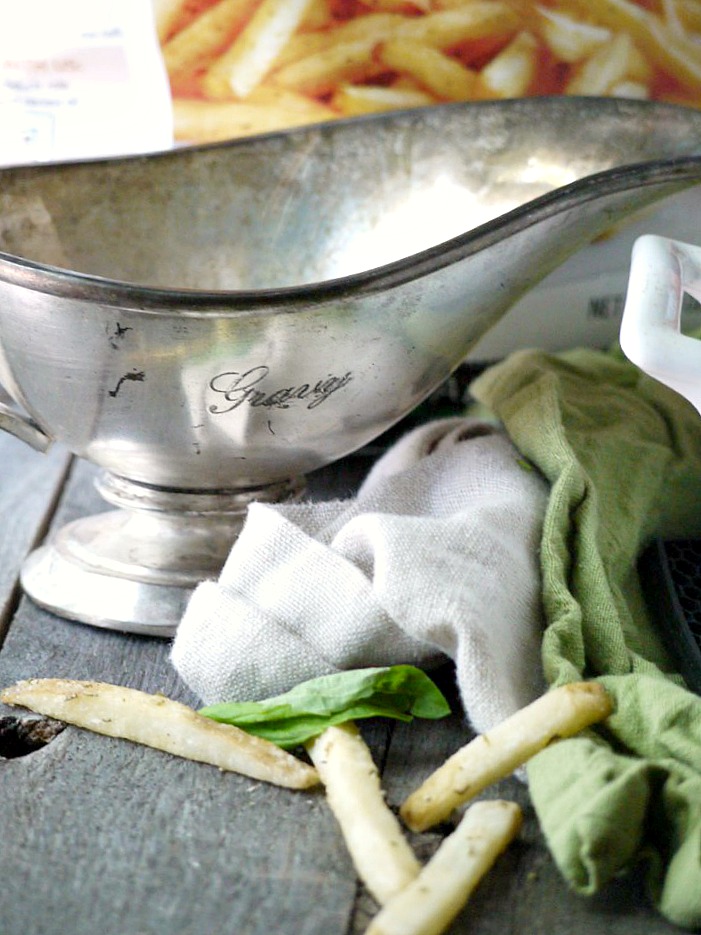 It's all about perception, right? And I perceive this to be mmm mmm goooooood.
Seriously though, kids will love eating french fries with gravy and cheese and adults will be all, wow, look at your fancy baked egg dish with its fancy cheese and fresh herbs. How faaaannnncy.
And you'll be like I don't care what any of you think because gooey cheese mixed with runny egg yolk and gravy equals food bliss.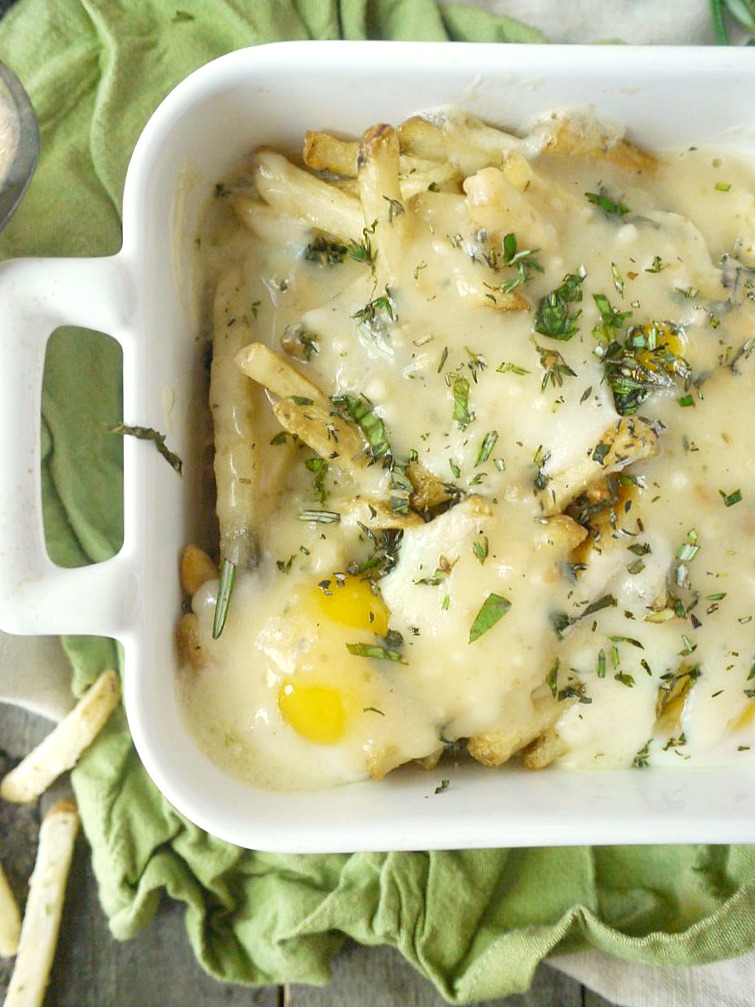 Breakfast Poutine with Kasseri Cheese and Fresh Herbs
Pouring the gravy on the fries before and after baking results in a gooey, creamy, deliciousness that definitely requires a fork. However, if you like the more traditional poutine model of crispy fries and gravy, save all the gravy for the end rather than pouring half the gravy on the fries before baking.
Author:
Healthy Recipe Ecstasy
Ingredients
2 cups Alexia rosemary fries (or 1 cup rosemary fries and 1 cup sweet potato fries)
2 tablespoons unsalted butter
2 tablespoons flour
2 cups all-natural, low-sodium chicken stock
Coarse salt, to taste
Freshly-ground black pepper, to taste
4 large eggs
3 ounces kasseri cheese, torn into chunks (if your grocery store doesn't carry kasseri cheese you can substitute feta cheese)
1 teaspoon chopped fresh rosemary, plus more for garnish
1 teaspoon chopped fresh thyme, plus more for garnish
1 teaspoon thinly-sliced fresh basil, plus more for garnish
Instructions
Preheat the oven to 425 degrees F. Place the fries in a single layer on a baking sheet and bake for 15 minutes or until warm and crisp. Add the fries to an 8x8 baking dish.
Melt butter in a medium saucepan over medium heat. Whisk in the flour until its combined with the butter and cook for 5 minutes or until the mixture begins to darken.
Slowly whisk in 2 cups of chicken stock, half a cup at a time. This helps prevent lumps. Turn the heat down to medium and cook for 20 minutes until the gravy thickens, stirring occasionally. Season to taste with salt and pepper. Set aside and keep warm.
Pour half the gravy onto the fries. Crack the eggs directly on top of the fries. Place the cheese chunks evenly over the fries. Finally, sprinkle with the herbs, saving a few for garnish.
Turn the oven down to 400 degrees and cook the poutine for 10-12 minutes until the eggs are set but still a little runny. Pour the rest of the gravy over the poutine and garnish with the remaining herbs.
Check out Alexia Fries & Onion Rings at their
Facebook page
and
Pinterest Page
.