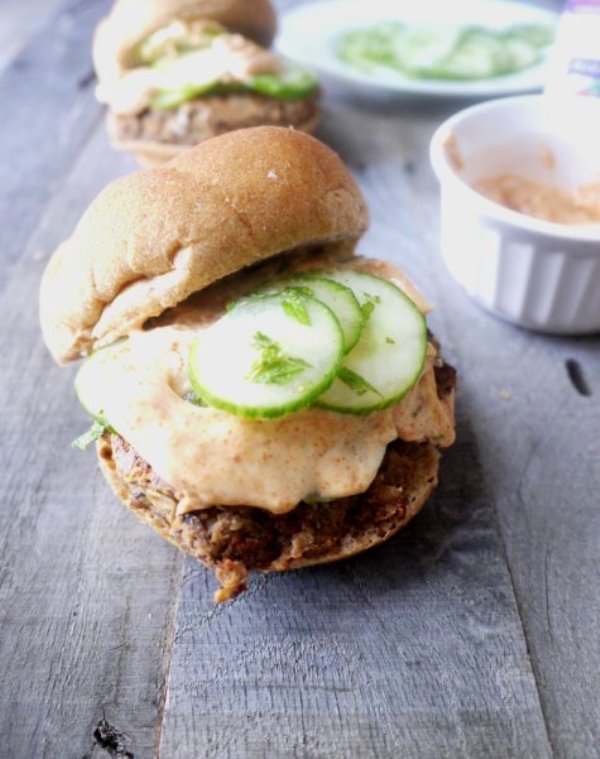 Today is a special day. No, it's not my birthday. It's….wait for it….National Cheeseburger Day!! It's also the first day I've made a recipe for some minor food-related holiday to which most of America is happily oblivious. I used to be one of those happily oblivious Americans whose food holiday concerns pertained solely to Thanksgiving and Cinco de Mayo but I've evolved into a food blogger who now feels bereft when I'm the only one not celebrating Taco Tuesday with a related, well-planned out recipe. 
When I first started blogging, even my Thanksgiving recipes came after the holidays. I hadn't yet got the memo that, as a food blogger, you're supposed to plan your recipes 3-6 months in advance to make sure you hit every little holiday and season-related milestone out there. As a newbie, I was just trying to keep my head above water and get my 2-3 recipes out a week.
Now, more than two years later, I've reached a certain level of routine and organization that allows me slightly more preparation. Am I still finalizing blogs and recipes the day before posting? You betcha. But do I now have an Excel spreadsheet to help me plan my posts at least a month in advance? Yes, I do. Of course, life gets in the way. Some recipes don't work out. Others come out of nowhere and just have to be shared. And still others languish for months on the bench until they get tagged in to play. See what I did there? Football reference? Because it's football season and there are tailgates and we're talking burgers.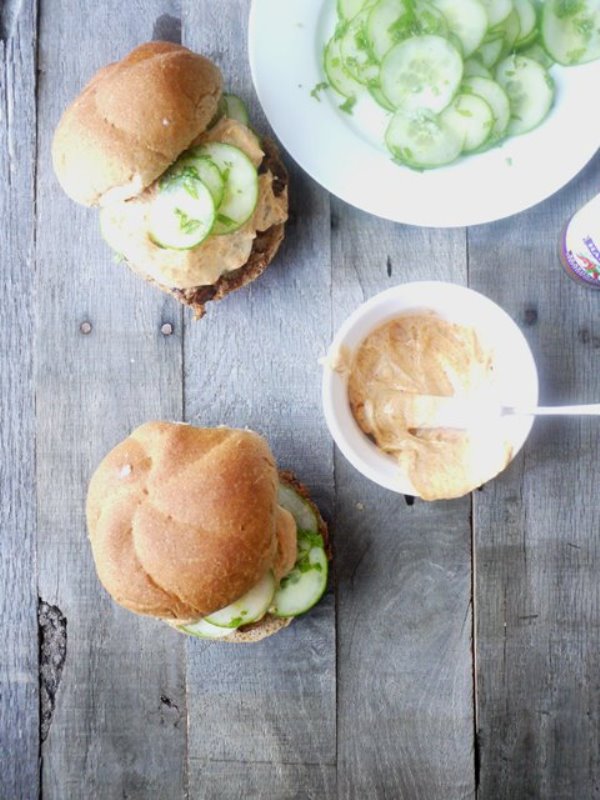 But, before I go any further, I have to admit something. I'm taking a little liberty with National Cheeseburger Day. My recipe isn't exactly a cheeseburger. It's a vegetarian black bean and chickpea burger, and there is no cheese involved. Don't shoot the messenger! Let me explain. First of all, this recipe has been sitting on the bench for months, make that years. Guys, it really wants to play. Second of all, our food categories have become so broad that who knows what "cheeseburger" means anymore. I mean, we're swapping buns for doughnuts and calling those burgers, so I think I'm good here.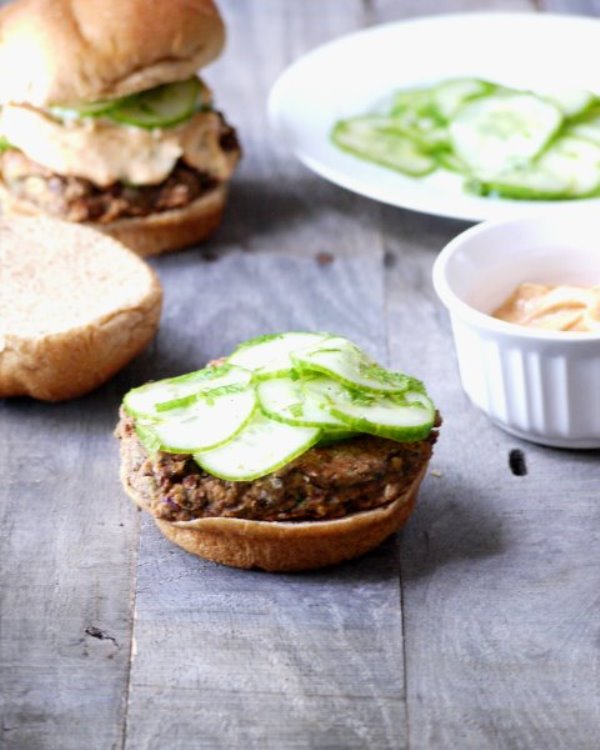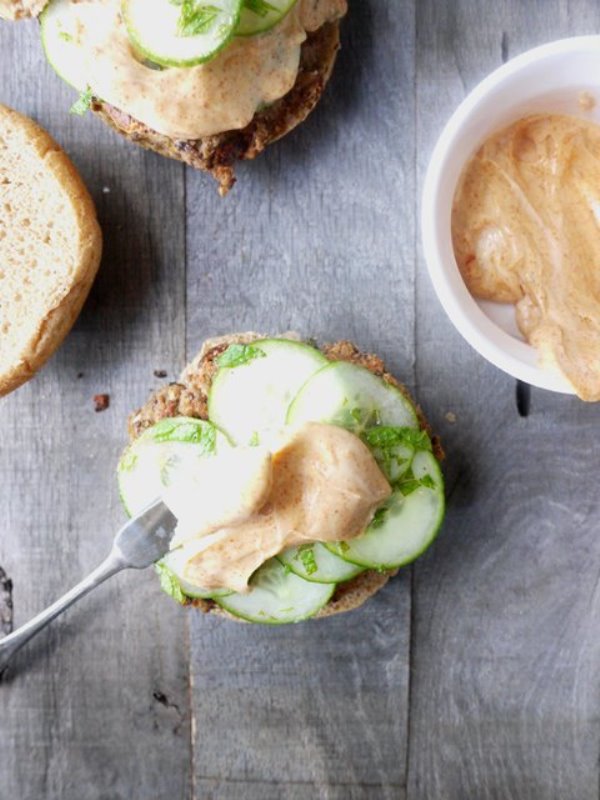 Now, let's talk about the burger. I may have mentioned once or twice or possibly a hundred times my love for our neighborhood burger joint, Big Board. Hey burger guys, I'm chatting you up again. Big Board is home to my favorite burger of all time – the Ciao Bella – which I lovingly remade at home into a slider last year. Now, my love for the Ciao Bella remains, but I've been sorta stepping out on her with a sexy Bogart-type called the Casablanca. He may be vegetarian but he's plenty meaty and spicy, and he makes me blush in a way that only a Bogart-type can. Let's just call it an old-fashioned romance I'm having with this burger and be done with it.
Sometimes, when you're having a food romance, you need to do it in the privacy of your own home. People stare when you go all Meg Ryan over a sandwich in public. So, I brought the Casablanca to my kitchen. The hearty black bean and chickpea burger, minted cucumbers and harissa aioli are all there and, oh, do they make me happy. There is something supremely comforting and familiar about a burger but the flavors here are so vibrant and exciting that it feels like the first time every time.
Burger love. *Sigh*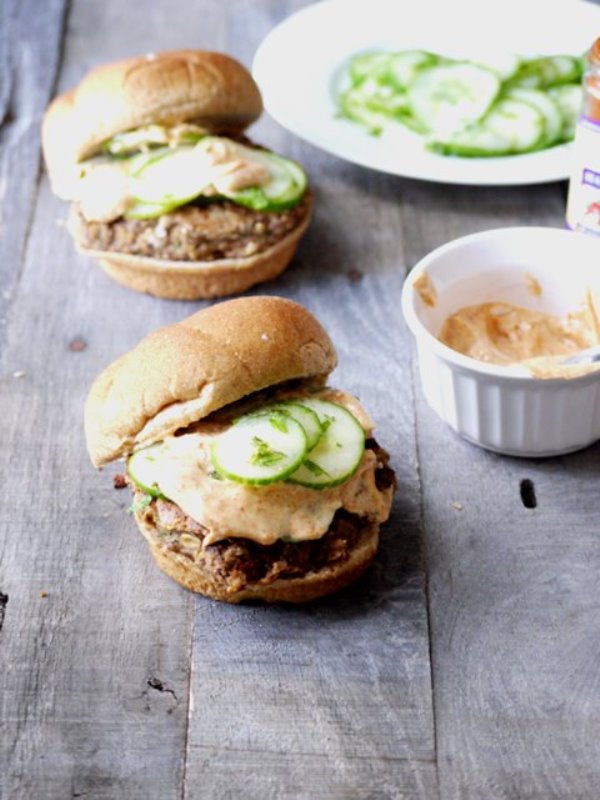 Are you thinking what I'm thinking? Me, the Casablanca and the Ciao Bella burger? Hehe. Now I'm really blushing. 

Black Bean and Chickpea Burger with Minted Cucumber and Harissa Aioli (AKA The Casablanca)
If you don't have oat flour, just take the oats and grind them in a food processor. For a gluten-free version, make sure to use gluten-free oats and a gluten-free hamburger bun.
Author:
Healthy Recipe Ecstasy
Ingredients
Burger:
1 cup chopped red onion
½ cup chopped fresh parsley
2 tablespoons fresh lemon juice
1 teaspoon chili powder
1 teaspoon ground cumin
1 teaspoon ground coriander
½ teaspoon kosher salt
¼ teaspoon freshly ground black pepper
1 15.5-ounce can chickpeas, drained and rinsed
1 15.5-ounce can black beans, drained and rinsed
3 garlic cloves, chopped
2 eggs
½ cup gluten-free oats
6 tablespoons oat flour, plus more for your hands
4 tablespoons olive oil, divided
6 whole-wheat or gluten-free hamburger buns
Minted Cucumber:
1 and ½ cups thinly-sliced English cucumber
Pinch of kosher salt
2 tablespoons white wine vinegar
1 tablespoon extra virgin olive oil
⅛ teaspoon freshly ground black pepper
¼ cup chopped fresh mint
Harissa Aioli:
½ cup low-fat mayonnaise
3 teaspoons Harissa powder
2 teaspoons lemon juice
½ teaspoon salt
Instructions
Burger: Add the red onions and next 12 ingredients (through gluten-free oats) to a food processor and pulse, 8-10 times, until all the ingredients are combined. The texture should be chunky. Scrape the bean mixture into a bowl and add the oat flour. Mix by hand. Coat your hands with oat flour and divide bean mixture into 6 equal portions, shaping the mixture into bun-size patties.
Heat 2 tablespoons oil in a large nonstick skillet over medium-high heat. Add 3 of the burger patties to the pan; reduce heat to medium, and cook 5-6 minutes or until the bottom edges are browned. Carefully turn the patties over; cook 4-5 minutes or until bottom edges are done. Repeat with the remaining patties and remaining 2 tablespoons oil.
Minted Cucumber: Add the cucumber slices and salt to a colander and allow to drain for 20 minutes. Squeeze any remaining moisture out of the cucumber slices with a paper towel. Add the cucumber slices, white wine vinegar, olive oil, pepper and mint to a small bowl and mix together. Adjust seasonings to taste. Let the cucumber mixture sit for at least 15 minutes before using. This allows the flavors to mingle.
Harissa Aioli: Whisk all the ingredients together in a small bowl.
To Assemble: Toast the hamburger buns. Spread the harissa aioli on the hamburger buns. Divide the patties and cucumber slices among the buns and scarf!
link