When Cassie Brewer reached out to me and asked if she could write a guest post for my blog, I was super impressed by her go get 'em attitude and the timing couldn't have been better as I was about to go on a little baby-focused blog hiatus. When she told me she wanted to write about foods you can eat for better skin I nearly jumped for joy as that's a topic I'm REALLY interested in but never seem to have enough time to research.
I've talked a little bit about how dairy affects my body – including making my skin breakout – but I haven't focused as much on the foods that are good for my skin. Cassie's advice couldn't have come at a better time since I've spent the last 9 and a half months without my usual skincare regime due to pregnancy and I plan to spend the next few months sans wrinkle and acne creams while breastfeeding. To keep my skin clear and fresh I definitely need to re-up my focus on what I'm putting in my body and how it's affecting my face. Thanks for the advice Cassie!
Best Foods For Beautiful Skin
By Cassie Brewer
Using quality skincare products on a daily basis is a must, but they should be reinforced by a nutritious diet. There are some foods that go the extra mile to fill your skin with vitamins it needs to look young and beautiful. Here are some top picks.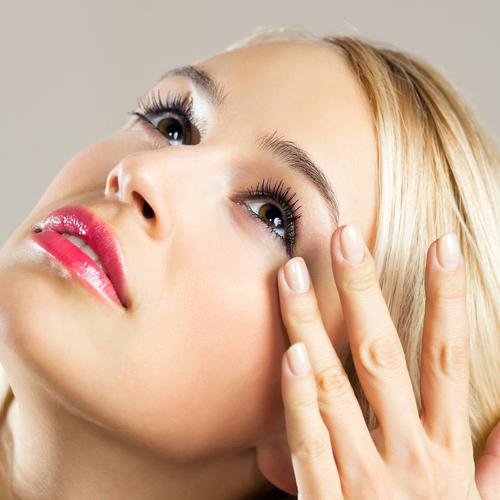 Image Courtesy of Shutterstock
Erase the Lines
The answer to a younger face could be in your salad—put olive oil in it and you can make your skin turn back the clock. A study found that when women consumed two teaspoons of olive oil a day, their skin experienced 31 percent less aging when compared to people who consumed less than that amount. The reason why olive oil is such a youth elixir is that it contains antioxidants called polyphenols which fight free radicals.
Prettify Puffy Skin
Many factors can lead to puffy skin in the eye area, such as late nights, stress and allergies. Cocoa can be found in some beauty products and that's because of its caffeine content that can erase skin puffiness when you need a quick fix. But eating cocoa is also a must. Choose the dark variety that contains large amounts of antioxidants known as flavonoids to decrease swelling and irritation. Cucumbers are also rich in flavonoids, which is why applying slices of them to the eye area is such a popular beauty trick when you want the puff to disappear.
Zap Sunburn!
You know that you should never leave the house before rubbing on sunscreen, but did you know foods such as tomatoes can actually work with your sunscreen product to increase your protection from the rays? Tomatoes contain lycopene, an antioxidant found in cooked tomatoes more than raw produce, that improves the skin's natural barrier to the sun. This increases your protection against sun damage that includes skin cancer, premature wrinkles, and dark spots. But remember: you still need to wear sunscreen religiously!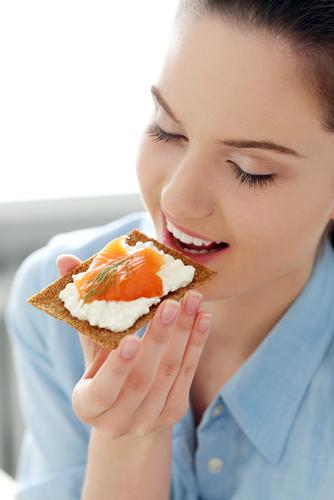 Image Courtesy of Shutterstock
Stay Smooth
Eating foods rich in omega-3 fatty acids is not only good for your health but also your skin. This is especially the case if you suffer from dryness. Nuts such as walnuts contain omega-3 fatty acids, specifically one known as alpha-linolenic acid that keeps skin moist and supple. If you're not vegetarian/vegan, salmon is another omega-3 powerhouse for skin, but you should choose wild salmon instead of the farm-raised variety as it is one of the best omega-3 sources.
Get Beautiful with Beta-Carotene
Vitamin A is found in many skincare products because it is essential for the growth of healthy new skin cells, which makes skin luminous and soft while keeping wrinkles at bay. Where do you find Vitamin A in foods? Check for fruits and vegetables that are rich in beta-carotene, as this gets turned into Vitamin A in the body. Pumpkin is one of the best sources of beta-carotene, plus it's delicious in a variety of meals.
Eat Seeds that Fight Zits
Although you thought that you wouldn't be dealing with annoying pimples after adolescence, you sometimes find yourself with breakouts. Not fun! Eat your way to clearer skin with sunflower seeds that contain up to 37 percent of your daily recommended amount of Vitamin E. This vitamin helps to strengthen the body's immunity so it can tackle inflammation that causes skin problems such as acne. Sunflower seeds are also ingredients in some skin whitening products because their Vitamin E content improves skin elasticity so you achieve luminous skin that also looks younger.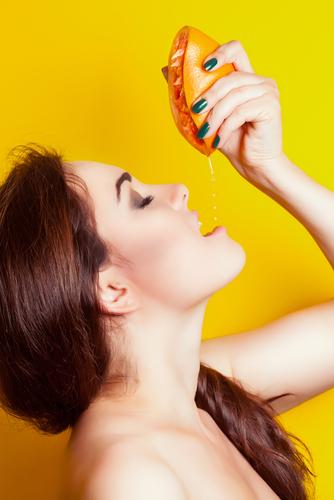 Image Courtesy of Shutterstock
Squeeze in Citrus for Collagen
Citrus fruits are not only great at preventing colds, but they also improve your skin. This is because they have Vitamin C which produces collagen and elastin, contributing to skin that's plumper yet firmer. Add more citrus to your salads and meals in the form of oranges, grapefruits and lemons, so you can give your body the nutrient it needs in a delicious way.
Bringing skin superfoods into your regular diet can help you achieve gorgeous and healthy skin. The bonus is that these nutrients also boost your health, so you can chew your way to inner and outer beauty.
ABOUT CASSIE BREWER:
Cassie Brewer is a journalist based in Southern California. Her interest in health began when she started working as a makeup artist. Since then, she has dedicated her time to writing about diet and wellness in order to help others not only be beautiful on the outside, but radiant on the inside.  Blog: http://cassiembrewer.weebly.com/