Simplicity. That's my new word from now on. Now that I'm entering my third trimester and starting to run out of steam again, I really have no choice but to embrace simplicity. I tried to fight it. But, after two failed batches of grain-free snickerdoodles and a lot of wasted almond flour, I realized that my brain and body cannot handle multiple recipe trials and long ingredient lists and hours spent slaving over the stove.
Oh, and not to mention that I actually forgot to write and post my usual Monday morning blog which is why I'm posting on a Tuesday morning instead.
Hellloooo brain…is anyone in there??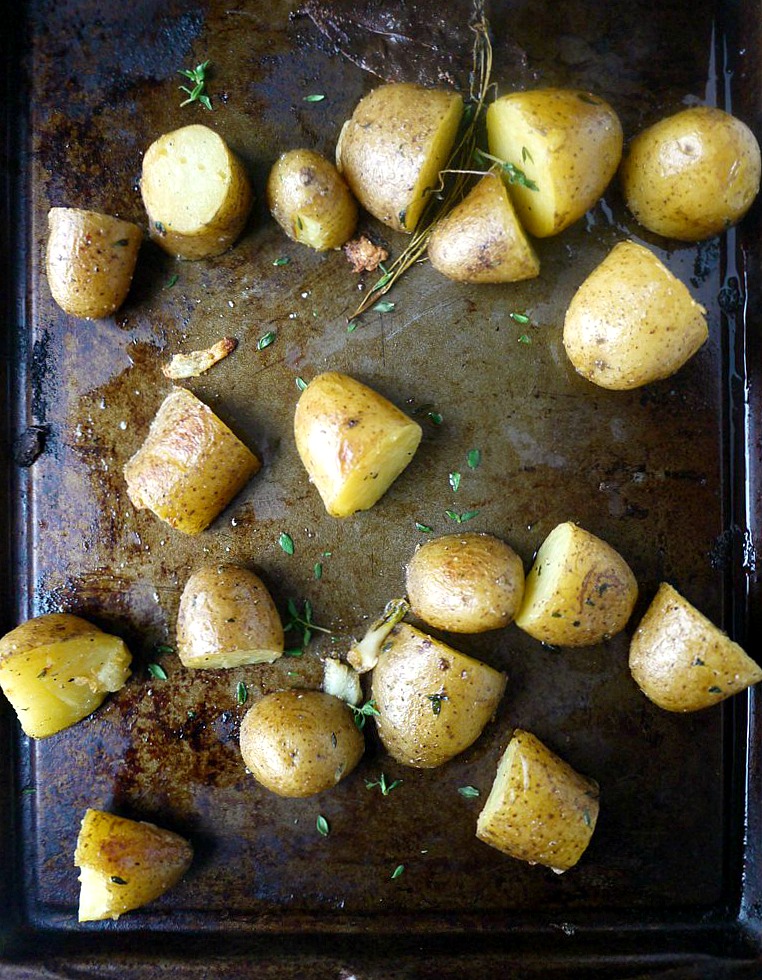 As much as I love the creativity that runs rampant in the blogosphere, it's kind of exhausting. I get the need for it. I mean, how many different ways can you make a basic pumpkin pie? In order to make a splash you have to be the best pumpkin pie, the healthiest pumpkin pie, the most creative pumpkin pie or you have to come up with some crazy spin on the original. Pumpkin pie oatmeal, pumpkin pie-brownie-cookies, pumpkin-pie coffee. You catch my pumpkin-scented drift.
I can't help but get sucked into the fray. I mean, sweet potato poutine, anyone? That was my attempt to stand out amongst the gazillion Thanksgiving recipes last month. Fortunately, it worked.
But, for as many people looking out for the next crazy recipe, there are three times as many cruising the web for a simple, easy dinner. I'm now one of those people. So, you could say, I'm catering to myself. But, myself cannot get on board with boring. Alasdair keeps saying, "why don't we just have chicken, broccoli and potatoes for dinner?" He's talking rotisserie chicken, steamed broccoli and microwave potatoes, and he has a valid point. At this point in my pregnancy, I should be letting him throw some broccoli and taters in the microwave and calling it a day. It's simple and healthy. But it's soooo boring to my taste buds. Even in my pregnant state, I can't.
I….just….can't.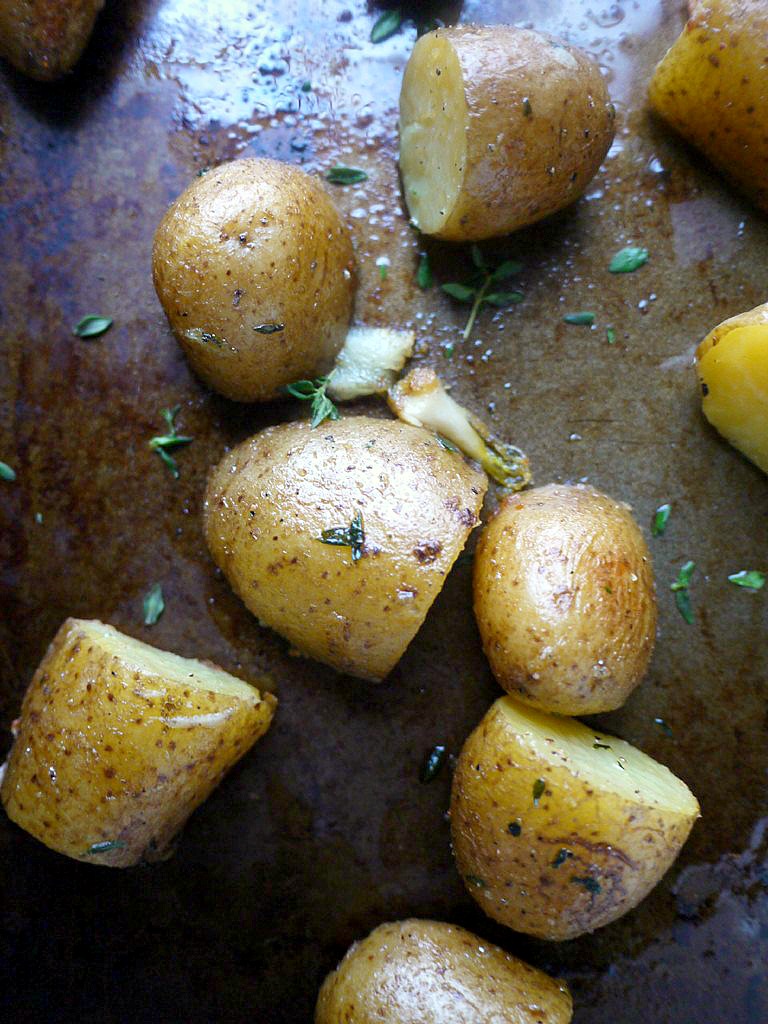 That's where these roasted potatoes come in. If I'm going to have potatoes for dinner, I want them to rock my world. Fortunately, when I was in Paris taking cooking classes last spring, Chef Constance taught me how to make the BEST EVER roasted potatoes. Seriously, they're totally simple but completely divine. There are a few more steps involved than tossing the taters in the microwave, but the recipe is still incredibly easy and ready in under 30 minutes.
Now, this, I can get on board with. The best part? Room for error. If you overboil, just smash them up when you fry and have smashed potatoes. If you don't season enough, just add some seasoning at the end.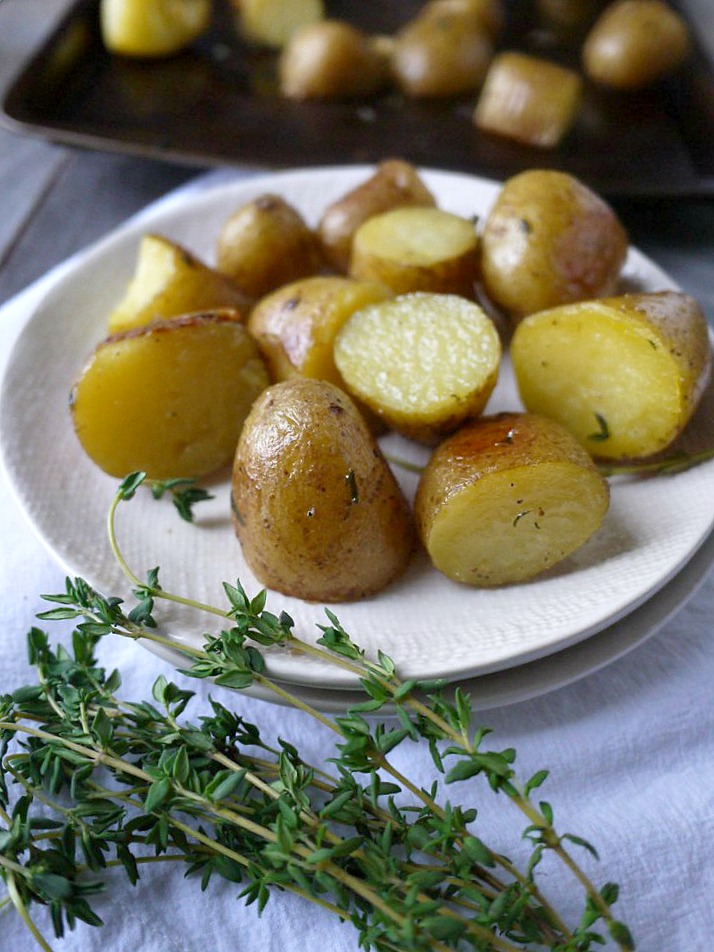 Anything else goes wrong? C'est la vie.

Best Ever Roasted Potatoes
There's a small amount of butter in this recipe (it is a French recipe after all), but feel free to swap in vegan butter for a dairy-free version.
Author:
Healthy Recipe Ecstasy
Ingredients
8 fingerling potatoes
Pinch of coarse salt
4 tablespoons butter, divided
1 sprig of fresh thyme leaves, plus more for garnish
2 bay leaves
1 large clove garlic, smashed
1 tablespoon olive oil
Freshly-ground black pepper
Sea salt flakes
Instructions
Preheat the oven to 450 degrees F.
Wash the potatoes with cold water. There is no need to peel the potatoes, but if they are big fingerlings, cut them into smaller pieces. Add the potatoes to a large saucepan filled with cold water.
Add salt, 3 tablespoons of butter, the thyme sprig, the bay leaves and the smashed garlic to the pot.
Bring the water to a boil and then cook the potatoes for 10 minutes over medium heat or until the tip of your knife goes through the potatoes easily.
Strain the potatoes and retain the thyme, bay leaves and garlic.
Add 1 tablespoon butter and 1 tablespoon olive oil to a non-stick frying pan. Add the potatoes, thyme, bay leaves and garlic to the pan and cook over high heat for 4-5 minutes or just until the potatoes starts to brown.
Add the potatoes to a baking sheet coated with cooking spray and roast them for 5 minute. Garnish with freshly-ground black pepper, sea salt flakes and thyme leaves. Serve immediately.