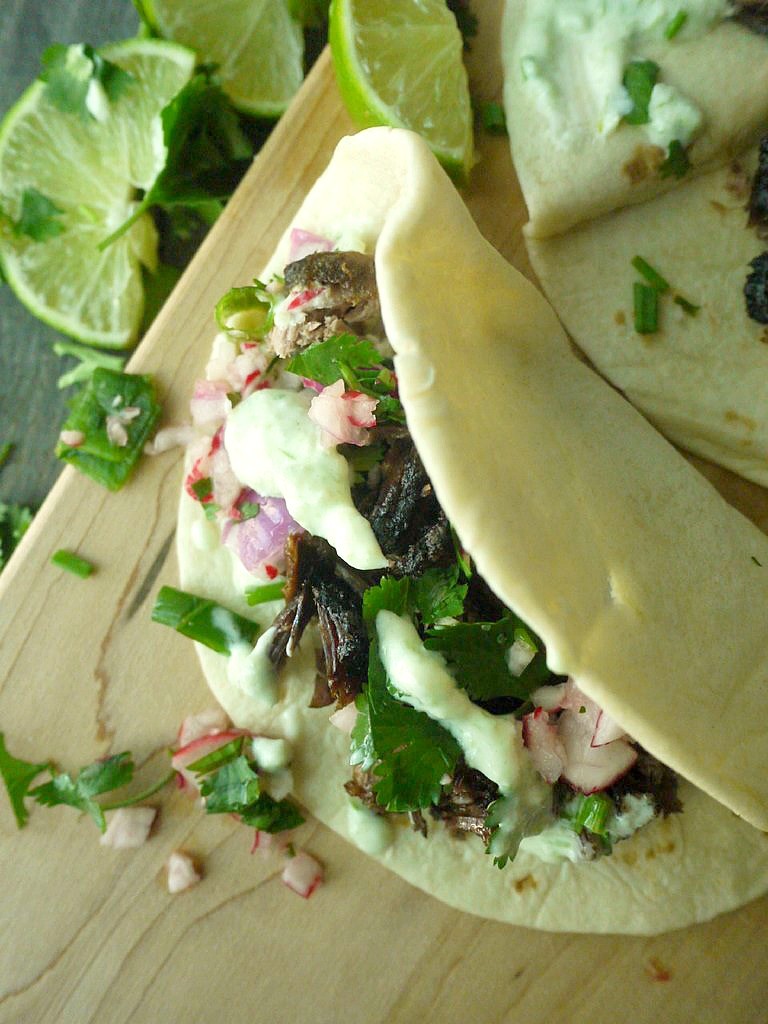 As much as I want to continue complaining about my sleep deprivation and regal you with the details of my first cup of coffee in over 10 years, I thought you all deserve a much-needed break from my seemingly constant bitching and moaning (and the crowd cheers!!).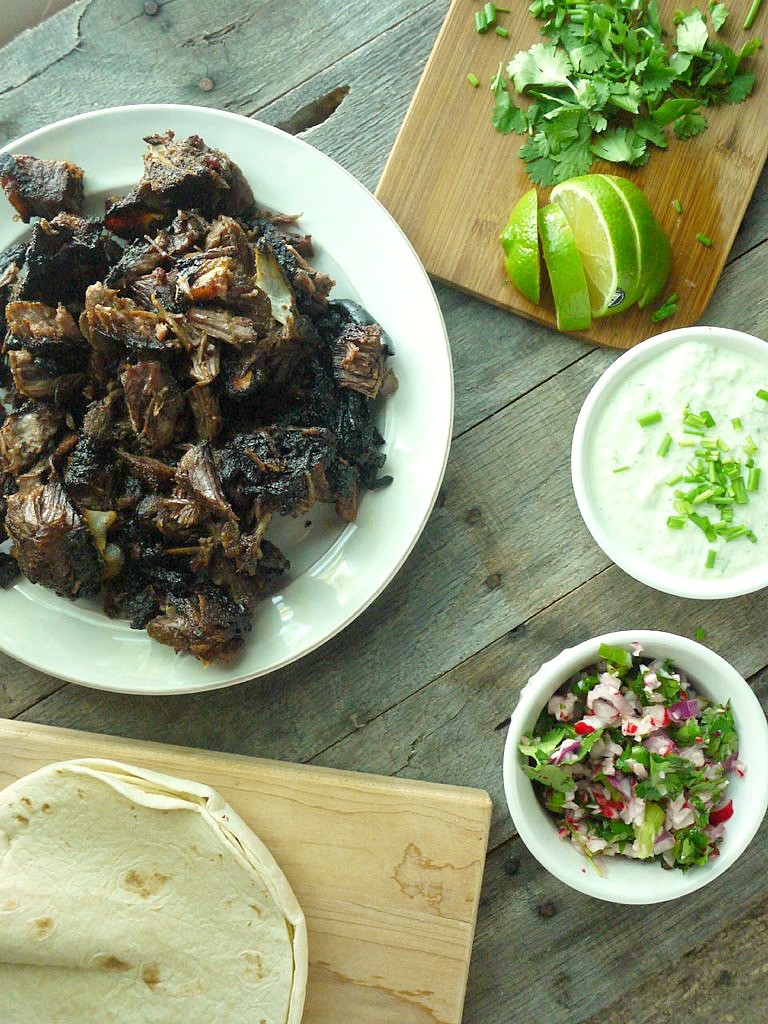 Instead, let's talk about something positive. Let's talk about the fact that while I was on maternity leave, I decided against the better judgment of my entire household, that I should spend a week perfecting a taco recipe to enter into a local recipe contest. You can imagine how that went down:
Me: Should I enter this recipe contest?
Hubby: Umm, you just had a baby a few weeks ago. How about a big hell no to that idea.
Me: But it will probably be the only recipe I make alllllll month and I have a reallllllly good idea.
Hubby: See prior statement; i.e., hell no.
Me: Don't you even want to know my idea?
Hubby: Not really. Get some sleep.
Me: Beer-Braised Lamb Tacos with Radish Salsa and Chive Tzatziki.
Hubby: Did you say beer?
Flash forward to a few days later where hubby was practically licking his plate clean and proclaiming this the best recipe I made in a long time. I was all, I know, right??? That's why I just HAVE to enter this contest!!!
Well, of course, I sent my recipe off, and, then, promptly forgot all about the contest and returned to my mommy haze. You can imagine my surprise when, a month later, the contest peeps are all, YOU WON THESE ARE THE BEST TACOS EVER, and I'm all, I know, right?? Or something less obnoxious.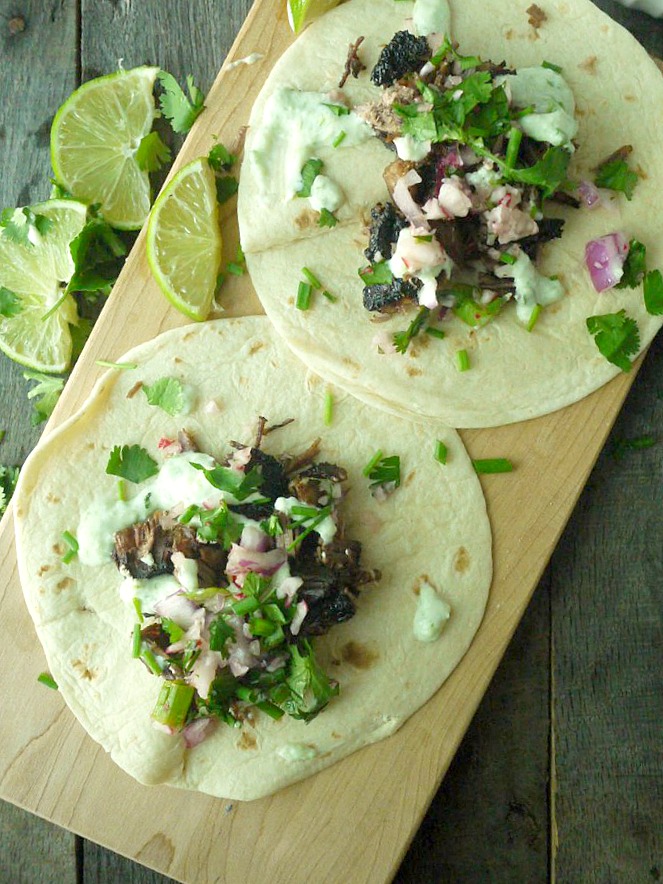 But, seriously, this lamb – it's kind of ridiculous. The beer and honey cook down into this caramelized, sticky, black tar-like substance that coats the tender, shredded pieces of lamb meat. Every bite has a little kick of heat followed by the cool tzatziki sauce and the crunchy salsa. It's D-I-V-I-N-E.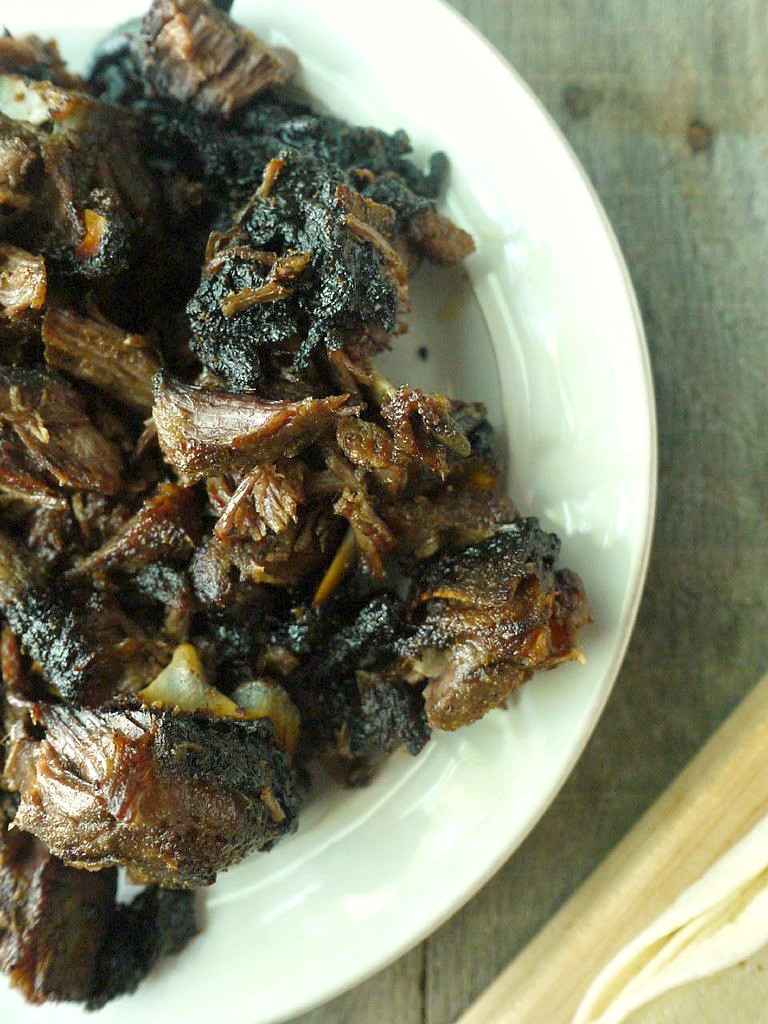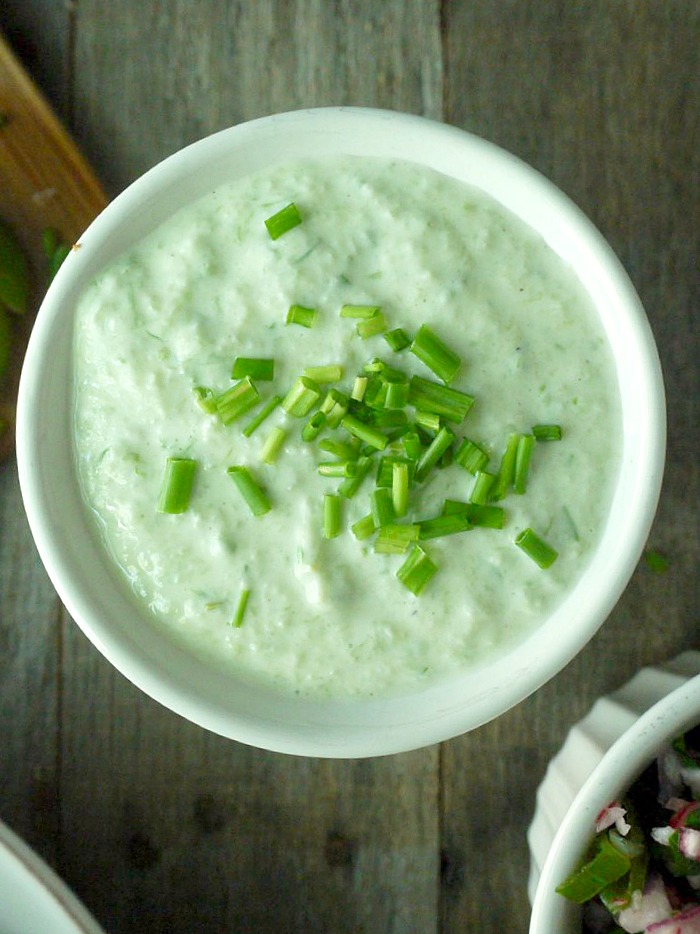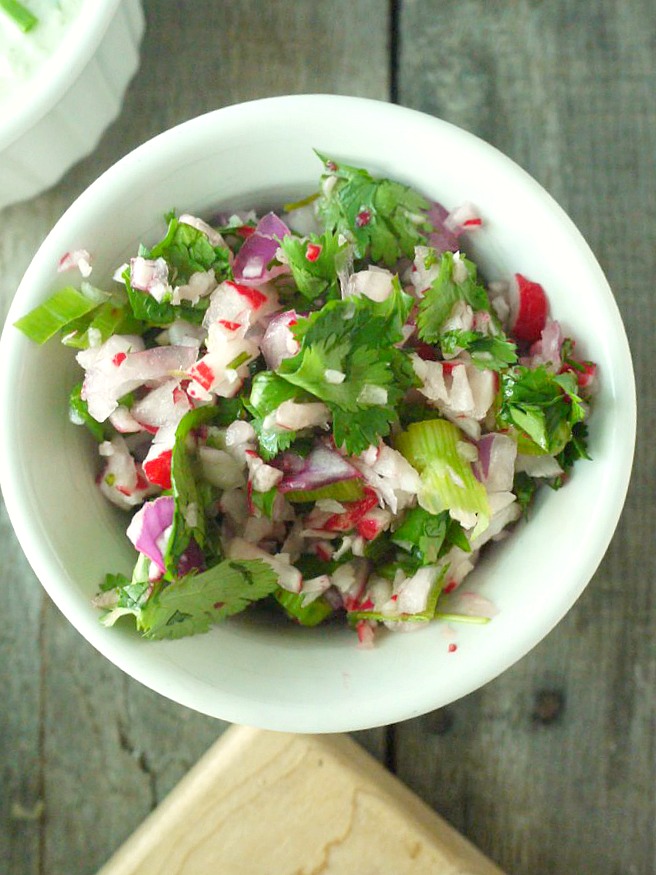 I kind of made hubby eat his words. Literally. Now he wants me to make these tacos on the regular, and I'm all, lamb is expensive and this recipe takes some time, yo!
Let's be honest, 3-minute grilled cheese recipes may be cheap and easy but they don't win contests. Lamb tacos that are made with some tender love and care, on the other hand, win every time (at least in my book…and in their book too).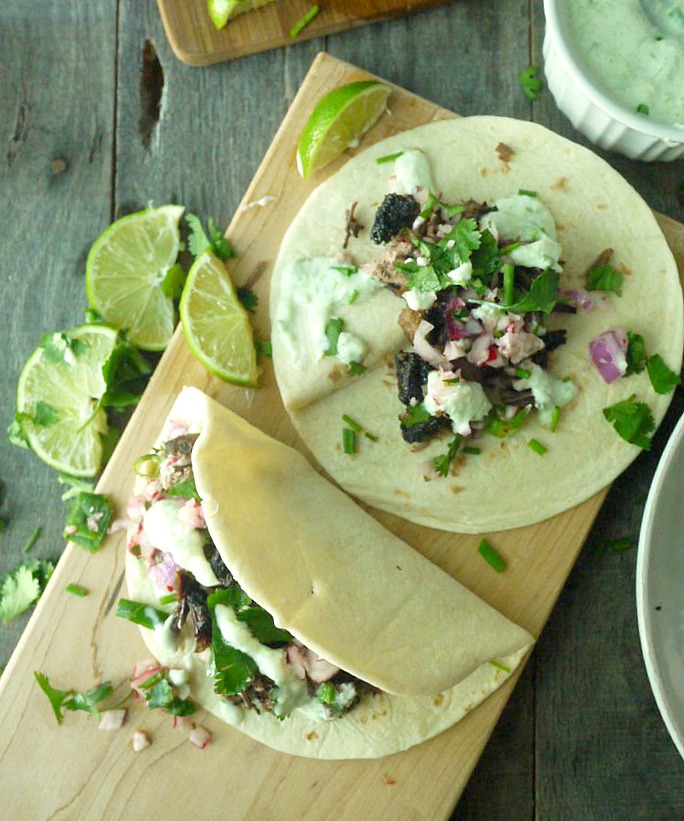 With lamb being not cheap, this recipe is a bit of a special occasion recipe….say for a holiday that may involve sparklers, fireworks and the waving of our red, white and blue. Especially when said holiday coincides with the 4-month birthday of my favorite cutie pie.
Sorry, buddy, you need teeth for this dish. But mommy and daddy will chow down in your honor.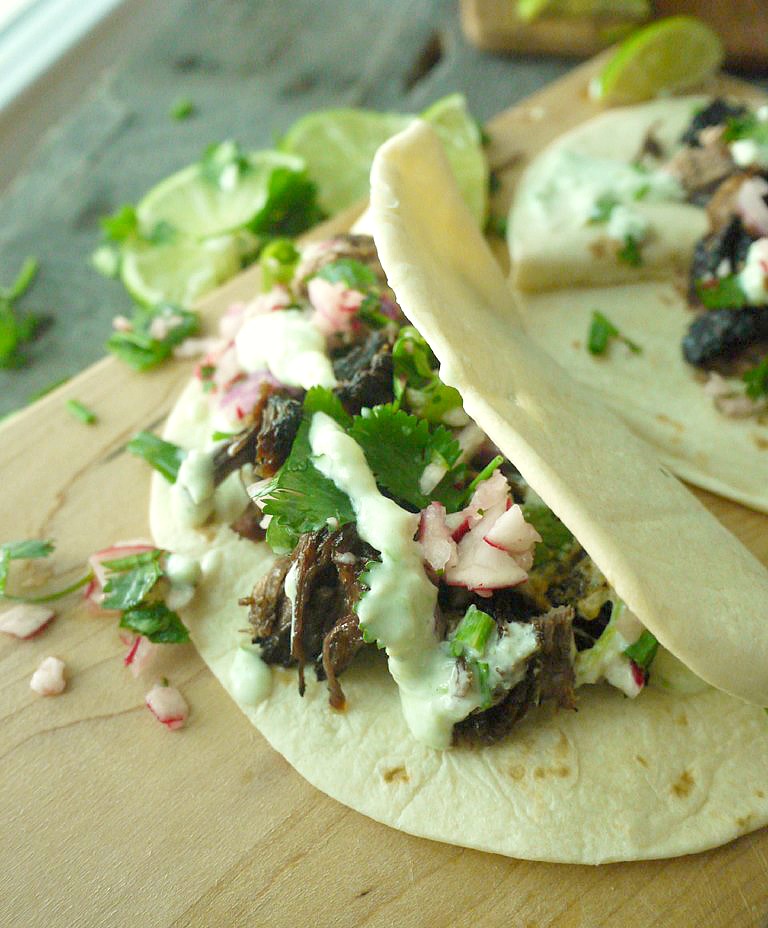 Beer-Braised Lamb Tacos with Chive Tzatziki and Radish Salsa
Even though this recipe calls for 2.5 pounds of lamb, a lot of that weight comes from bone and fat so there's only enough meat for 3-4 servings (2 if you're a big eater). If you can't afford lamb, I think this recipe would also work well with beef or pork.
Author:
Healthy Recipe Ecstasy
Ingredients
Lamb:
2.5 pounds grass-fed lamb shoulder
1 tablespoon garlic powder
2 teaspoons ground cumin
2 teaspoons ground coriander
1 teaspoon chili powder
Kosher salt, to taste
Freshly-ground black pepper, to taste
2 tablespoons grapeseed oil
12-ounce IPA beer (I used a Bell's Two-Hearted IPA)
3 tablespoons honey
2 tablespoons apple cider vinegar
1 tablespoon of your favorite hot sauce or one jalapeno pepper, diced
6 flour tortillas
Cilantro, chives, lime juice, for garnish
Tzatziki Sauce:
1 cup peeled and diced English cucumber
½ tablespoon Kosher salt (for salting cucumbers)
1 tablespoon freshly-squeezed lime juice
1 garlic clove, minced
¼ cup chopped chives, plus more for garnish
6 ounces Greek yogurt
Kosher salt, to taste
Freshly-ground black pepper, to taste
Radish Salsa:
1 cup diced radish
½ cup diced red onion
⅓ cup chopped cilantro leaves
2 scallions, thinly sliced
2 garlic cloves, minced
2 tablespoons freshly-squeezed lime juice
Kosher salt, to taste
Instructions
Lamb:
Preheat the oven to 350 degrees F.
Season the lamb generously with salt and pepper on both sides. Season with garlic powder, cumin, coriander and chili powder on both sides. Rub all the spices into the meat.
Heat the grapeseed oil in a large dutch oven over medium high heat. Add the lamb to the dutch oven and brown on both sides, 3-4 minutes.
Add the beer, honey, vinegar and hot sauce or pepper to the pot. Bring the liquid to a simmer, cover and cook in the oven for two hours or until the lamb is very tender.
Once the lamb is cooked, shred the meat and toss it with any excess liquid.
Chive Tzatziki:
Add the peeled and diced cucumbers to a colander and sprinkle with salt to draw the water out. Let the cucumbers sit for 30 minutes, drain and squeeze them dry with a paper towel to get rid of any excess moisture.
In a food processor or blender, add the cucumbers, lime juice, garlic, and chives. Process until well blended. Stir in yogurt and season to taste with salt and pepper. Garnish with more chives. Keep cool until serving time.
Radish Salsa:
Mix all the ingredients together in a medium bowl. Keep cool until serving time.
To Assemble:
Warm the tortillas. Fill each tortilla with lamb meat and top with salsa and tzatziki sauce. Garnish with cilantro, chives and a squeeze of lime, if desired.