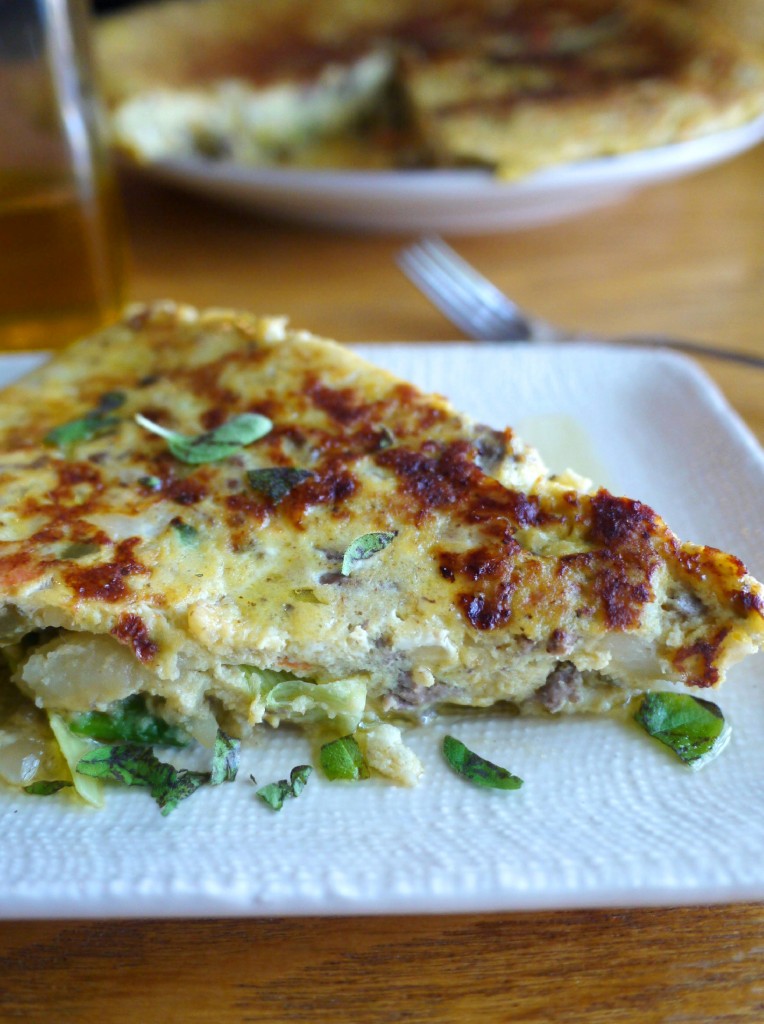 When I used to think about tapas, I thought about simple patatas bravas and pan com tomate. I thought about half-price sangria and fried jamon croquettes. Now, after spending a week in Spain, I think about little plates of salty anchovies, tuna-stuffed peppers, cod pil-pil, prawn and Iberian ham brochettes, and 100 other little pintxos sitting 20 deep on the bar just waiting to be picked up by their toothpicks and settled into their new home – my salivating mouth. Each dish, simple in nature and complex in flavor, opened my eyes to a hold new world of "tapas." A world where you stand at the bar, drinking wine and eating little one-bite wonders right off the counter. I was so in awe of all those tiny, but towering creations that I all but ignored my trusty fave – the simple, yet classic Tortilla Espanola, otherwise known as the Spanish Omelet.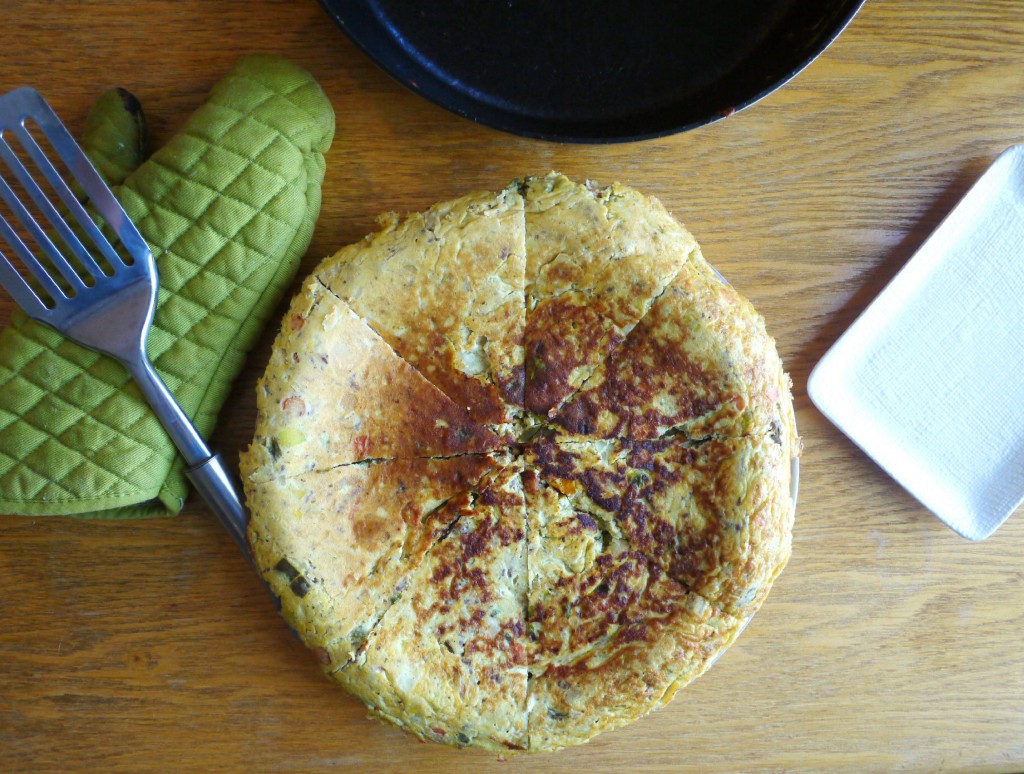 Tortilla Espanola is one of those surprising culinary delights that is characterized by not much more than eggs and potatoes served lukewarm – basically, an egg and potato omelet. On paper, it's not the stuff of gastronomical dreams; but in reality, it works. That's why, when I realized I neglected a standard in Spanish cuisine during our honeymoon, I felt compelled to give the dish a little attention in my home kitchen. Alasdair, on the other hand, with his penchant for spices, sauces and meats, is not overly wowed by a lukewarm egg and potato bake and certainly did not feel like he was missing out. I knew that if I was going to incorporate the Tortilla Espanola into our dinner routine, I was going to have to beef it up – literally. So, I added ground beef, spices and herbs – cayenne, cumin, garlic powder and oregano – and a few extra veggies to give the dish a flavor boost.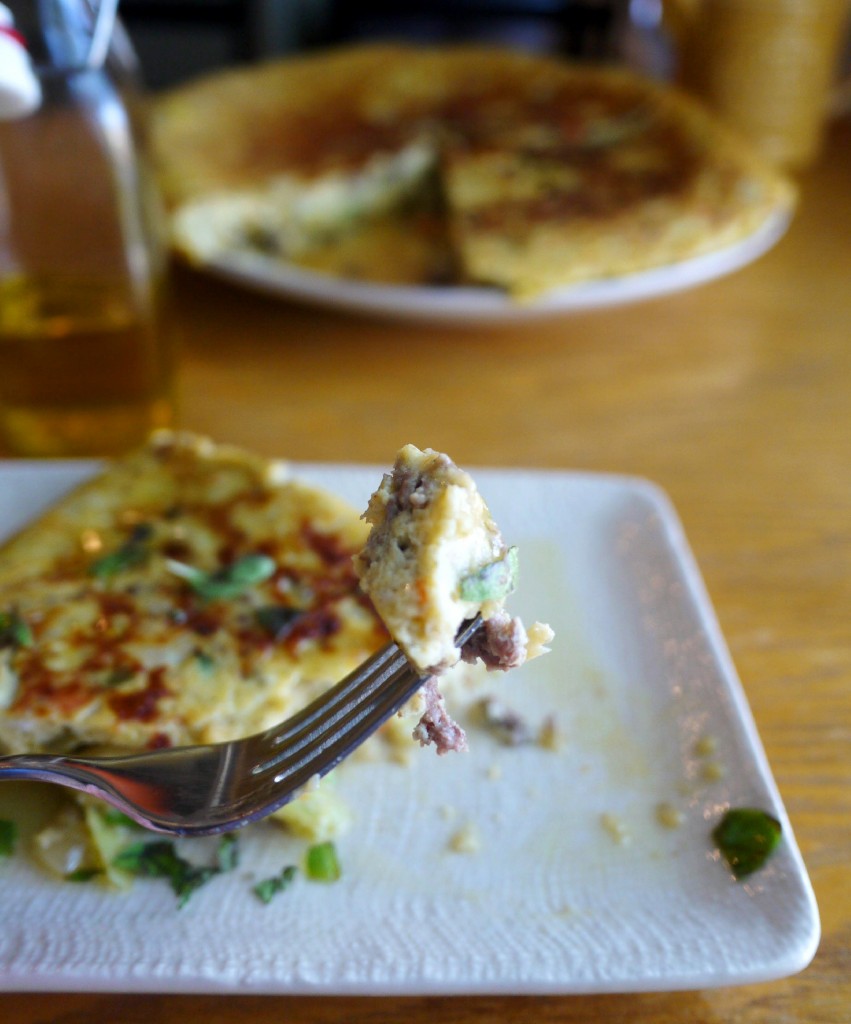 Healthy Recipe Ecstasy? This recipe is loosely based off a combination of two different recipes from my newest favorite cookbook (yes, I know, I have a new favorite cookbook every week) called The Pintxo Trail. I found this cookbook while we were honeymooning in San Sebastian, Spain, and I immediately fell in love because taking the book – filled with recipes from 100 of the best tapas bars in San Sebastian – home with me meant that I didn't have to leave those amazing dishes behind in Spain. After perusing the entire cookbook about three times, I realized that those seemingly simple pintxos were not so simple at all – even the Tortilla Espanola was more involved than I originally thought.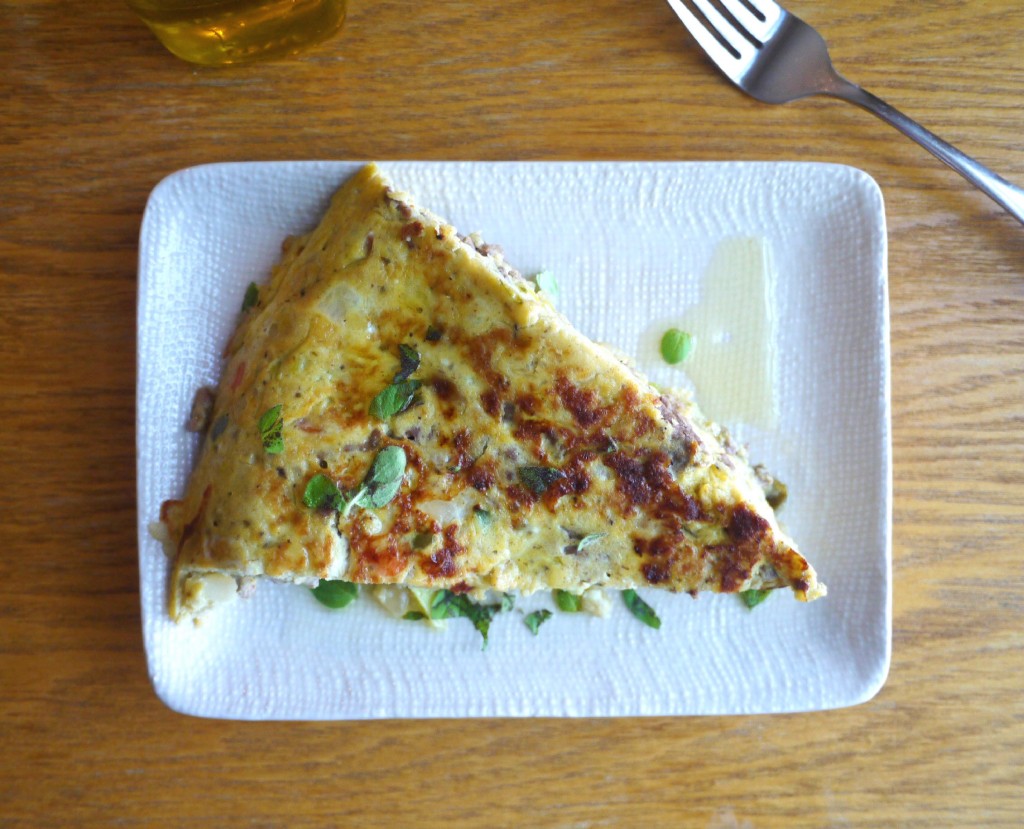 It didn't help that the book is a bit more lenient in its direction than most American cookbooks. For instance, the first recipe I looked at – the traditional five-ingredient potato tortilla – gives no cooking times or temperatures. The second recipe I looked at – the ropa vieja tortilla – calls for "cooked meat," "cooked onions," and "eggs." Not only does it not find cooking times or temperatures necessary to share, but it also doesn't see the need to box you in with silly little things like amount of ingredients. Thus, using these two recipes for inspiration, I was kind of flying by the seat of my pants.  The first time I made the tortilla, it was a bit too dry, which is shameful according to the potato tortilla recipe which instructs readers to cook the tortilla so that "the center is as juicy as possible." The second time I made the tortilla, I let the potatoes and onions cook until they were "almost confit" as described in the recipe and I decreased the broiling time, which resulted in a much moister, juicier tortilla dish. Look at that juicy center!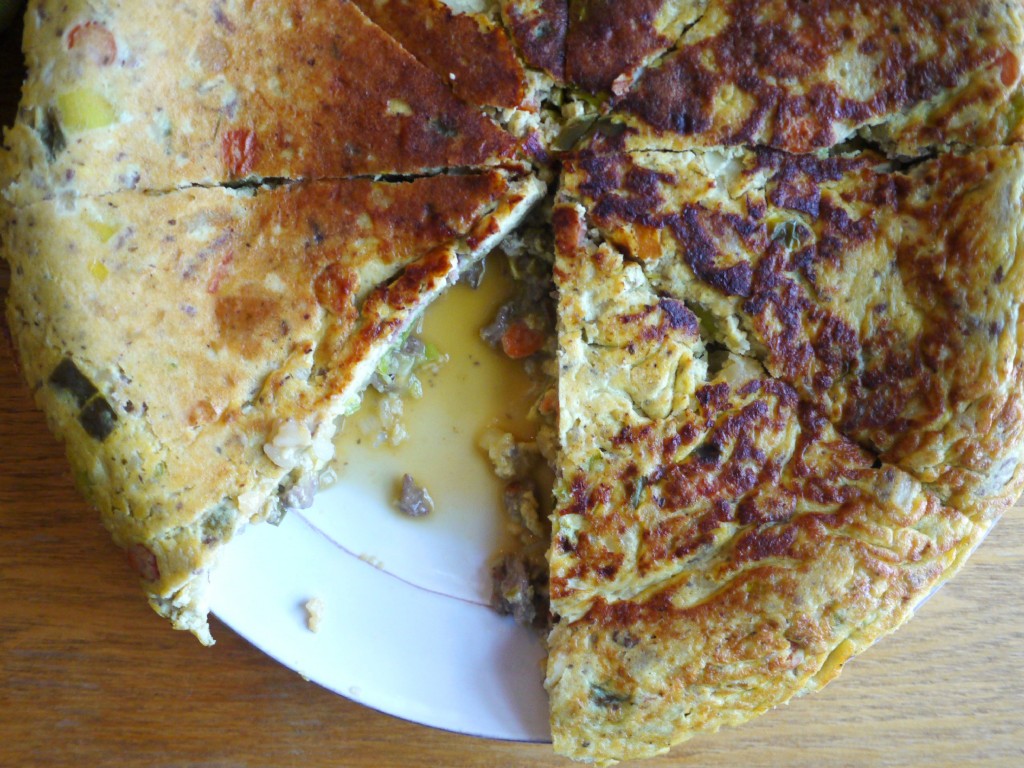 While the dish does contain a good bit of fat from the hefty amount of olive oil used, it also contains healthy protein in the form of eggs and lean beef and is perfect for those with gluten and dairy issues. Even better, all the ingredients are acceptable for people on the Paleo diet. Feel free to leave the meat out if you would like a vegetarian tortilla. Alasdair liked that the ground beef gave the dish the feel of a shepherd's pie but it's more traditional to make the recipe sans meat. I served the tortilla with some fresh oregano leaves and a drizzle of olive oil (like it needed more, right?). However, another option is to serve the tortilla with a garlic aioli like the D.C. tapas joint Boqueria serves with its Tortilla Espanola or the red pepper sauce that Cooking Light suggests to accompany its Spanish Potato and Spinach Tortilla.

Beefy Spanish Tortilla
Author:
Healthy Recipe Ecstasy
Ingredients
1 pound lean ground beef (I used 93% lean/7% fat - there's enough olive oil in the dish that I didn't need the extra fat from the meat)
¼ teaspoon cayenne pepper
¼ teaspoon cumin
¾ teaspoon garlic powder
¾ teaspoon dried oregano
1 medium onion, diced
1 green pepper, diced
1 large russet potato, peeled and thinly sliced
¼ cup olive oil
1 generous pinch coarse salt
1 cup leeks (white and light green parts only), thinly sliced
½ cup chopped carrots
¼ cup plus two tablespoons stock or broth (I used veggie because it's what I had on hand, but beef would work well with the ground beef)
14 eggs
2 tablespoons olive oil
Fresh oregano leaves and more olive oil for garnish
Instructions
Brown the beef over medium-high heat for 5-6 minutes in a large skillet. Add the spices (cayenne through dried oregano) and cook for one additional minute. Put the beef in a bowl and keep warm.
Add ¼ cup of olive oil to the skillet. Add the sliced potatoes, onions and green peppers; let cook over medium-high heat for 3-4 minutes or until the potatoes and veggies start to brown. Add a generous pinch of salt and turn the heat to medium low. Cover and cook slowly until potatoes and vegetables are fork tender, about 15-18 minutes.
Uncover the skillet and add the meat, leeks, carrots, and stock or broth to the potato mixture. Stir all the ingredients together and let simmer, uncovered, over medium-low heat for an additional five minutes so the flavors mingle. Check and adjust seasonings, if necessary.
Preheat broiler. Beat eggs in a large bowl. Stir the meat and potato mixture into the eggs.
Wipe the skillet clean and heat two tablespoons olive oil over medium-high heat. Add egg mixture and cook, stirring gently, until eggs begin to set; about 2 minutes. Spread egg mixture in an even layer and reduce the heat to medium low. Cook, shaking the skillet occasionally to prevent sticking, 12 minutes or until the eggs are almost fully set.
Transfer the skillet to the oven and broil for one minute. Let the skillet cool for five minutes and then invert the tortilla onto a large plate. This is the hardest part, especially if you have a really heavy skillet like I do!
Garnish the tortilla with fresh oregano and a drizzle of olive oil. Serve warm or room temperature.
SERVING SIZE: One tortilla wedge.