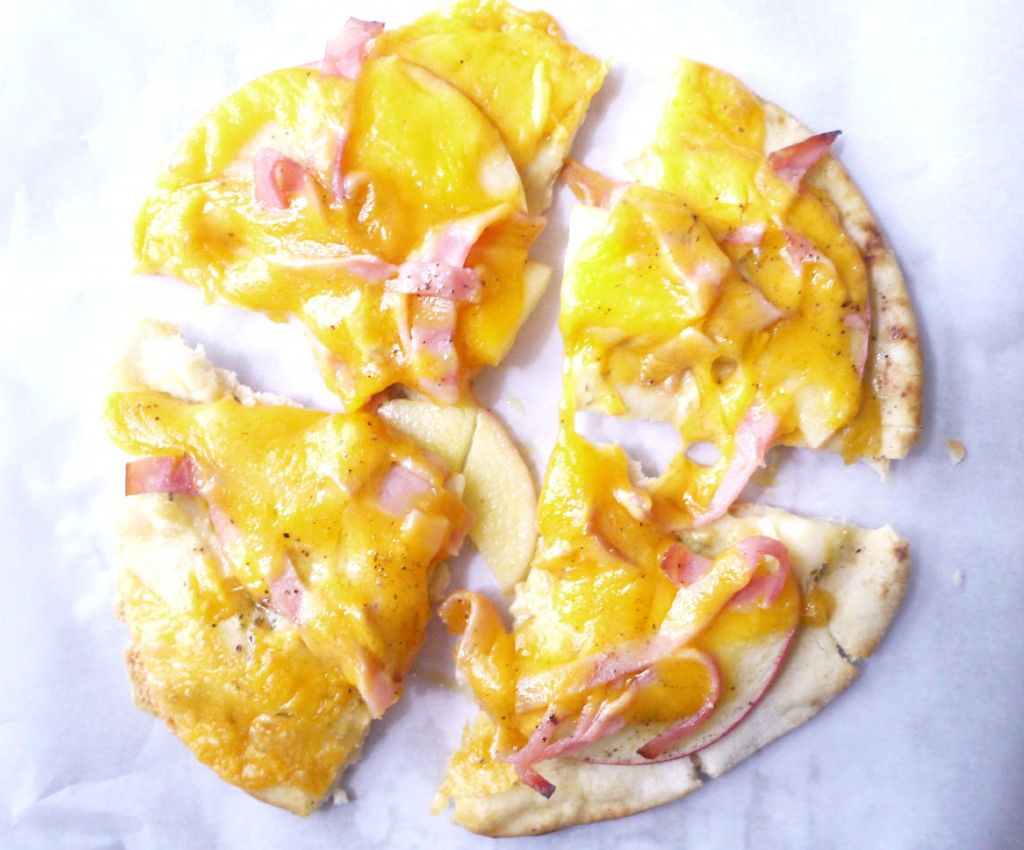 I feel like a kid again. I've been eating pita pizzas all week. It's not the first time. Pita pizzas have been known to make the rotation through my weekly lunch menu. But there's something about these particular pita pizzas with sliced apples and cheddar that really make me feel like a kid again. Where's my juice box and sidewalk chalk? 🙂
It's the same way I felt when I got my POPSUGAR Must Have Box this week. I mean who can possibly control themselves when they open up a box that includes a floppy straw hat, a jump rope and fun party drink straws?? Ummm…no one I know.
But don't worry all you sophisticated adults. Thyme honey mustard sauce really fancies these pizzas up so kids and grownups alike can enjoy them. In fact, the first time I made these pita pizzas at the Junior League of Washington Kids in the Kitchen event, they were a big ole hit with the grownups. I saw you, moms and dads, coming back for seconds and thirds. You know who you are.
Alright, busy moms. I gotta tell you. You will love this recipe most of all because:
1. These pita pizzas are delicious – a little tangy, a little sweet, a little bit country, a little bit rock 'n' roll.
2. They're healthy – low-fat cheddar, whole-wheat pitas, fruit.
3. You can throw this meal together in under 15 minutes. Who can beat that? NO ONE!
4. Pita pizzas are just gosh darn adorable. And adorable food is always better, right?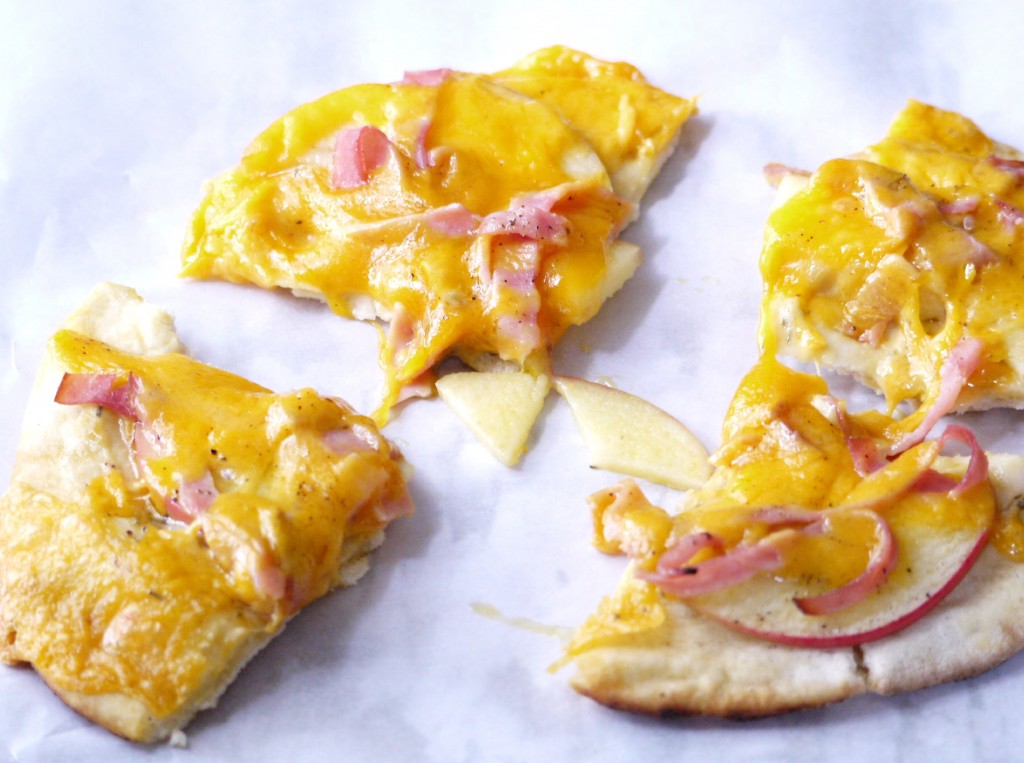 I have to admit something. There are some meals that I make for the blog which are delish, but after a couple of days of taste testing and leftovers, I'm so over them. Not this one. This one, I was all jumping up and down ecstatic to eat the leftovers for lunch and crushed when I ran out. I may have gone into pita pizza withdrawal. That's a thing, right?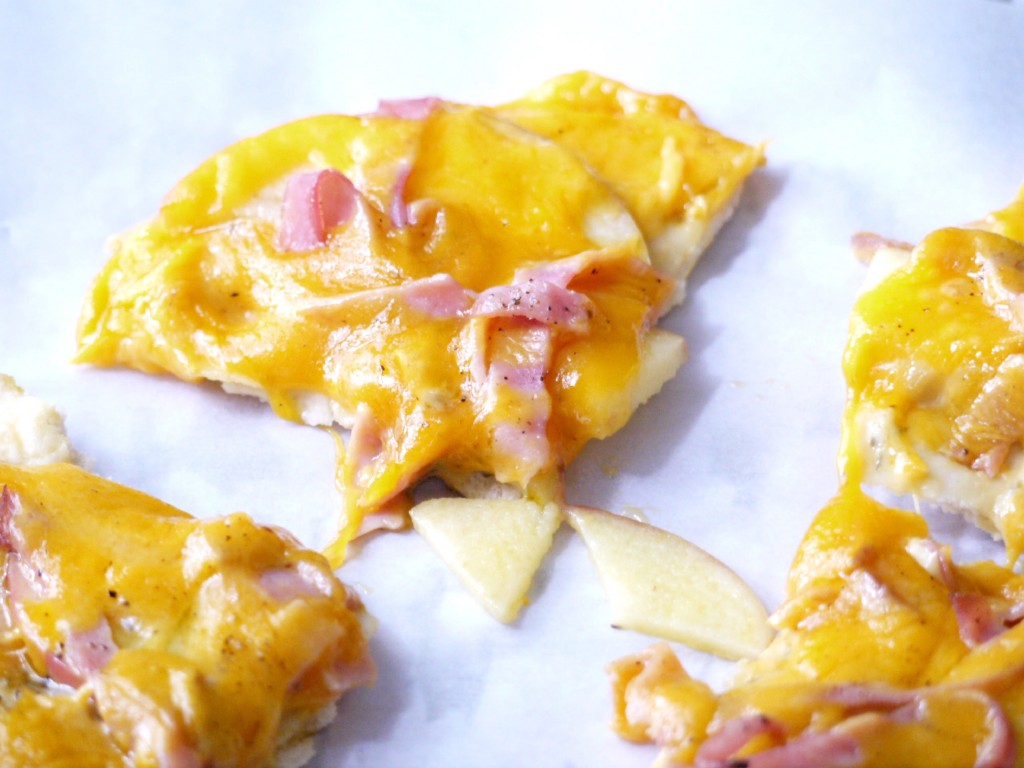 Apple, Ham and Cheddar Pita Pizza with Honey Mustard-Thyme Sauce
The ingredient list is for one pita pizza. Double, triple or quadruple the ingredients depending on how many pita pizzas you need.
Author:
Healthy Recipe Ecstasy
Ingredients
1 whole-wheat pita
1 tablespoon honey mustard
⅛ teaspoon dried thyme
½ cup 2% shredded sharp cheddar cheese
1 slice of thinly-sliced ham, cut into strips or cubed
5-6 thinly-sliced semi-sweet apple slices (such as Honeycrisp)
½ teaspoon extra-virgin olive oil
Black pepper, to taste
Instructions
Preheat oven to 450 degrees.
Spread the honey mustard evenly across the top of the pita. Sprinkle with thyme.
Top the pita with cheese, ham, and apple slices. Drizzle with olive oil and sprinkle with black pepper, to taste.
Bake for 9-10 minutes or until the cheese is melted and the edges of the pita start to brown.
Let cool for a few minutes, and then slice pita into 4 slices. Serve immediately.