There are two kinds of people in this world: Those who love anchovies and those who don't.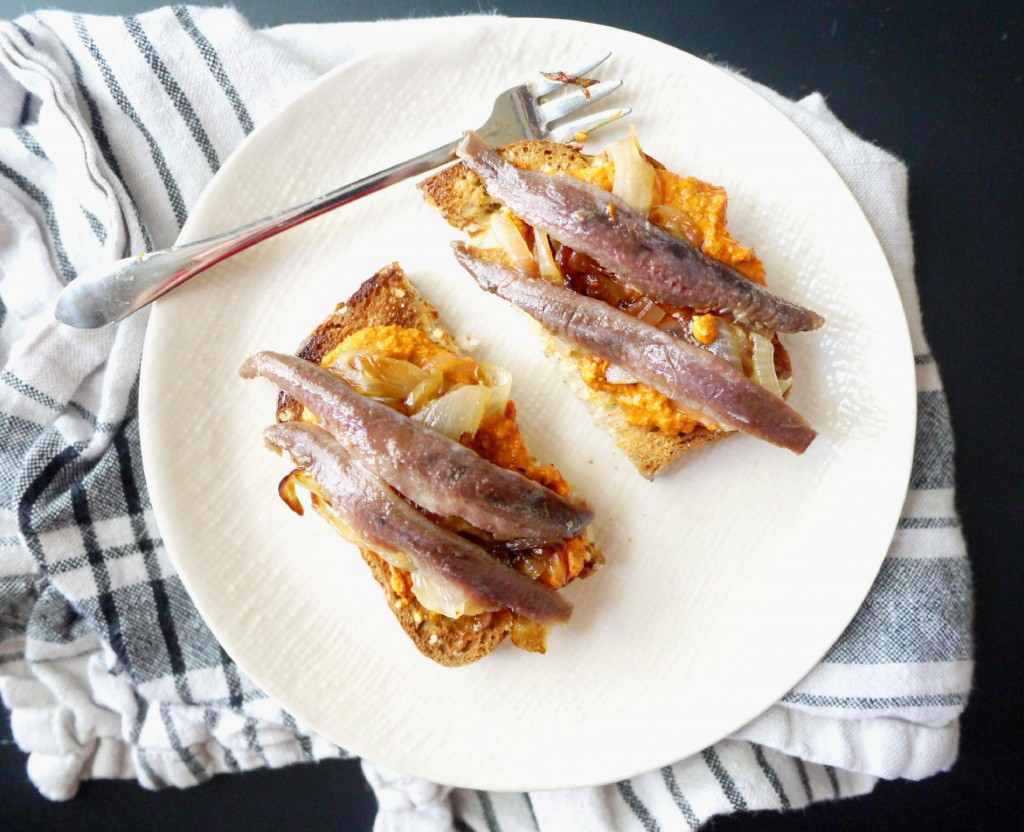 I'm in the first category. I wasn't always a star-crossed anchovy lover, but after a visit to Spain and some experimenting in my own kitchen, I don't just put anchovies on my pasta, I put them on my popcorn, I eat them straight out of the tin, and, now, I put them on toast.
Awhile back, I was missing our time in Spain and the inevitable afternoon run to the pintxos bars, so I decided to make myself a little treat. I had a fridge full of leftovers that were just dying to be re-purposed – garlic bread, roasted red pepper spread, caramelized onions and, of course, a tin of anchovies.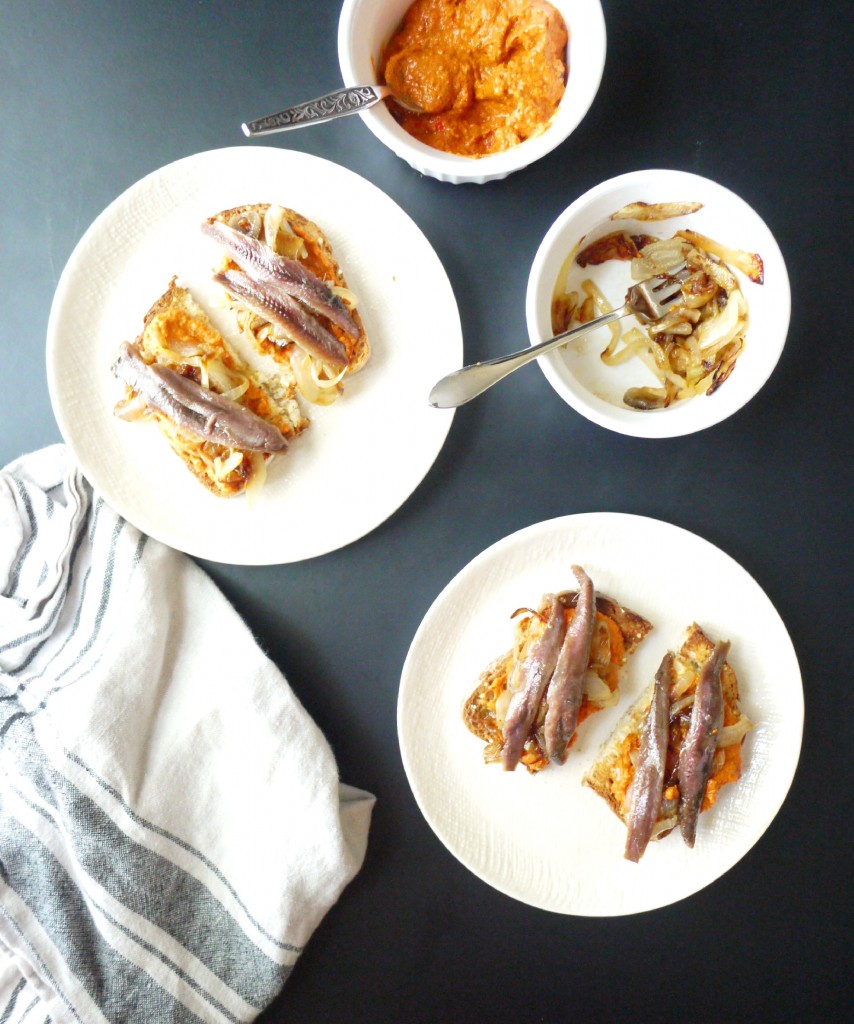 It was perfect. I was immediately transported back to San Sebastian. I was no longer leaning over my kitchen counter shoving a toasty treat into my mouth. I was standing next to the bar, making small talk with the bartender and choosing my next mile-high pintxo to devour.
I snapped a pic to share with all my social media friends and filed it away in the back of my mind.
For some reason, I didn't think that magical moment with that magical snack could be recreated. I mean, I'd need garlic bread and leftover roasted red pepper spread. I'd need caramelized onions. Having to make all that from scratch would take away from the magic moment of just throwing it all together, right?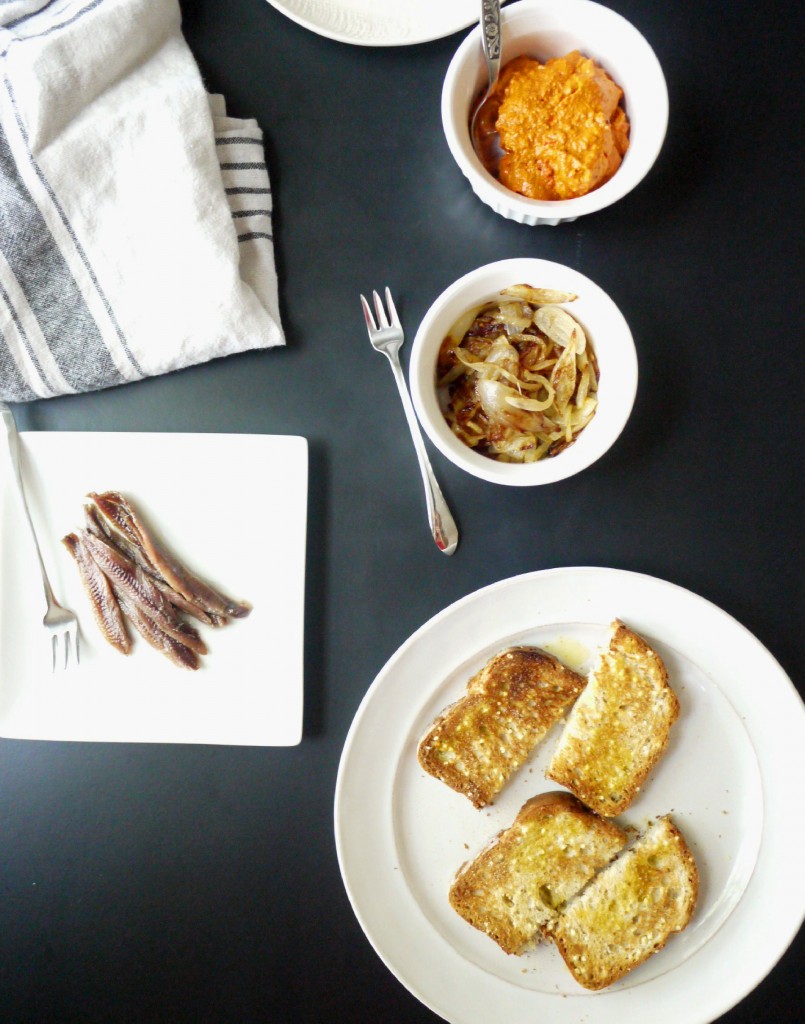 Wrong.
Wrong.
Wrong.
You see, I decided to take a little short cut to happy town. Sure, I had to wait for the onions to caramelize. But I didn't need to roast my own pepper when I had jars of pimientos sitting around the pantry for who knows how long just waiting for their day to shine. Throwing the pimientos, bread, walnuts and spices into the food processor took, maybe, 5 minutes? Easy I tell you. And the flavor is so much more interesting than regular old roasted red pepper spread. Though I wouldn't kick some roasted red peppers off my toast, if you know what I mean… 🙂
I didn't feel like going to the store to get a quality baguette (#lazy), so I just toasted up some of my favorite bread of the moment (Udi's Millet-Chia Bread. That's right. This heavenly little snack is actually gluten-free), drizzled it with olive oil and garlic powder, and, BAM, good to go.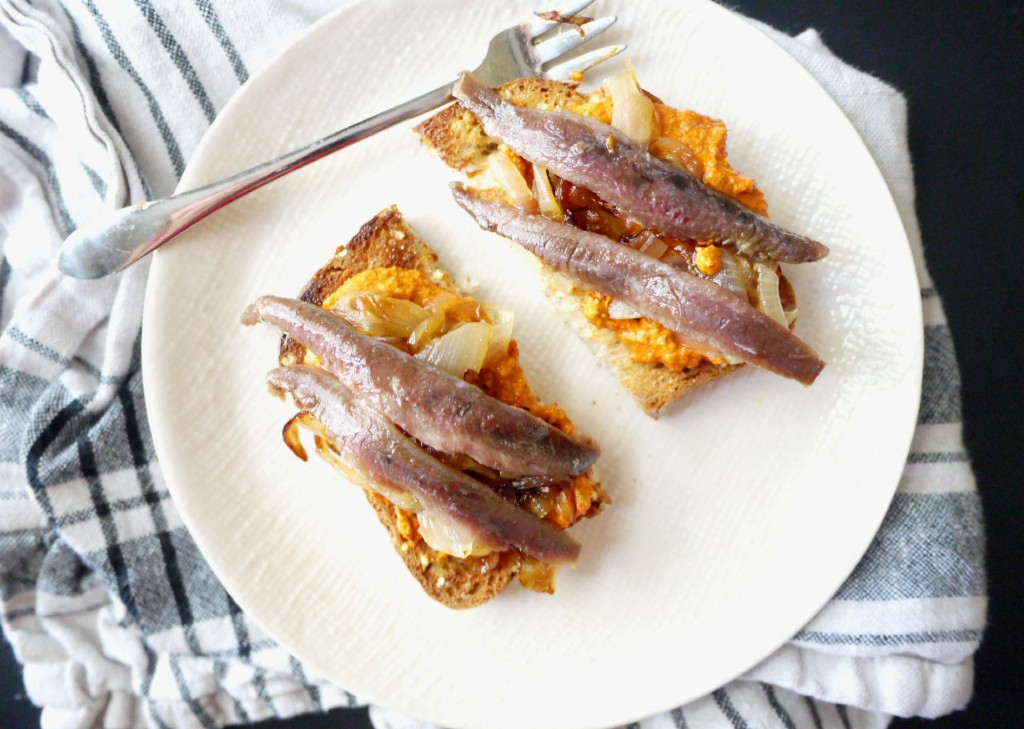 Now, don't get me wrong. If I was going to make these awesome little pintxos for a party, I would get me some good quality bread. But for a makeshift afternoon snack? Any bread will do. I mean, you've got the spicy, smoky pimientos spread, you've got the sweet caramelized onions, and you've got the salty, savory anchovy. You're barely going to notice the bread. And that's coming from a bread lover.
So, pour yourself a glass of cava, throw together some tasty pintxos and enjoy a little taste of the Basque Country. Oh, and, then, do like the natives and take a nice, little siesta.
Best afternoon ever. 🙂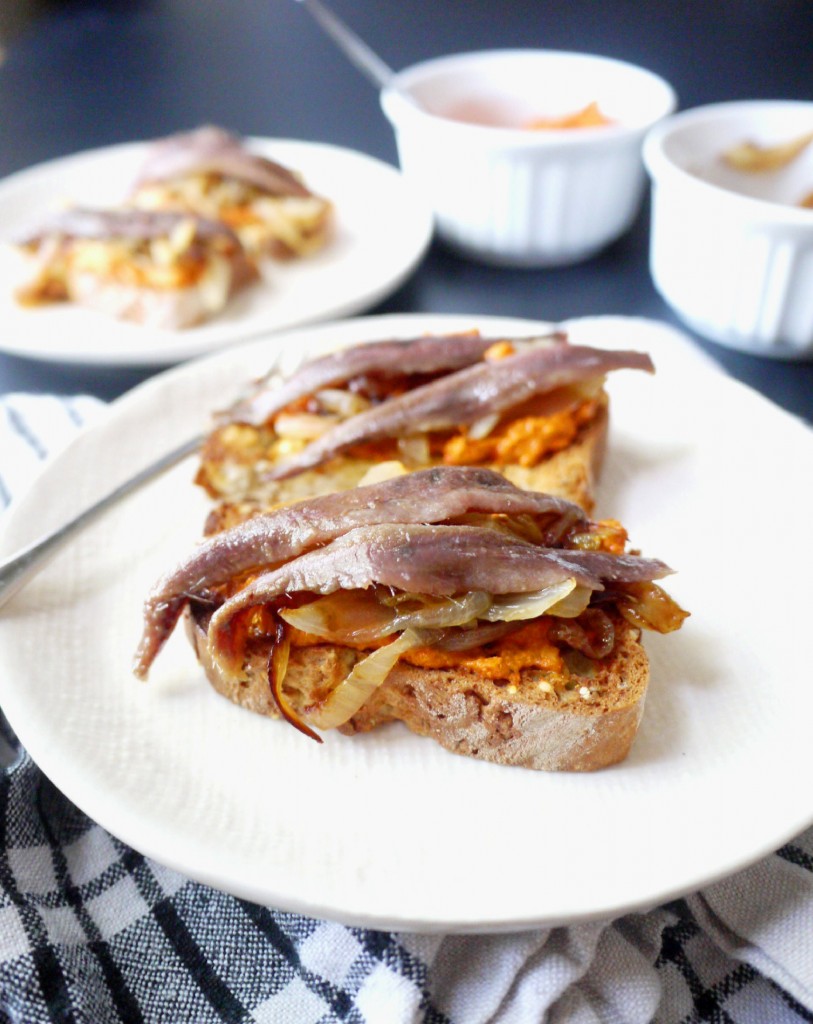 Anchovy Toast with Caramelized Onions and Pimiento Spread
Use whatever bread you like for this recipe though I recommend something study to stand up to the hearty toppings. Gluten-free bread actually works really well because it's drier. If you're using sandwich bread, cut each slice in half (or if the bread is really big, in quarters) so the toasts are bite size. A little note on "scant." I never really knew what that means in recipes, and I still don't, but I'm guessing it's the opposite of generous. So, in this case, I mean "just under" ⅛ teaspoon. The smoked paprika and cayenne pepper are really strong so you don't want too much.
Author:
Healthy Recipe Ecstasy
Recipe type:
Appetizer/Snack
Ingredients
Pimiento Spread:
⅓ cup jarred pimiento peppers
⅓ cup toasted, cubed bread
⅓ chopped walnuts, toasted
1 garlic clove
¾ teaspoon red wine vinegar
¼ teaspoon salt
⅛ teaspoon scant smoked paprika
⅛ teaspoon scant cayenne pepper
2 tablespoons olive oil
Caramelized Onions:
1 teaspoon olive oil
1 small onion, sliced vertically
Toast:
4 bite-size slices of bread or baguette
8 anchovies
Olive oil for drizzling
Garlic powder for sprinkling
Instructions
Pimiento Spread:
Throw the peppers, toast, walnuts, and garlic clove into the food processor and process until smooth. Add in the red wine vinegar, salt, paprika and cayenne pepper and process until combined. With the motor running, slowly drizzle in the two tablespoons olive oil, until incorporated.
Caramelized Onions:
Heat the olive oil in a medium skillet on medium high heat. Add the onions and cook, stirring frequently to avoid browning, for 5 minutes. Once the onions are tender, turn the heat down to medium low and cook for 30 minutes, or until caramelized, stirring occasionally.
Toast:
Toast the bread or baguette slices. Drizzle with olive oil and sprinkle with garlic powder.
Spread the pimiento spread evenly on each slice of toast. Top with caramelized onions. Finally, top with two anchovy slices per toast. Enjoy!
SERVING SIZE: 1 toast per person.