I recently discovered bark. Yeah, yeah, I know. I'm behind the times. Like usual. But that's part of my charm, right? Riiighhtt???
But, now that I've made and eaten bark, I can't believe I spent a good portion of my 32 years (yeah that's my age) NOT making and eating bark. I mean, it's basically a fancy chocolate bar. And it's ridiculously easy to make.
Seriously, the first time I made this almond butter dark chocolate bark was for a last-minute dinner party where I had that "OMG I don't have dessert" moment. I checked the pantry in search of a quick, last-minute dessert and found multiple chocolate bars and almond butter jars. Hello almond butter chocolate bark.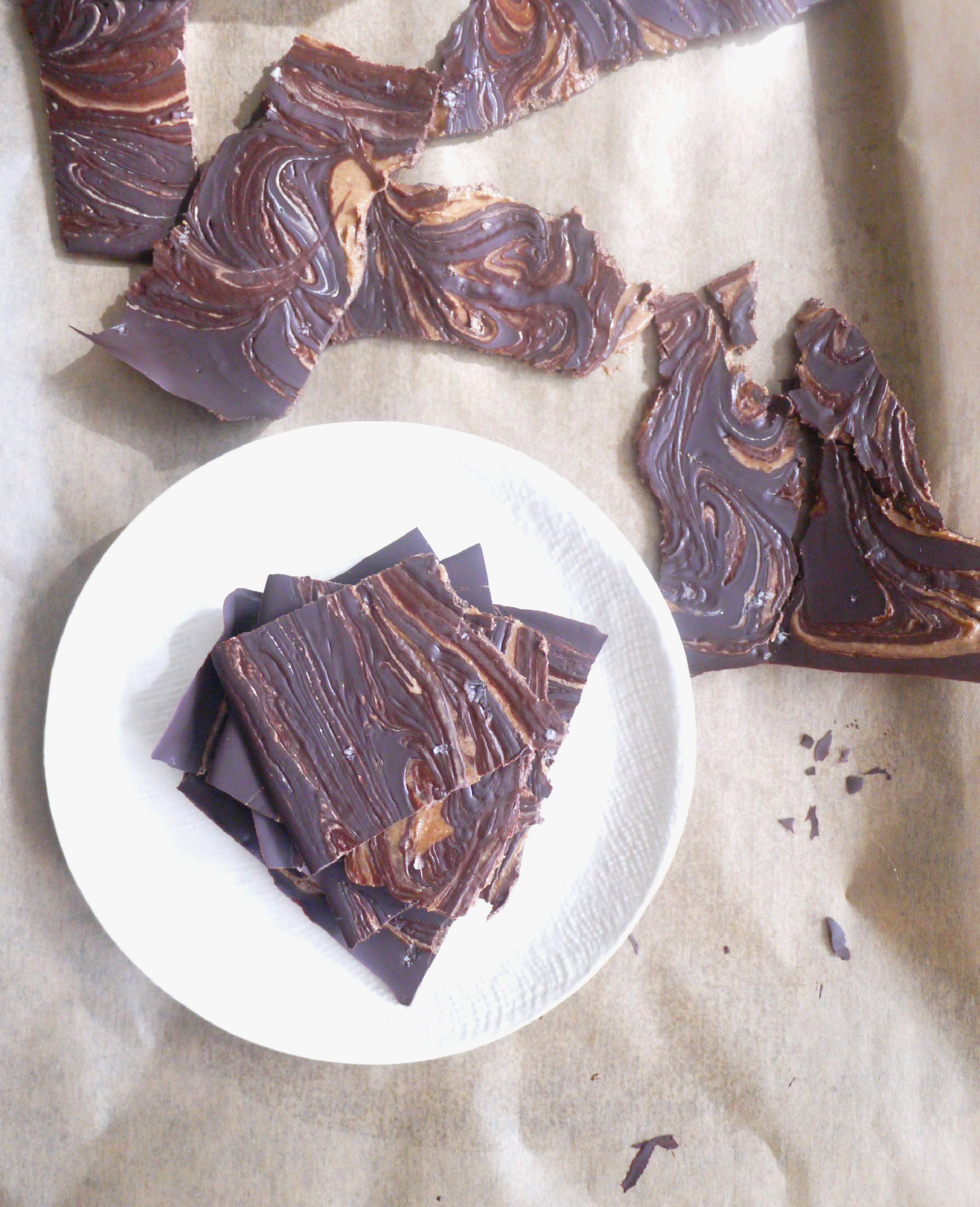 The sea salt came later after I bought my first jar of Maldon sea salt. Because flaky sea salt is maybe the best thing in the world. Especially for someone who loves salt. That someone is me in case you didn't get where I was going with that. Although that someone could be all the people I'm going to make this for. Bark makes the best gift and the holidays are coming up….
Honestly, I don't really have much more to say. This recipe speaks for itself and it says chocolate….with sea salt….and almond butter. It also says full of antioxidants and healthy nuts. Who wouldn't love that?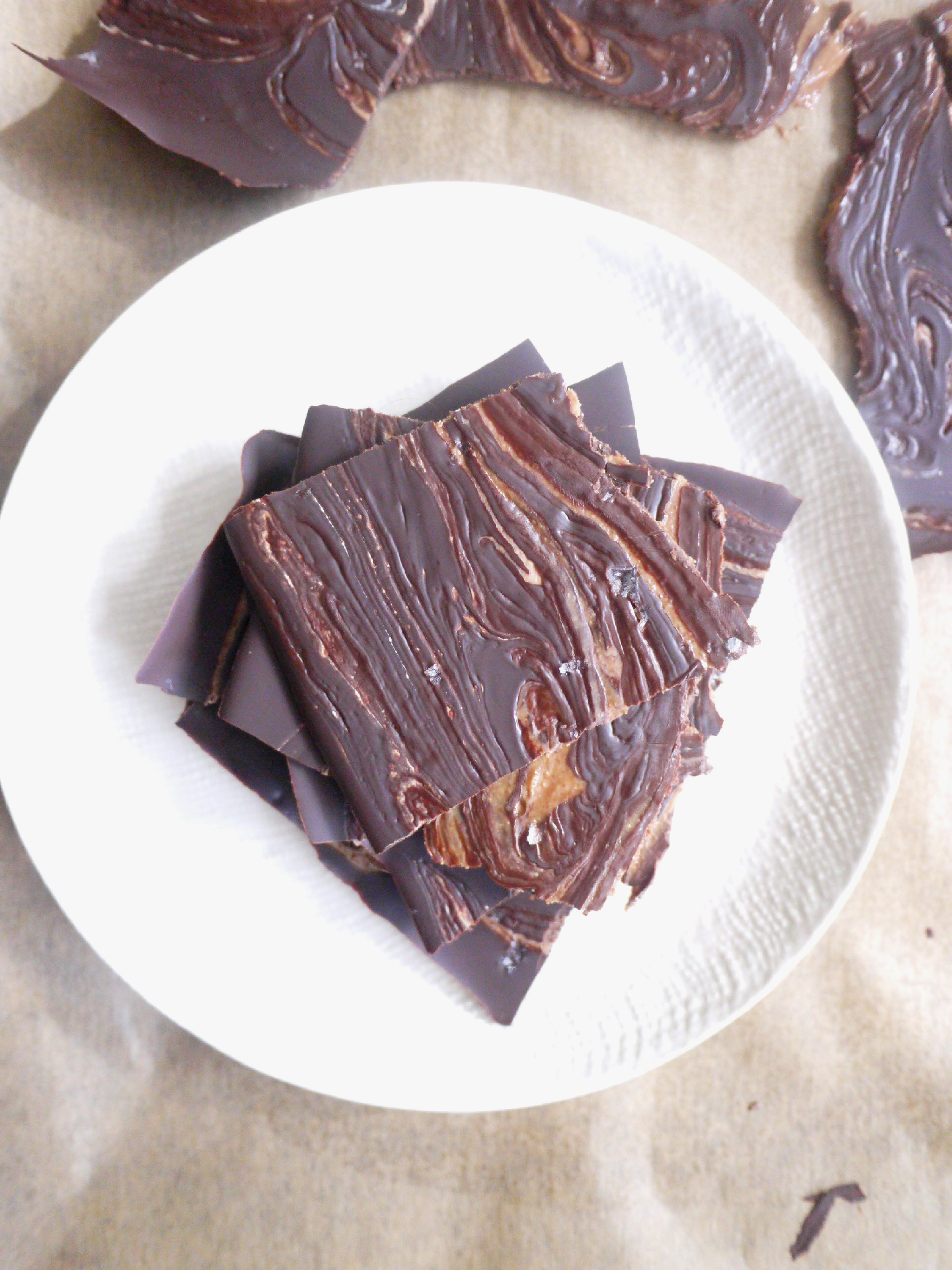 So why don't we take this opportunity to get to know each other better. I'm trying to make more friends in the blogging world. Hi friends! And, I've been trying to make a habit of frequenting my favorite blogs each week and leaving interesting comments on the amazing recipes to help me get to know all the talented bloggers out there. You know, more than just, "that looks yummy."
My question for you guys is twofold:
1. Do you visit my blog regularly or are you just stopping by (maybe you saw a pic on Pinterest or googled bark and this recipe came up)?
2. What are your top 3 favorite blogs that you follow regularly?
Leave your responses in the comment section below. Go.
Wait. Stop and eat some bark first.
Now, go.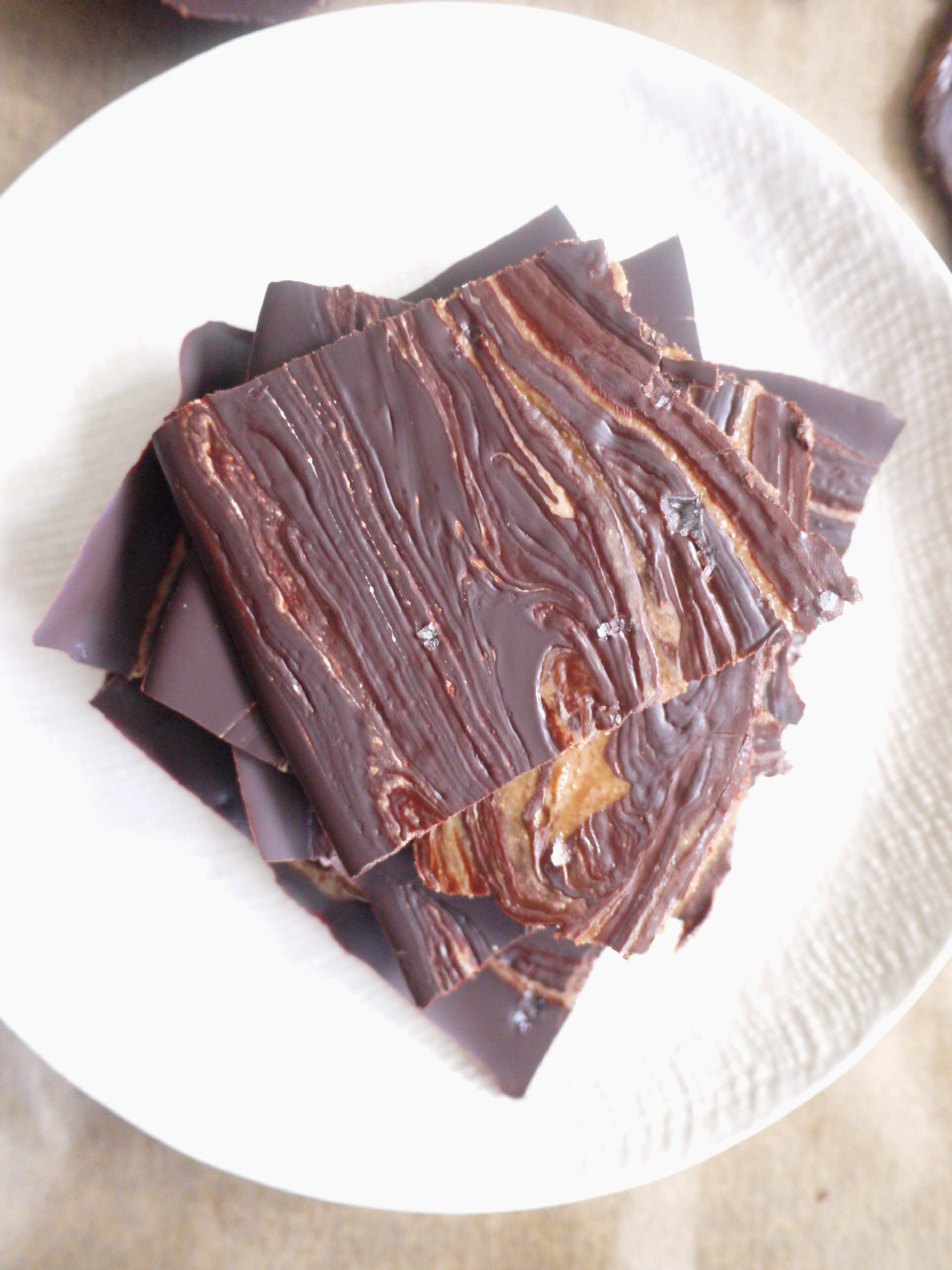 Easy Almond Butter Dark Chocolate Swirl Bark with Flaky Sea Salt
Author:
Healthy Recipe Ecstasy
Ingredients
7 ounces dark chocolate, chopped (I used two Lindt dark chocolate bars)
¼ cup almond butter
Flaky sea salt such as Maldon sea salt
Instructions
Line a baking sheet with parchment paper, leaving an overhang on ends.
You can melt the chocolate in a double boiler or a heatproof bowl set over a pan of simmering water, stirring frequently, or you can melt the chocolate in the microwave at 30 second intervals, stirring in between.
Once the chocolate is melted, pour it onto the baking sheet, and spread it in an even layer using a spatula.
Melt the almond butter using the double boiler method or the microwave method. It should only take 60-90 seconds in the microwave.
Drizzle the almond butter over the dark chocolate, and swirl with the tines of a fork. Sprinkle with flaky sea salt.
Refrigerate until firm, about 1 hour. Break into pieces.
NOTE: Keep the chocolate cold or it will melt.